Int'l publishers eye China's market for children's books
Xinhua | Updated: 2020-11-23 14:36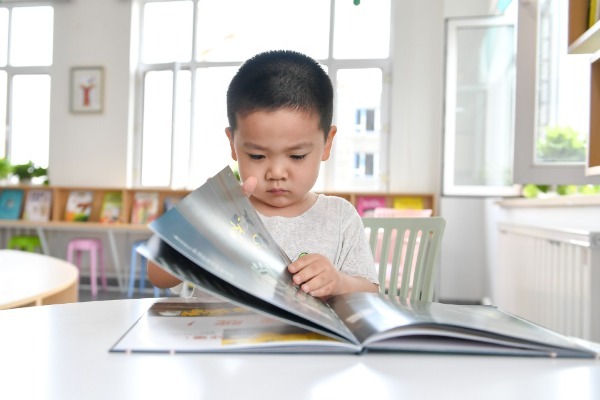 Children's books are seeing a heyday in China as young readers' appetite for books has grown significantly over the years, which has attracted publishers from around the world seeking to grab a slice of the bullish market.
At the 2020 China Shanghai International Children's Book Fair that concluded on Nov 15, over 60,000 of the latest publications were displayed by hundreds of children's book publishers from 21 countries and regions including the United States, Britain, France and Norway.
April Guo, general manager of Cricket Media China, said the company has participated in this exhibition for seven consecutive years.
The publishing house has introduced a series of popular science magazines to China, which became sought-after due to their easy-to-understand language and lively illustrations.
Parents are driving the sales of the original English books and magazines as they consider the readings not only effective science education but a way to learn English, according to Guo.
Guo said their sales on the first day of the exhibition reached 50,000 yuan (over $7,600), easily surpassing their total sales from 2019.
"Benefiting from China's opening up in the publishing sector, we have simplified formalities to bring original children's books to younger Chinese readers," said Guo.
Due to the popularization of English education for preschool children, Guo predicted that the number of subscribers to their English magazines will rise significantly in the coming three years.
China has seen double-digit growth in the number of children's books published for two decades, with sales volumes surpassing 20 billion yuan annually, according to a think tank report issued in June.
The sales of children's books accounted for over a quarter of the total book market in China in 2018, and audio and video reading products for children are also gaining momentum. This year, the audio reading market is expected to reach 7.8 billion yuan.
Foreign publishing houses are also preparing themselves to meet the new demand in cooperation with local Chinese companies.
Oxford University Press announced a plan to work with the popular mobile application Dragonfly FM to bring a series of online English audio lessons to children aged three to four years old, covering science and English language.
"People these days are becoming more willing to pay for digital content with greater awareness of copyright protection," said Ding Rui with Oxford University Press China branch.
Over 400,000 subscribers paid for an earlier audio products series created by Oxford University Press and the sought-after podcast of Ximalaya FM, an online audio-sharing platform, Ding said.
"China is now one of our fastest-growing and most strategically important markets," Ding said.