Distance from US doesn't stop this determined Florida voter
By Jamal Branford | China Daily | Updated: 2020-11-26 08:55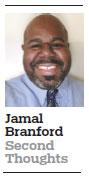 Every four years, the entire world pays close attention to the presidential elections in the United States, a period that is generally much more eagerly anticipated by US citizens who have the right to vote in such elections. I am one of these citizens, and I was very excited about voting this year.
Before this year, I had only voted from overseas once before, from Malaysia in 2016. At that time, I did it simply because I, like many other US citizens, felt a duty to contribute to the process. The right to vote is very important to us, even for those of us who are living outside of the country - especially when it comes to choosing the president of the US. In fact, if for some reason the US would not have allowed me to vote from here, I would have strongly considered traveling back to the US for the sole purpose of voting, even if it meant quarantining when I returned to China.
Exercising this right is fairly easy inside the US, but a bit more difficult outside of it.
If you're in the US and eligible to vote (to be eligible, the general requirement is that you have to be a citizen and at least 18 years old), you can cast your ballot in person on Election Day (the first Tuesday of November) at your assigned precinct, or you can vote even earlier at some designated local government sites. US citizens are also allowed to mail their ballots in to designated sites.
If you're a US citizen living abroad, mailing your ballot in is the general option offered, but because the US has no uniform election system, the rules to cast your ballot may differ depending on the state and the county you are registered in.
For example, I'm registered to vote in the state of Florida in Palm Beach county. I contacted the supervisor of elections office in my county in July to let them know I wanted to vote. They arranged to have my ballot emailed to me during the first week of October, and then I had the option of either sending it by post or by fax.
I considered mailing in my ballot, especially since the US Embassy in Beijing was planning to hold an event for US citizens to mail their ballots from there. But the embassy event was set to occur before I received the email, so I could not participate that way. Further, I figured that sending it securely by mail involved expenses and risks that I did not want to take. So I decided to fax my ballot instead, deciding that it would be faster and far more convenient.
I found a shop across the street from my home in Beijing that offers faxing service, and a friend who speaks Chinese went with me to ensure there were no translation problems when I was ready to send the ballot.
The voting process is not created equal. Some counties in other states only allow overseas votes to be mailed in, while others are less restrictive and even accept emailed ballots. For me, though, the process was successful. I was able to confirm with Palm Beach county officials that my ballot was received and my vote was counted on Election Day.
Though I enjoy living in Beijing, I am very happy that I had the chance to participate in this year's pivotal US presidential election. No matter what country I live in, I will always exercise my right to vote for the president. In fact, I'm already looking forward to 2024!