Physically challenged teen is virtual superman
Xinhua | Updated: 2020-11-26 09:10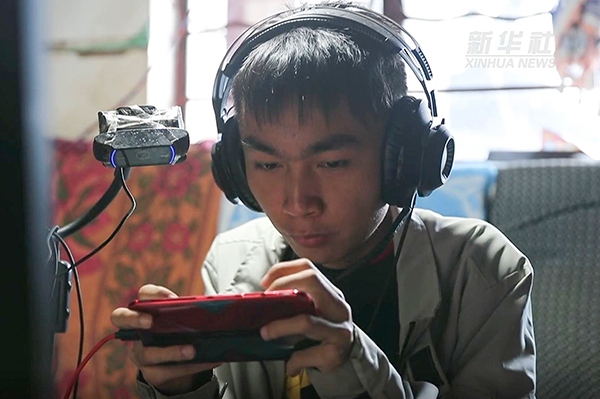 KUNMING - Even as a toddler, Sa Ye came to realize that he was not like other kids. Afflicted by the congenital condition muscular dystrophy, he found his body increasingly lacking the power of movement. Now aged 18, the only part of this young man's body that moves freely is his fingers.
Yet he has found a degree of empowerment through his work as a mobile-game streamer, a role that sees him blasting through the virtual battlefield like James Bond, propelled by his nimble fingers, which tap on the screen as if he were playing the piano.
Sa dropped out of school in second grade to recuperate at the family home in a mountain village in the city of Xuanwei, in Southwest China's Yunnan province. Sa's dad quit his job as a truck driver and returned home to care for the boy and work on the farm, while his mom ran a clinic in the village.
Once confined to home, Sa started to shrink into himself. "I felt really upset after leaving school," he recalls. "I had nothing to do in those days, and nothing interested me."
The disabled boy first came across electronic games in 2013 when he received a secondhand cellphone from his cousin. A car-racing game launched him into the brave new world of mobile gaming.
The experience cast a beam of light into the gloom of Sa's mental space, and games have played an important role in his life ever since. "We were delighted to see him happy," says his father.
In 2018, Sa took the next step on his journey, deciding to become a mobile-game streamer, hoping that he might be able to relieve the family's financial burden. His grandmother had fallen seriously ill and his parents had to pay for her treatment, as well as his sister's tuition.
In the beginning, he lacked both a computer and internet access. However, with help from several people, including a kindhearted vlogger, Sa had set up some livestreaming devices by the end of the year.
Things did not go well at first. Nicknamed "DK-770" on the livestreaming platform, Sa was too embarrassed to communicate with the few online guests in his broadcasting room.
However, he persevered, continually practicing his game-playing skills and eventually learning to chat with his audience.
"I never thought about giving up," Sa says.