Getting outside inside Guizhou
By Yang Feiyue in Beijing and Yang Jun in Guiyang | China Daily | Updated: 2020-12-01 07:32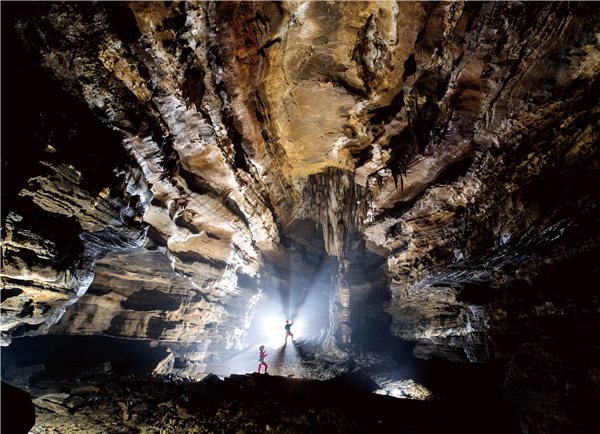 Travelers can take in stunning valley views and go spelunking in Shuanghe Cave in northern Guizhou's Zunyi city. The cave, a karst formation that was discovered in the late 1980s, is 250 kilometers long-the longest of its kind in Asia and the fifth longest in the world.
Guizhou Shierbeihou Tourism Development Co has been working to transform an area of 600 square km that covers Shuanghe Cave into a mountain-tourism hot spot.
In addition to the cave, the area comprises a mix of valleys, lakes, forests and prairies.
"It has everything, except for ocean and desert," says Chen Jin, chairman of the tourism-development company.
In southwestern Guizhou's Xingyi, efforts are underway to develop mountain tourism and outdoor sports. Pedestrian paths have been set up in major mountain resorts, including Wanfenglin scenic spot. Mountain biking, water sports and camping facilities are up and running.
"We have integrated folk culture into the scenic spots," says Ran Xingpu, a manager with Wanfenglin Tourism Group.
A large stage show featuring local ethnic Buyi elements, such as the dancing lion and drum dance, as well as mountain and water sacrificial ceremonies, are offered to diversify mountain travelers' experiences.
International hiking, cross-country races and lake fishing are also available, along with night markets and light shows.
The company now operates seven scenic spots in Xingyi. It received 1.56 million tourists in 2019, up nearly 3 percent over the previous year. Tourism income grew 5.75 percent year-on-year to 126.5 million yuan last year, according to Ran.
Xingyi will develop rock climbing, ziplines, gliding, cross-country races and extreme sports to make maximum use of local mountain-tourism resources, local authorities say.
Speaking of future development, Zhang says hiking, sightseeing gondolas, first-aid stations and toilets will be upgraded at mountain-tourism destinations across the province.
Big data will also be used by scenic spots, travel agencies and homestays to make things easier for travelers and boost the recovery of tourism, he says.
Zhao Yandi in Guiyang contributed to the story.