Heilongjiang first to greet winter
By Yang Feiyue | China Daily | Updated: 2020-12-01 07:36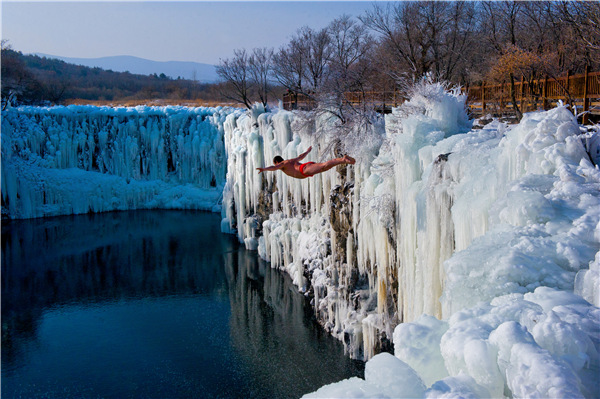 Heilongjiang province has launched a series of winter-tourism events to lure winter vacationers.
Travelers can ski and experience winter art, sightseeing, hiking, fishing, hot springs, folk customs, culture and tourism performances in the province, which is typically the first in China to greet winter.
In Xuexiang village, sightseeing paths, forest train rides and night skiing will spice up travelers' experiences.
More than 400 cultural and recreational activities are planned for Harbin, the provincial capital. The local government will distribute 48 million yuan ($7.3 million) in subsidies on online tourism platforms to attract more tourists to Harbin. Some hot spots, such as Harbin Ice and Snow World, will offer discounted tickets.
Yabuli ski resort has integrated three of its major ski runs and allows travelers to experience them all with a single pass. The first winter-themed tourism train has been up and running between Yabuli and Harbin since early November.
In Mohe, a water-splashing performance, an international cross-country auto race, hot springs and hotpot have been readied to serve winter tourists.
This winter, Heilongjiang has rolled out 15 fun winter-tourism hot spots for visitors. Among them, Harbin Ice and Snow World is the biggest venue of its kind worldwide. Visitors can feast their eyes on its polychromatic ice sculptures in various shapes and sizes and take a thrilling ride down a long ice slide.
The Sun Island International Snow Sculpture Art Expo park offers spectacular works of art made of snow that can be dozens of meters high.
Skiers at all skill levels will find lots of fun within reach at Yabuli ski resort, while stunning snow-covered mushrooms and houses can be found in Xuexiang village, which has the most snow in the country.
A thick waterfall of ice that hangs hundreds of meters from a cliff awaits travelers at Jingbo Lake, and wild red-crowned cranes can be spotted in Zhalong National Nature Reserve, home to one-fifth of the world's habitat for the birds.
Beiji village offers views of the aurora borealis, and Wudalianchi provides a visual impact with dark volcanic lava and white snow.
Heilongjiang received 220 million domestic and international tourists last year, up 19 percent from 2018, the provincial government said.
The province will strive to have its winter tourist visits break 200 million, and winter-tourism income will exceed 200 billion yuan by 2030, says Zhang Lina, head of the Heilongjiang Culture and Tourism Office.