Dressing the part helps civil servant master the field she's in
By Xing Wen | China Daily | Updated: 2020-12-02 08:15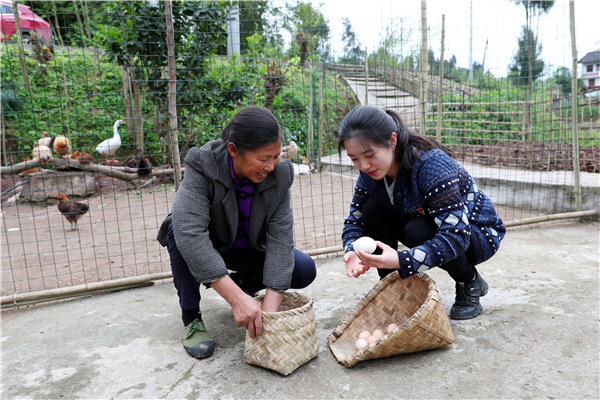 For Chen Shihui, 27, the attire had to change. Out went the tailored suit and high-heeled shoes. This was the costume for a woman drafting documents covering free-trade agreements and preparing for bilateral negotiations on the reduction of import and export barriers.
Those days are gone. Now it is jeans and casual sneakers. No more wood-paneled boardrooms.
Her career path today involves negotiating not trade barriers, but muddy tracks cutting across orchards in a remote village.
She gets to taste not the high life, but pomelos growing in the sun, grading the fruits according to their size and sweetness.
Chen also helps to pack the harvest, draw up contracts, naturally, and match up orders with invoices to make sure the sales process of the pomelos on e-commerce platforms go through without a hitch.
Chen, a civil servant with the department of electronic commerce and information at the Ministry of Commerce, was dispatched in August 2019 to Southwest China's Sichuan province to support the poverty-alleviation work in Guang'an city's Gexin village, mainly to help boost the e-commerce scene in the mountainous region.
Consequently, she sells local agricultural products to increase villagers' incomes and standard of living.
The village, located 15 kilometers away from downtown Guang'an, has more than 430 households and 1,200 residents. There were 24 poverty-stricken households in the village in 2014 when its per capita annual income was just 1,400 yuan ($213).
As the village's pomelo growers didn't know how to manage their orchards properly, the trees failed to yield high-quality produce.
Chen and her colleagues then arrived, tapping the potential of the fruit production chain by making scented tea out of pomelo flowers, regularly holding livestreaming events to recommend the fruit and cooperating with popular milk tea maker Lelecha that uses Gexin village's pomelos to make drinks.
"We brought the villagers new ideas and multiple resources to help lift them out of poverty," Chen says.
A graduate from the school of economics and management at Tsinghua University, Chen says the reason that she is working in rural places is to "make an impact".
When she first arrived in the village, Chen was simply shocked to find that only a few young adults chose to stay there.
"And only 20 percent of the villagers had a smartphone," she says, adding that she could barely understand the local dialect.
"Although the villagers have maintained a very traditional lifestyle and mindset, they have many diverse qualities," Chen says.
She was able to work out plans for each individual.
For instance, Chen and her colleagues found that chili sauce made by a 65-year-old woman was, to use the parlance of the food industry, to die for.
They encouraged the woman to sell the chili sauce online rather than just send it to neighbors as a gift.
The product sold exceedingly well. With the help of Chen and other members in the village's poverty-alleviation team, the woman, who used to work as a farm laborer, is going to set up a processing factory for the sauce.
"The factory will not only boost her income, but also increase local employment," Chen adds.
Last year, the village's e-commerce sales of agricultural products reached 600,000 yuan and its per capita annual income surpassed 10,000 yuan.
During the COVID-19 outbreak earlier this year, Chen and her colleagues spared no effort to find outlets for the village's eggs, chickens, sausages, fruit and other agricultural products.
She had made more than 1,000 phone calls to discuss the details of a collaboration with different online shopping platforms, such as JD and Taobao.
So far, the village's e-commerce sales have doubled compared with the sales income of the whole of last year, reaching 1.2 million yuan.
In Gexin village, Chen has multiple roles.
"Here, I am a housekeeper for a local hostel, a manager of an online shop, a livestream host, a photographer and a vlogger," Chen says.
"These are things I've never experienced before."
As she has become more familiar with each household in the village, local residents are increasingly willing to ask her for help every day.
"It brings me a great sense of achievement after witnessing how the lives of these people have improved," Chen says.
And not surprisingly, through all the communication, Chen can now speak the local dialect fluently.