Remains of granaries 4,000 years old found
China Daily | Updated: 2020-12-04 08:05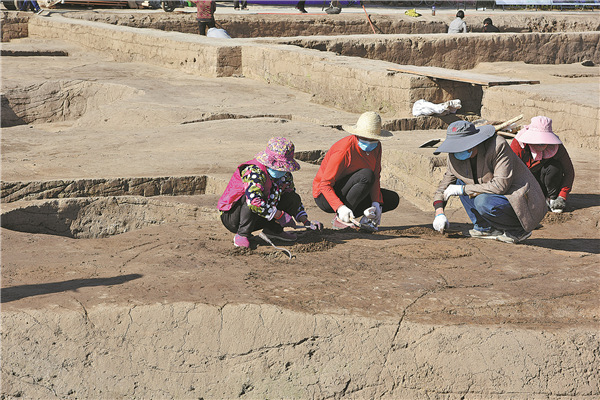 Archaeologists have discovered the remains of 28 granaries dating back about 4,000 years in Central China's Henan province. They are believed to be among the country's earliest centralized grain storage facilities.
The granaries were unearthed from the 100,000-square-meter Shizhuang site in the province's Zhoukou city during an excavation project that began in July 2019.
The remains of the granaries were found atop man-made foundations covering an area of about 5,600 square meters. The granaries circle a building believed to have served residential purposes.
Archaeologists detected remains of millet at the bottom of the granaries and determined that they were grain warehouses.
Charcoal found inside was carbon-14 dated and revealed that the structures can be traced back to the early Xia Dynasty (c.21st century-16th century BC), according to excavation leader Cao Yanpeng, a researcher with the Henan Provincial Institute of Cultural Heritage and Archaeology.
Cao says most of the artifacts at the Shizhuang site, which date from the same period as the granaries, were used for grain storage, and that artifacts serving other purposes-like ash pits, pottery kilns and tombs-are rarely found in the area.
"This demonstrates the Shizhuang site was once a city mainly functioning as a grain store, the earliest of its kind in the country," says Cao, adding that the site had a relatively complete and strict grain storage and management system.
Experts note that the Shizhuang site provides key research materials for the study of early China's grain management system, tax system, social structure and national governance system.
Xinhua