An extraordinary, ordinary grassroots leader
By Erik Nilsson | China Daily | Updated: 2020-12-05 09:05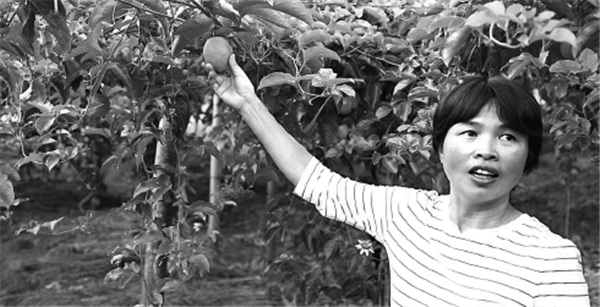 Liu Mingkun has transformed the fate of a once-backwater village in rural Jiangxi. But she's just one of countless primary-level officials enabling rural residents to move forward.
She's an insider from the outside. And she has brought huge changes to the small settlement of Zuixia in Jiangxi province. Liu Mingkun has worked for years on the front line in this once-backwater community. And she's but one of many grassroots officials who are unsung heroes in China's mission to eliminate extreme poverty by the end of this year.
Liu was met with skepticism when she arrived in the hamlet in Anyuan county in Jiangxi's Ganzhou to lead a poverty-alleviation work team in 2017.
"Some villagers questioned our motives," she recalls.
That is, especially when the team sought to improve tidiness and hygiene.
"They assumed our poverty-alleviation work was all show and no go. I said, 'Give me three years at most and see how it goes.'"
The team has upgraded infrastructure, built a solar farm and ensured poverty-relief policies are fully implemented.
Farmers receive subsidies of 10 yuan for every chicken they raise and 500 yuan for every 0.06 hectares they farm. People who work outside of the village also receive transportation subsidies.
By the end of 2019, all 66 of Zuixia's households registered as living below the poverty line had been lifted above it.
Residents' initial suspicion transformed into appreciation.
"If a villager cooked something good, like a chicken, he'd say to me, 'Come over because I want to file a complaint.'I'd swing by with my motorbike and ask him,'How can I help you?' He'd say,'Come and taste our chicken!'" she says.
"I'd realize he was 'luring' me to this treat. His response? 'I know you won't come over unless I pretend I have some complaints. If I simply invite you over for dinner, would you come?'"
Liu says she doesn't rest in the afternoon, since that's the best time to visit households living in, or on the edge of, poverty.
"It's easier to find them at noon, because they'll be back for lunch. If I come over at night, they might be exhausted and have gone to sleep already. I don't want to disturb them."
The approaches that Liu, Ganzhou and the rest of rural China are using to overcome poverty go beyond improving living conditions and distributing subsidies.
Villager Huang Shifeng previously placed his hopes on subsistence allowances. Later, Liu helped him find ways to prosper, rather than just scrape by.
"I was thinking about skimming the system by applying for an allowance for my father," he says.
"Liu held extensive discussions with me almost daily."
Liu says,"I convinced him that the most effective way to get out of poverty is to build your own career. The allowance is just a temporary fix. His family didn't apply for it again the second year."
Indeed, Liu's work reflects the trials and triumphs of enabling such previously backward areas to move forward from the grassroots up.
She-like many village officials across the country-is an extraordinary, ordinary rural leader.
Zuo Zhuo contributed to the story.