Young Tibetan entrepreneur returns to pursue perfume dream on plateau
By PALDEN NYIMA in Lhasa | China Daily Global | Updated: 2020-12-08 09:01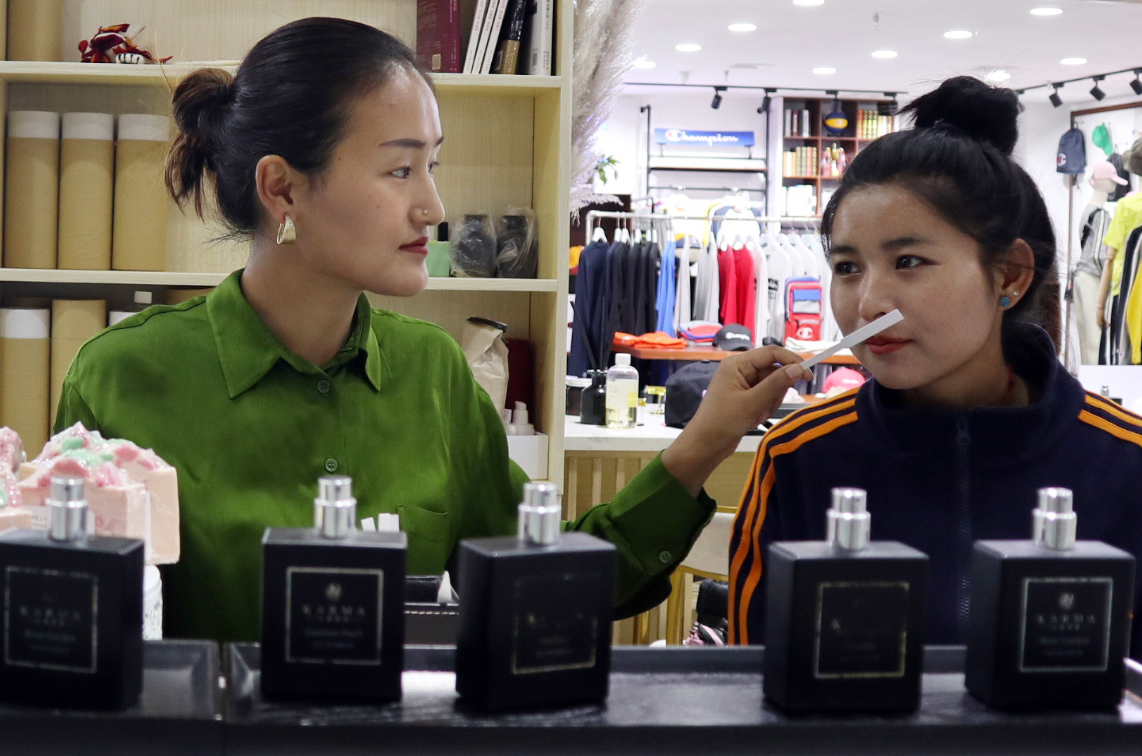 Unlike many young Tibetans who may long for a stable job in the public sector after graduation, Dawa Drolma chose to chase her entrepreneurial dream.
The 26-year-old, born and raised in Shigatse, the second-largest city of the Tibet autonomous region, aims to develop beauty products that showcase Tibetan aesthetics.
After traveling to France and the United Kingdom for years to learn about perfume, she has created Karma Laza, Tibet's first perfume brand of its kind.
"I've always wanted to create a Tibetan fashion brand since I was in high school in Beijing. But I had the idea of starting a Tibetan perfume brand when I was living in the UK," said Dawa Drolma, adding she was greatly inspired by the rich perfume culture of Europe, especially France.
Before heading abroad, she studied in the Beijing Language and Culture University between 2012 and 2016, majoring in Japanese literature. She then enrolled as a language student in Brighton Language College between 2017 and 2018, and went on to earn her master's degree in Cardiff University in the UK.
Majoring in language studies offered Dawa Drolma the opportunity to learn together with students from across the globe. She had the chance to travel to many parts of the world.
"I chose to go to university in the UK to explore American and British culture, despite my education background in Japanese literature," she said.
Dawa Drolma also took up part-time work in the UK and Nepal. In the UK, she worked in a perfume company as a salesperson and in Nepal, she taught English in a school.
"The working experience has given me great confidence in what I'm doing now," she said.
Dawa Drolma said that, with France famous for some of the world's best perfumes, she headed there several times while she was pursuing her master's degree in Cardiff and visited different perfume companies to learn more about different manufacturers and their fragrance cultures.
"The French people have a deep understanding of perfume and that's why many of the world's top perfume manufacturers are French brands," she said.
When Dawa Drolma returned to Tibet in 2019 after obtaining her master's degree, she soon registered her company in regional capital Lhasa.
As for the brand name Karma Laza, Dawa Drolma said karma is an ancient Sanskrit term referring to cause and effect, while Laza is French for Lhasa.
"According to my belief, good karma creates goodness in life and bad karma brings the opposite. I think that whatever we do in life, karma is very important," she said.
"Only thinking of profits is wrong. If I want to have good health and positive connections with people, I have to follow my heart. It is all part of my spiritual journey," she said.
Since Dawa Drolma opened her first shop in Lhasa on March 14, many of her friends have been very supportive; some people may not actually be interested in perfume but they still visit the shop to buy things. "It is very moving," she said.
All the eight different scents and perfume oils of her company are supplied by a French fragrance company.
Her products are sold online and offline, and she is exploring different e-commerce platforms such as livestreaming to reach markets at home and abroad.
Most of her scents are long-lasting and very affordable for their quality, the entrepreneur said, with the repeat customers who buy three to four bottles of perfume attesting to that.
A number of customers are also perfume enthusiasts, buying all eight scents over the few months, she said.
An American woman, Anna, told Dawa Drolma that she liked her "Namtso", which is a mix of cedar wood and fruity scents, saying it was "very fresh and unique".
Dawa Drolma said she aims to develop more beauty products that can further showcase Tibetan aesthetics. She also hopes to benefit more members of her community by involving more people in the business.
"Helping others is one of my motivations for getting into the perfume business. Building a great enterprise is an excellent way to contribute to charitable causes," she said.
"We can offer more opportunities to the young members of our community."