'Adult' Xiaoice, MS to flex AI muscles
By MA SI | China Daily | Updated: 2020-12-10 09:43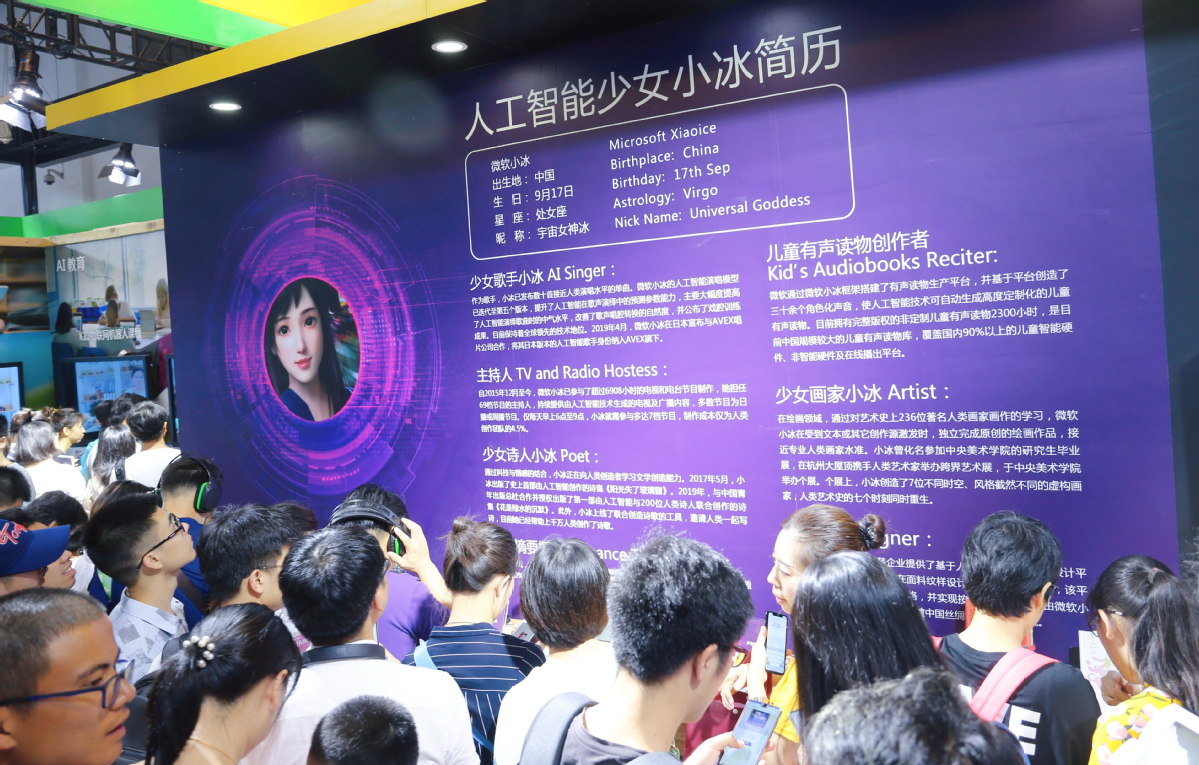 This is a partnership between two adults, said Li Di, CEO of Xiaoice, referring to the cooperation between the artificial intelligence company and US tech giant Microsoft Inc.
The comments came just five months after Xiaoice announced it was being spun off from Microsoft. At a product launch event held in late November, Xiaoice and Microsoft inked a strategic partnership offering AI and cloud computing industrial solutions for sectors including finance, automobile and AI-created content.
"Xiaoice used to be a teenager, but now it has grown up to be an adult," Li said, adding that the company has already completed a pre-A round of financing. The investors are Northern Light Venture Capital and NetEase Inc.
Li said the AI commercialization solutions jointly launched by Microsoft and Xiaoice will use Microsoft's Azure as a cloud computing operations platform to serve the Chinese and global markets. The two sides aim to integrate AI interactive experiences into typical application scenarios in key industries.
"AI has a lot of room for imagination but it often experiences a problem of having good concepts that are difficult to translate into practical effects in reality," Li said, adding that to solve the problem, Xiaoice aims to share its know-how in tapping AI's potential in real industrial cases.
Xiaoice, which started as conversation-capable software in 2014, already has dozens of songs to its name and even hosted a painting exhibition. It has also been functioning as a voice-activated virtual assistant in smartphones and smart speakers.
All these endeavors are part of Xiaoice's efforts to explore how AI can be used to upgrade traditional sectors.
Li said Xiaoice has a string of characteristics that help differentiate it from other AI solutions providers.
"Differing from peers who focus on using AI to increase efficiency and reduce staff, Xiaoice is dedicated to maximizing AI's potential in crucial positions," Li said.
For instance, Xiaoice's current clients include Wind Information, which provides listed company announcements for 26 types of companies, covering 90 percent of Chinese institutional investors and individual investors every day.
"Occasionally at 10 am, about 100 listed companies will publish announcements at the same time, each with more than 100 pages. If you want to cover all the listco (listed company) announcements during the peak period, you have to form a huge team of employees to deal with the situation. But when listco announcements are not so numerous, a large staff will be unnecessary. That is a situation Xiaoice focuses on and where AI can play the biggest role," Li said.
Xiaoice is also exploring how to use AI to perform financial risk controls and other industrial solutions. Its grand ambitions come at a time when AI is seeing wider commercialization across various sectors in China. The AI software and application market in China was worth $2.89 billion last year, and is expected to reach $12.75 billion by 2024. That would represent a compound annual growth rate of 39.9 percent over a six-year period, said International Data Corp, a global research and marketing services company.
Xiang Ligang, director-general of the Information Consumption Alliance, a telecom industry association, said that the AI market in China has bright prospects, and the nation's "new infrastructure "projects will accelerate the use of AI in more sectors.