Steady uptick in production at factories
By OUYANG SHIJIA | China Daily | Updated: 2020-12-16 08:57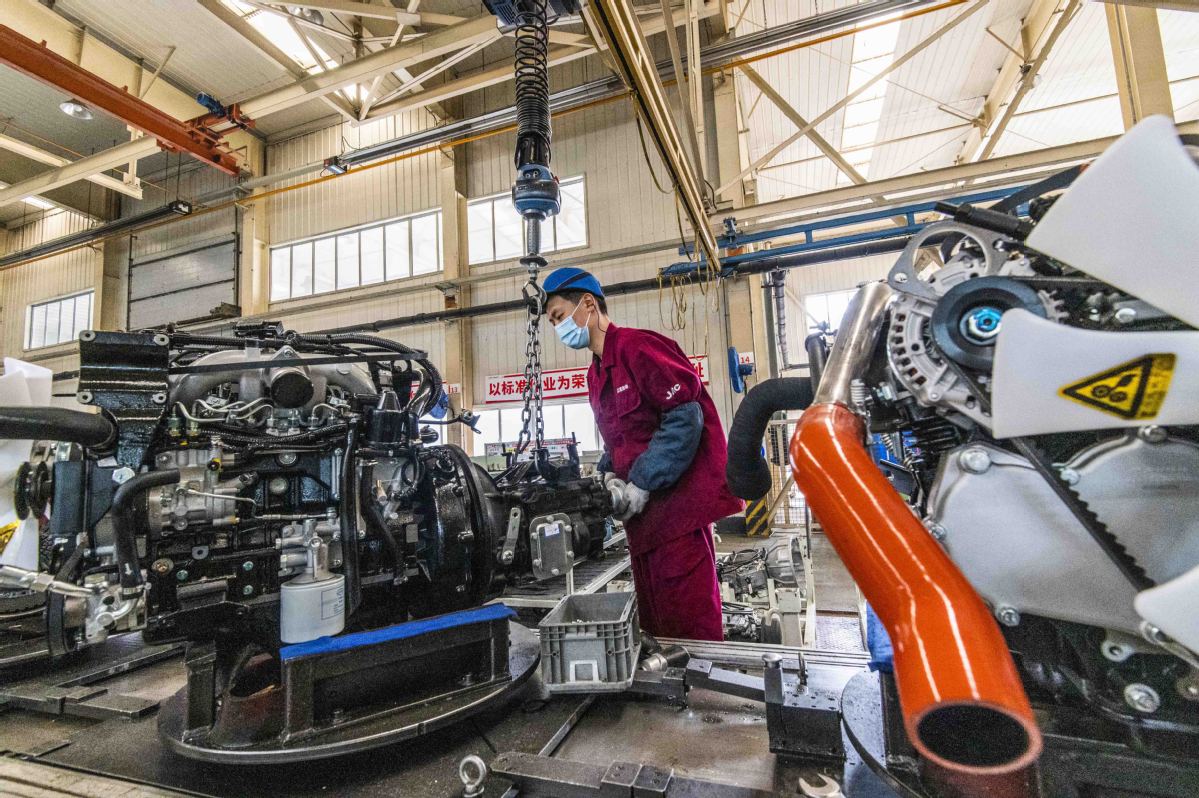 Economic recovery gathers pace as key gauge higher for eighth straight month
China's value-added industrial output rose for the eighth straight month in November, as economic recovery gathered pace and factories stepped up production, according to official data on Tuesday.
The added value of industrial enterprises above a designated size rose by 7 percent on a yearly basis in November, expanding at the fastest pace since March 2019, data from the National Bureau of Statistics showed.
Wu Chaoming, chief economist at Chasing Securities, said the robust data in November suggest that the world's second-largest economy is on track for a steady recovery despite mounting uncertainties.
Wu said industrial output growth in November is an indication of improving demand both at home and abroad, robust manufacturing investment and exports, intensified monetary policy support for manufacturing and improving consumer spending in the country.
Among the 41 industries surveyed by the NBS, 34 saw steady growth in their value-added industrial output for November.
Industrial output for equipment manufacturing and high-tech manufacturing grew by 11.4 percent and 10.8 percent on a yearly basis in November, 4.4 percentage points and 3.8 percentage points higher, respectively, than that of industrial enterprises above a designated size. Automobile production and consumer goods manufacturing remained robust at 11.1 percent and 3 percent in November, respectively.
"Industrial output growth was bolstered by the effective government measures to support production and the improving demand and supply situation," said Wu. "I expect to see slower growth in industrial output in the future. First, there is a large possibility that real estate and infrastructure investment demand will decrease. Second, with COVID-19 vaccines likely to appear gradually in the market, output will restart in the overseas markets and reduce their reliance on China."
Tao Jin, deputy director of the macroeconomic research center of the Suning Institute of Finance, said industrial output growth has been supported by the effective government measures to prevent and control the epidemic as well as for work resumption and production. "It was also helped by the demand revival in downstream markets.
"I expect the value-added industrial output will maintain strong growth in the first quarter due to strong demand and the advancement of vaccine research, development and production. However, there are some uncertainties with regard to the second-quarter industrial output, as the external demand may weaken with the gradual recovery in overseas production."
Looking ahead, Tao said consumption will become a dominant force in driving economic recovery next year. The government will continue to intensify support for new urbanization and "new infrastructure" investment as well as encourage capital flows into manufacturing, offline services and small and micro businesses, he said.