Ancient ruins give villagers greater hope for the future
By Sun Ruisheng/Li Yang | China Daily | Updated: 2020-12-17 07:42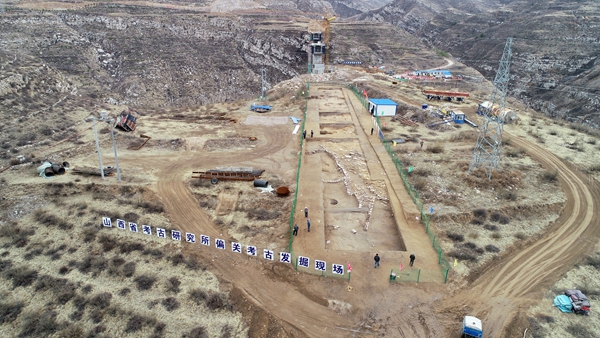 Remains of fort on Yellow River bank found, report Sun Ruisheng in Taiyuan and Li Yang in Beijing.
"This is the oldest stone stronghold (ruins) we have found in Shanxi province," says Zhang Guanghui, a researcher of Chinese civilization with the Shanxi Archaeology Institute.
The site he was referring to is called Tianfengping by locals in Pianguan county of Shanxi, and is perched on the top of a mountain embraced by a river on three sides.
Covering an area of about 30,000 square meters, the site consists of the remains of four sections of basement walls, 20 building foundations, more than 30 stove pits and two tombs.
The archaeological excavation of the site lasted from September last year to August. Lab tests of pottery indicate that the stronghold or fort was built about 4,500 years ago.
The archaeologists found that the fort went through various stages: construction, abandonment, rebuilding and another phase where it was abandoned again.
Among the foundation ruins, probably for homes, about 10 are comparatively complete. They were built with stones, and consist of interconnected as well as separate rooms. In front there is a square.
The builders took full advantage of the natural landscape to make the stronghold easy to hold and hard to attack. The layout of these rooms, and the overall structure of the complex have remained largely unchanged over the years of their existence. It is estimated hundreds of people lived in the settlement in its heyday.
Located on the east bank of the Yellow River, the Pianguan county, where the ruins were found, is at the northwest corner of Shanxi neighboring the Inner Mongolia autonomous region to its north and Shaanxi province to its west.
The region has been at a crossroad of civilization exchanges involving different ethnic groups, including the Han, Mongolian and Hui peoples. That's why several ruins of similar mountaintop strongholds such as Tianfengping have been found where Inner Mongolia and Shaanxi meet.
Yet, Tianfengping is the first site of its kind excavated in Pianguan. Zhang Guangshui says: "The discovery of Tianfengping fills Pianguan's vacancy for stone forts of that era. It provides firsthand clues and materials for archaeological research on the development of civilization during that period of time in the northwest of Shanxi on the east bank of the Yellow River."