High-speed train revolutionizes travel
By Yuan Shengao | China Daily | Updated: 2020-12-18 08:36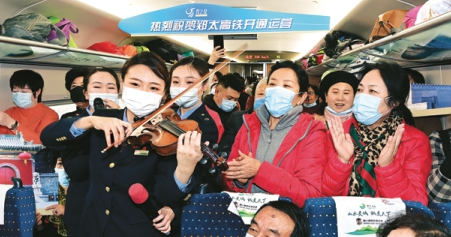 Traders and tourists among those to benefit from quicker journey between Taiyuan and Zhengzhou
A high-speed train departed the Taiyuan Southern Railway Station at 9:10 am on Dec 12 and arrived in Zhengzhou, capital city of Henan province two hours and 36 minutes later. The journey marked the beginning of the long-awaited Taiyuan-Zhengzhou High-Speed Railway.
The new line offers a convenient passage to Central China, especially for passengers from Shanxi counties and cities including Yushe, Wuxiang, Xiangyuan, Changzhi, Gaoping and Jincheng.
Liu Bin, a Taiyuan resident who has made frequent business trips to Jincheng in the southeast of the province, said he was excited to ride the high-speed train on the first day of its operation.
Also excited was Liu Suhua, a retiree who is fond of touring Henan.
"Like Shanxi, Henan province is a cultural cradle of China, featuring many sites with historical and cultural interests," Liu Suhua said. "I've been to Henan several times and I plan to visit the province again in the future. The high-speed train will make the trips much easier."
The high-speed railway is 432 kilometers long. The section between Zhengzhou and Jiaozuo, a Henan city neighboring Shanxi province, became operational in June 2015.
"With a designed speed of 250 km per hour, the trip between Taiyuan and Zhengzhou currently takes about two and a half hours," said Li Jing, an official at the Taiyuan Southern Railway Station.
"Previously, travel between the two cities took about 11 hours by conventional train as we used the route via Shijiazhuang in Hebei province.
"The traditional route is still operational, offering an option for passengers who care about cost," Li said.
As the high-speed line passes the Taihang Mountains, it is significant for residents there who have longed for improvements in transport, Li said.
Also riding the inaugural train was Wu Xia, a native of Jincheng, a city at the heart of the Taihang Mountains. She lives and works in Taiyuan.
Upon boarding, she made a phone call to her mother in Jincheng:"I will be back home in about two hours."
"In the past, it took more than seven hours to travel between Taiyuan and Jincheng by train and more than five hours by car," Wu said.
Converging at several of the nation's major railways and highways, Zhengzhou is the transport and commodities distribution hub in Central China. There is a huge flow of merchants between Shanxi and Zhengzhou.
Li Ruxuan is a dealer of clothing in Changzhi city in Shanxi. She travels to Zhengzhou to buy goods almost once a week.