A different class of learning
By Xu Lin | China Daily | Updated: 2020-12-23 07:25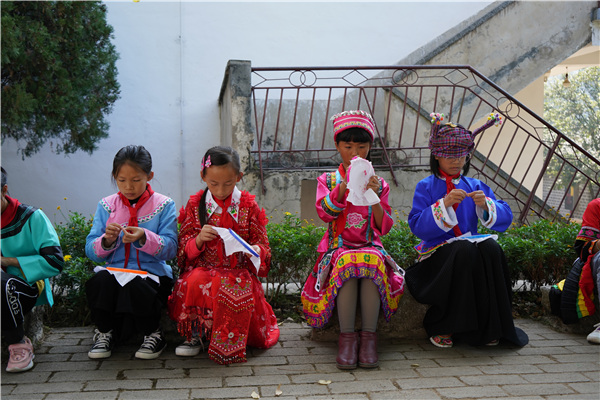 Girls from ethnic groups get a real opportunity thanks to vision and determination of school professionals.
A stitch in time… as the saying goes. But for girls from ethnic groups going to a school that nurtures their talent, the ability to stitch is just one of their achievements. Li Zhongmei, 11, of the Zhuang ethnic group, is one of the girls. She is learning embroidery in class and that, among other skills she is being taught, will help her thread together her future prospects.
The fifth-grader is a boarder from two all-girl classes at No 1 Primary School in Guangnan county, Wenshan Zhuang and Miao autonomous prefecture, Yunnan province.
It takes her about two hours to travel to school from her home in the mountainous region, including traveling along a 10-kilometer-long dirt road. Villagers send her by car and then she takes a bus.
Starting from 1995, the primary school began to enroll an all-girl class drawn from local ethnic minorities, offering a two-year education from fifth to sixth grade, exempt from all expenses, including tuition fees and board and lodging costs.
Outstanding pupils from impoverished families in the county's remote areas are selected.
After graduation, they will study at the county's best middle school, and boost their chances of going to college. The graduates of the all-girl classes have gone on to become leading contributors in all walks of life, such as civil servants, doctors and teachers.
"I like my new school life. The environment and teaching methods have changed (at the new school), but I don't have much pressure regarding my study," Zhongmei says. "I want to go to Tsinghua University. My dream is to be a teacher."
The new school provides her with access to a library, and she loves to borrow books, especially those containing fairy tales.