Finding their voice
By Li Yingxue | China Daily | Updated: 2020-12-23 08:10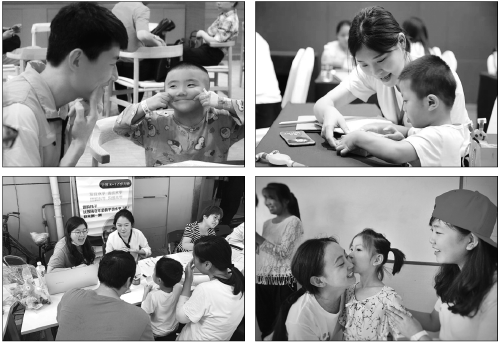 Zhang Ying, 23, could have been a news anchor after four years studying broadcasting and talk show hosting at Shaanxi University of Science and Technology. So could Du Xintong, who is one of her senior school classmates.
Instead of just becoming talking heads on TV, however, the duo decided to implement their knowledge of public speaking and enunciation to help millions of children with speech disorder to find their own voices.
Graduating from college and receiving her national speech therapist certificate last year, Zhang is pursuing a career as a speech therapist. "Who would know that a broadcasting major has an advantage to becoming a speech therapist?" she says.
Zhang and Du met in 2016 after being teamed up together during a period of volunteer work during the summer break.
When they researching topics for their social work project, they discovered that many children who have had surgery to repair a cleft lip are in need of speech therapy.
Following that fortuitous meeting, they co-founded Voice Changer, which offers language rehabilitation for teenagers in China through online and in-person service platforms.
The organization won the 2019 New Generation Entrepreneurship Venture Competition, among several other prizes.
In December, the pair were crowned champions of China and made the world top 12 at the She Loves Tech international entrepreneur competition.
So far, over 1000 families have received speech therapy from Voice Changer, and the team are now aiming to train more speech therapists, drawn from college volunteers, to help more children with speech disorders across the country.
"The surgical repair of a cleft lip is just one step, the children need more speech training afterward, especially on how to make and perceive sounds, which is based on phonetics. As phonetics was part of the syllabus during our major, we thought we could use our understanding of the subject to help," Zhang says.
After some basic training on physiology and pathology from doctors at a local hospital, Zhang and other team members host a 4-day training course at the hospital for seven children with speech issues.
Some of the children have articulation disorders, such as sound errors with glottal stops-the sounds produced by obstructing airflow in the vocal tract. Children who have a problem doing that can make it sound like the child is omitting a consonant. For instance, when they say "ball", it may sound like "all".
Zhang remembers a particular moment when a 4-year-old boy, after some intensive training, spoke the word baba (which means dad) clearly for the first time in his life and his father was so thrilled and happy.
"That moment inspired us so much that we felt like we could really help other people, and bring hope to their families, so after the summer practice, we decided to make the project," Zhang recalls.
After graduation in 2018, Du decided make the project a full-time endeavor, Zhang followed a year later.
Yan Si, 29, met Du at an entrepreneur competition in 2019 and she was so moved by Du's program, she also joined the team.
To further develop the program, the women founded the company and, in August 2019, they opened their speech language learning studio in Shanghai.
According to Zhang, each child needs to finish at least one three-month course, which consists of three 40-minute sessions a week. The length of the overall training program is dependent on each child's condition upon their evaluation.
"When we are teaching in-person courses, the parents cannot accompany their children. The children may feel a bit nervous in a strange environment, but they soon get used to it and start to enjoy the training," she says.
"They have different speech disorders, some may suffer from a functional disorder, some may have language issues, and some are autistic children who choose not to talk," she says.
To be a good speech therapist, it goes without saying that the job requires excellent communication skills and knowing how to listen to the children.
Zhang says, for children with autism, they must train them together with partners from another institute. "We need specialists to work with them on their willingness to communicate and interact, then we can offer our training on the speech itself," she says.
They also launched a mini program on WeChat that provides online services for families of children with speech disorders-parents can upload their child's information and recordings to the self-testing tool and get a report. As well as online speech therapy, there are also online courses for parents, including guidance for speech therapy at home.
Zhang says even though online courses lack some interaction with the children, it enables them to help more children outside Shanghai.
"We insist that parents must accompany their children when taking online courses as they need to play the role of both teaching assistant and desk mate," she says.
Yan says they receive funding each year to support children from low-income families.
Yan said that according to the 2019 annual conference report of the Chinese Speech-Language Hearing Association, there are only 10,000 speech therapists in China, many of whom are not full-time.
Unlike common volunteer work, to be a speech therapist volunteer, complex training is required before services can be offered.
"Speech therapy is a complex subject which requires knowledge, including training in education, psychology, linguistics, physiology and pathology," Yan says, adding that their team has developed a training system for the volunteers to grow into professional speech therapists.
They prefer to recruit college students majoring in related subjects, such as broadcasting, linguistics, Chinese languages and literature or special education.
"It takes one person several years to learn and practice, and by doing this we can have our own team of talent and only those who are really devoted to a career as a speech therapist will stay on," she says.
Yan thinks the volunteer work is also a good chance for college students to practice before they decide on the career they want to pursue.
"We now have around 10 persons working full-time and over 100 volunteers across the country. I'm the oldest in our team, as most of our members are born after 1995," Yan says.
In October, Voice Changer was named this year's Chinese champion of She Loves Tech, a startup competition held in China, which attracted entrepreneurs from over 30 countries and regions this year.
Two months later, the company was named among the 12 finalists in the international competition.
She Loves Tech co-founder Virginia Tan says, "This year, we have seen women playing leading roles in technological innovation-including agritech, fintech, healthcare, edtech, smart cities, clean tech, consumption and retail, and women's issues-innovations which have become increasingly important in a post-pandemic world and in solving the greatest challenges we face in a time of crisis."
Yan recalls that their team were a bit worried and lonely during the worst period of the COVID-19 outbreak and that some peers' projects didn't survive.
"Taking part in the competition makes us realize that there are so many other young people and teams are still fighting and working hard, which is inspiring for us," she says.
"Through the competition, we hope that more people will know that we have a team that is doing good things in speech therapy, and if someone would like to join us, they would be doing good for children that need the training," Yan says.
According to Yan, the team hopes to use technology to make speech therapy more easily accessible for families. "In the future, we may use technology, such as automatic speech recognition, to help us handle more work," she says.