Helmer's hypocrisy exposed by vigilant netizens
By Zhao Manfeng | chinadaily.com.cn | Updated: 2020-12-31 16:30
A new variant of the COVID-19 is believed to have originated in southeast England, according to the World Health Organization. This information was widely cited by mainstream media. However, this left Roger Helmer, a former member of th e UK Independence party (Ukip) , unable to sit still.
In a tweet on Dec 28, he asked not to call the new variant virus "originated in the UK" but only "identified in the UK." This plea immediately backfired, as netizens dug up Helmer's comments deeming the novel coronavirus a "Chinese virus", showing his employment of double standards.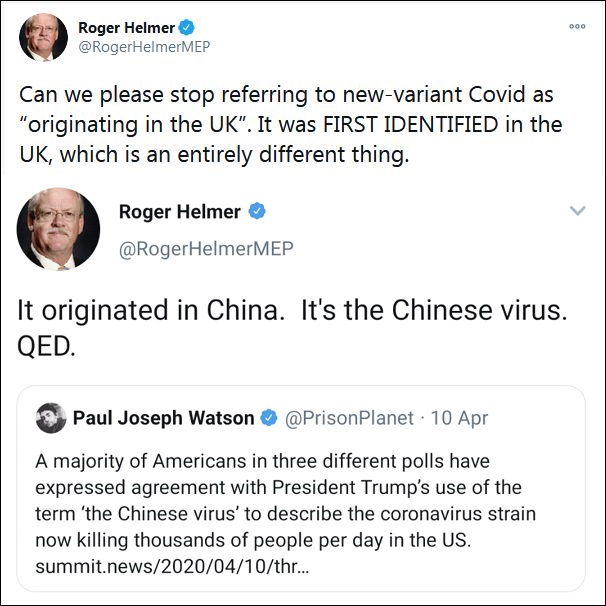 Such a weak argument was unable to pass muster. In the past year, he has repeatedly slandered the coronavirus as "Chinese virus" and has also retweeted Trump's videos calling it such.
Such statements are in stark contrast with Helmer's remarks about the new variant, leading many netizens to relish in pointing out his hypocrisy.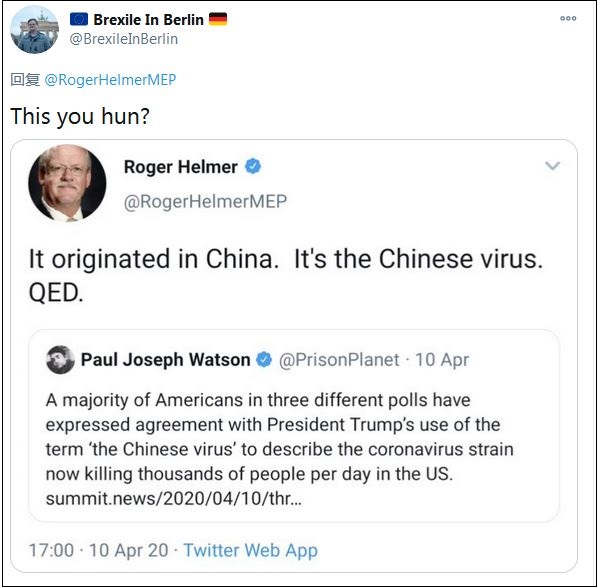 A netizen quickly pulled up Helmer's comment referring to "the Chinese virus" and commented: "This you hun?" This comment received 2,588 likes, the highest of all replies.


Another netizen said: "Once you've apologized to Spain for 'Spanish flu'".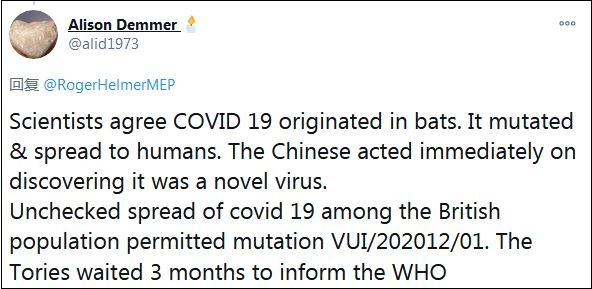 Another netizen compared the pandemic responses of China and the UK to the virus: "The Chinese acted immediately on discovering it was a novel virus. Unchecked spread of COVID-19 among the British population permitted mutation (VUI/202012/01). The Tories waited 3 months to inform the WHO."

Many netizens criticized Helmer in a similar vein.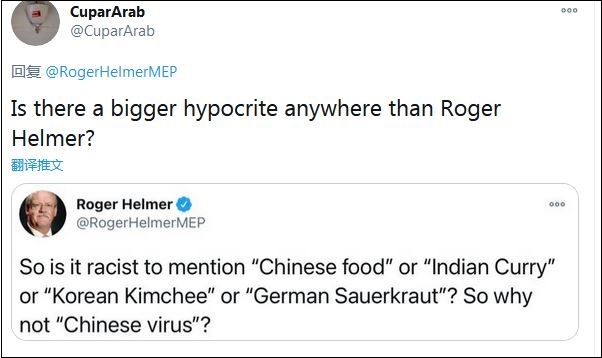 "Is there a bigger hypocrite anywhere than Roger Helmer?"

The new mutation is being called VUI-202012/01 - the first "Variant Under Investigation" — and was discovered in the UK in December 2020. UK Prime Minister Boris Johnson has said researchers in the UK estimate the variant could be as much as 70 percent more transmissible than established strains.

The new variant is believed to have originated in southeast England, according to the WHO. Public Health England says retroactive tracing, using genetic evidence, suggests the variant first emerged in England in September. It then circulated at very low levels until mid-November.
"The increase in cases linked to the new variant first came to light in late November, when PHE was investigating why infection rates in Kent [southeast England] were not falling despite national restrictions. We then discovered a cluster linked to this variant spreading rapidly into London and Essex," PHE said.