Smaller EVs' popularity expected to accelerate
By LI FUSHENG | China Daily | Updated: 2021-01-04 08:38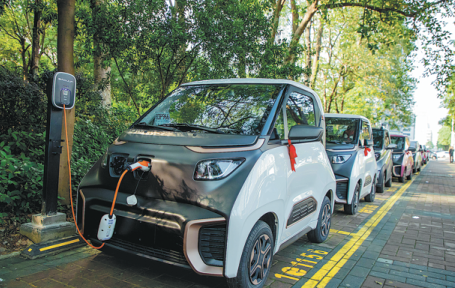 Smaller vehicles are gaining popularity in China's growing new energy vehicle market, and their market share is expected to grow further as authorities gradually phase out financial stimuli that has been in place since 2009.
The Hongguang MINI EV, a 2,914-mm four-seater from Sino-US joint venture SAIC-GM-Wuling, is one popular example.
Sales of the model, which has a price tag starting from $4,380 and a driving range of 120-170 km, totaled 33,094 in November, toppling Tesla's Model 3 as the best-seller in China for the month.
Wang Zhenpo, secretary-general of the National Big Data Alliance of New Energy Vehicles, called the model, which has seen its popularity soar since its launch in July, "a phenomenal thing" in the segment.
The Hongguang MINI EV is not alone. Statistics from the alliance show that small and micro-sized electric vehicles account for a 40 percent market share in China's overall new energy vehicle segment, which is expected to grow to 1.8 million vehicles in 2021.
Ora-branded electric cars, from China's largest SUV maker Great Wall Motors, saw sales in the first 11 months reach 42,696, more than four times the figure in the same period of 2019.
Shao Jie, an executive in charge of electrification at SAIC-GM-Wuling, said the vehicles are affordable and easy to use, which are key factors in their popularity.
For most Hongguang MINI EV owners, the model is not their only vehicle. "For example, parents can drive their kids to school or meet their friends. It is easy to drive and park. And it can be charged easily at home," Shao said.
Smaller vehicles' short driving range does not seem to bother most users. Data from the alliance shows that most people living in smaller cities take trips between five and 10 kilometers, and have an average daily mileage of 30 km.
Vehicles from SAIC-GM-Wuling account for 51 percent of China's small-sized electric vehicles, and 43 percent of them are the carmaker's Hongguang MINI EVs.
In the first 11 months of the year, SAIC-GM-Wuling sold 132,000 small and micro electric vehicles, and sales growth month-over-month was registered in nine months.
Statistics from the China EV 100, an automotive think tank, show that electric cars account for 90 percent of the micro vehicle segment.
Analysts said such vehicles have vast market potential, and even more so when the government stops the financial stimuli after the end of 2022.
For a while, Chinese electric cars available in the market had a lot to do with the government subsidies that have been in place since 2009.
Many carmakers rushed to make heavily subsidized models, which are usually larger ones with longer driving ranges, basically leaving the smaller electric car segment untapped.
Shao at SAIC-GM-Wuling said the small and micro vehicle segment in China could grow to around 10 million vehicles in the future.
International carmakers are stepping up efforts as well. Daimler's smart brand is to launch its first China-made vehicle in 2022, which will be a small electric SUV.
Late last month, German trade newspaper Handelsblatt reported that Volkswagen is planning to produce smaller electric vehicles at its joint venture JAC Volkswagen.