Oxford vaccine rolls out as UK starts lockdown
By ANGUS McNEICE in London | China Daily Global | Updated: 2021-01-06 09:13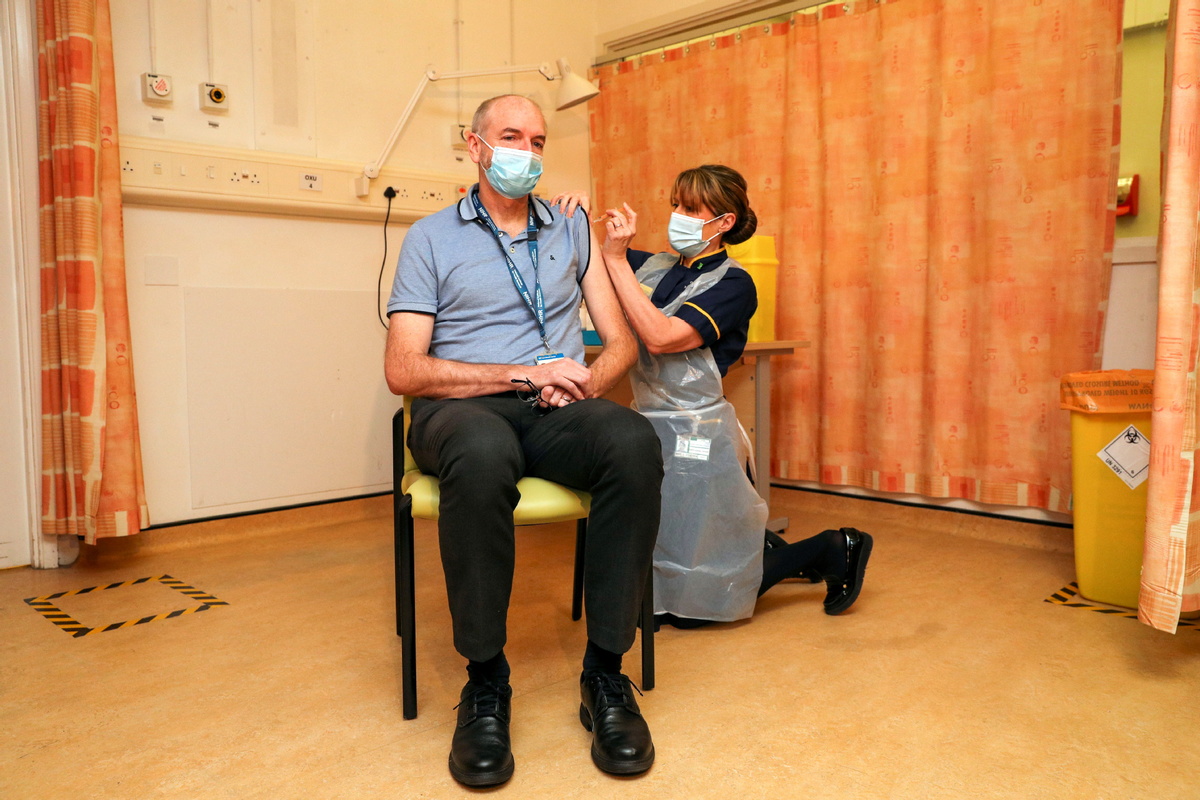 The United Kingdom has begun rolling out a COVID-19 vaccination from Oxford University and pharmaceutical company AstraZeneca, amid rising levels of infection that have forced a third nationwide lockdown.
The so-called Oxford vaccine has been delivered to a small number of hospitals for surveillance purposes, which Oxford University said is standard practice, and the bulk of available supplies will be disseminated to hundreds of vaccine sites later this week.
Dialysis patient Brian Pinker, 82, became the first person to receive the treatment outside of trials. Andrew Pollard, who is chief investigator of the Oxford vaccine trial, also had the shot on Monday.
"It was an incredibly proud moment for me to have received the actual vaccine that the University of Oxford and the AstraZeneca teams have worked so hard to make available to the UK and the world," Pollard said. "As a pediatrician specializing in infections, I know how important it is that healthcare workers along with other priority groups are protected as soon as possible, a crucial role in defeating this terrible disease."
The UK has previously approved another vaccine, from Pfizer and BioNTech, which has been given to more than 600,000 people since dissemination began in December.
The UK entered a new nationwide lockdown on Monday, in order to control the spread of the novel coronavirus, which set a new record for infections on Dec 29 when more than 80,000 people tested positive.
In England, the number of COVID-19 patients in hospitals has increased by nearly one-third in the last week, to almost 27,000, which is 40 percent higher than the first peak in April.
"As I speak to you tonight, our hospitals are under more pressure from Covid than at any time since the start of the pandemic," Prime Minister Boris Johnson said in a televised address on Monday.
Over the weekend, Johnson told the BBC that the government aims to have "tens of millions" of people vaccinated over the next three months.
In order to achieve this goal, the UK has adopted a revised vaccine strategy. Both the Oxford and the Pfizer treatments require two shots administered weeks apart. The Pfizer trials used a gap of 21 days between treatments, whereas in most cases, the second jab in the Oxford trials was administered after four weeks.
But the UK has opted for a 12-week interval for both the Oxford and Pfizer treatments, in order to provide a larger portion of the population with vaccines in the first round of shots.
The move has divided the medical community. Some experts say the strategy is likely to protect more people from the virus, and the 12-week delay is unlikely to reduce the efficacy of the vaccine. Others argue that there are too many unknowns and the new strategy relies mostly on expert opinion, rather than an abundance of evidence from controlled clinical studies.