Breaking new ground
By Wang Kaihao | China Daily | Updated: 2021-01-07 07:44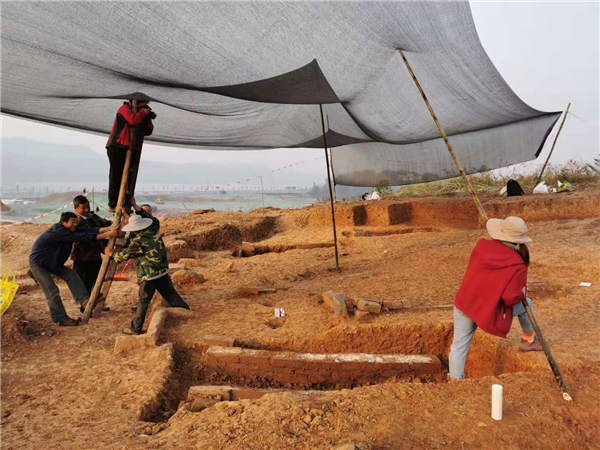 The only all-female team of archaeologists in the west of China is unlocking mysteries of the past, while forging a path into the once male-dominated field for future generations of women to follow, Wang Kaihao reports in Chongqing.
The scorching summer of Chongqing, a municipality in Southwest China which is often nicknamed the "stove" for its high temperature, is definitely not a good time to spend hours working outdoors.
However, for Yan Ni, 40, a female archaeologist from Chongqing Cultural Heritage Research Institute, it is her busiest time of the year.
Many areas of the city are located in the reservoir area of Three Gorges Dam, the water level of which lowers from 175 meters to 145 meters between June and August to accommodate the flood season. For Yan and her teammates, it is the best time to harvest archaeological discoveries in the riparian zone, which is usually hidden underwater, and she needs to make every minute count.
"While working in the wild, sunshine and mosquitoes may be our biggest enemies," Yan, who looks younger than she is, recalls with a smile. "I'll wear long sleeves to keep them off. It makes me even more sweaty. But you see, I protect myself quite well.
"In Chongqing, you have to wear sunscreens, at least SPF 50," she says.
In December, to accept our interview at the office of the research institute in downtown Chongqing, she hastily headed back from a research field on the outskirts of the city.
Perhaps, for her, it is like a precious rest. In the course of a year, she spends over 200 days working outdoors on archaeological sites. Stationed in the countryside, she often cannot go back home for several months.
Nevertheless, she feels luckier than many other archaeologists. Her 11-person squad is composed of archaeologists, restorers of cultural relics, cartographers, and scientific researchers working in the lab, and all of them are women.
This is the only all-female archaeological team in the west of China.
"You know, when women get together, they always have so many shared topics to chat about during their spare time," Yan says, laughing. "And we can take better care of each other."
After earning her master's degree in archaeology from Jilin University in Changchun-one of China's best higher education institutions for the subject-in 2006, Yan chose to go back to her hometown in Chongqing.
She is one of the first female archaeologists to work at the institute, the operation of which was separated from Chongqing Three Gorges Museum that year.
At that time, most female archaeological researchers in Chongqing were regularly stationed in laboratories, because leading excavations in the field was considered to be the preserve of men due to the more physically challenging nature of the work.