Trump's Twitter ban reveals who really runs the US
CGTN | Updated: 2021-01-12 13:56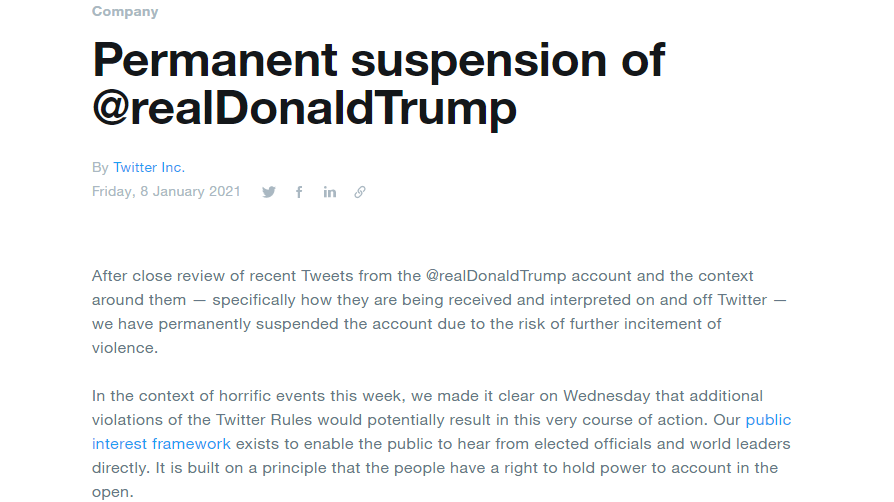 Editor's note: Keith Lamb is a University of Oxford graduate with an MSc degree in Contemporary Chinese Studies. His primary research interests are China's international relations and "socialism with Chinese characteristics." The article reflects the author's opinions and not necessarily the views of CGTN.
After the recent chaos on Capitol Hill the outgoing President Donald Trump has been permanently banned from his social media platform of choice, Twitter. This came after Twitter said that it has seen "plans for future armed protests" on its platform.
Ironically, Trump being distrustful of the traditional mass media monopolized by a small elite, has throughout his presidency used Twitter to speak directly to his people. By doing so he was able to circumvent the power of the media he distrusts which he believes is at the service of US-based transnational capital (who Trump calls the globalists).
Indeed, the growth of the internet and its accompanying social media have been traditionally viewed as avenues to circumvent powerful vested interests. However, Trump's ban from Twitter highlights that social media is not a neutral space but one where vested monopolist interests also prevail even against a billionaire president.
In fact, the traditional mass media and new forms of social media work hand in glove. Take Juan Guaido's attempted coup in 2019 against Venezuela's President Nicolas Maduro where he, surrounded by armed men in uniforms, claimed to be at La Carlota Military Airfield in eastern Caracas.
Speaking on social media, while simultaneously being broadcast by CNN, Guaido, claiming to be surrounded by thousands of supporters, said that "today, the armed forces are clearly with the people … The time is now."
In fact, Guaido's assertion that he was surrounded by thousands of supporters was false and neither was he at La Carloto Military Airfield. Instead, he stood outside the airfield on a highway overpass. CNN, being there, knew this too which is why they only filmed close-ups. The truth is that this was a proactive attempt to stimulate a popular uprising and it was one actively supported by President Trump.
No doubt, at times social media can be used by the underdog to circumvent traditional state power and vested interests. However, this conception is largely a self-promulgated one that arises from the mass media itself.
In fact, the trumpeting of social media as being a neutral force of freedom and free speech if swallowed whole can be dangerous.
This is because firstly this belief is false. Media ownership has the final say on who to ban; the collection of data is centralized in the hands of the corporation rather than the users.
Secondly, this belief reinforces an inaccurate perception which equates that the interests of the media corporations who own social media are one and the same as their users. In fact, a corporation's primary interests lie with preserving its own class interests as well as striving for increased profit over social progress for all.
For example, the June 2009 Iran protests is an example where social media, in league with the traditional mass media, propagandized Western users of Twitter into believing that Twitter is a tool that allowed Iranian protesters to organize and fight for liberal freedoms.
While these 2009 protests were widely dubbed by Western media as the "Twitter Revolution" it is highly doubtful that Twitter played any significant role. This is because firstly there were only around 8,600 Twitter accounts in Iran at that time. Secondly, the assumption that the mass of Iranians were calling out for Western-style liberal freedoms is highly dubious.
The "Twitter Revolution" was merely wishful thinking. It took place predominantly in the imagination of Western Twitter users rather than Iran itself.
Statistics by the Pew Research Center showed that the prominent tweet about the 2009 Iran protests was the circulating of a CNN story about how Iranian activists were using Twitter. In addition, one of the top tweets was the sharing of a webpage that encouraged users to change the color of their avatar to green which was the symbol of the protest movement.
In the modern age, cyberwarfare is commonly used by both state and non-state actors. For example, under Obama's orders the US used the Stuxnet software to disrupt the Natanz uranium enrichment facility in Iran. The pro-Assad Syrian Electronic Army hacked the Associated Press' Twitter account on April 23, 2013 tweeting: "Breaking: Two Explosions in the White House and Barack Obama is Injured." Within three minutes of this tweet, the New York Stock exchange lost $136 billion in equity.
Along with outright hacking, there are other prevalent tools for disrupting social media. Commonly automated accounts known as bots are used to game algorithms to push content into feeds. This can drown out reasoned real debate between humans and populate networks with soundbites. This in turn can give the illusion that a certain view is popular and lead to the formation of a false consensus. With the bandwagon effect, people jump on to support a view for fear of not running with the crowd.
In the document "The Art of Deception: Training for Online Covert Operations" revealed by former NSA whistleblower Edward Snowden, it was uncovered that the US and the U.K. take a very active role in using social media for their covert operations against certain targets. Tactics include writing false blogs purporting to be a victim of a target, emailing family members, leaking information, ruining business relations and posting negative information on forums.
According to the Strategic Culture Foundation, the above-mentioned tactics have been used across the world to foment uprising. Coincidentally, these uprisings are always at the service of opening up markets and space for transnational capital. Evidently, even the head of the world's most powerful state is subservient to this force too.