Airport outrage: Sensible sentences but strange comments
By Grenville Cross | China Daily Asia | Updated: 2021-01-13 09:49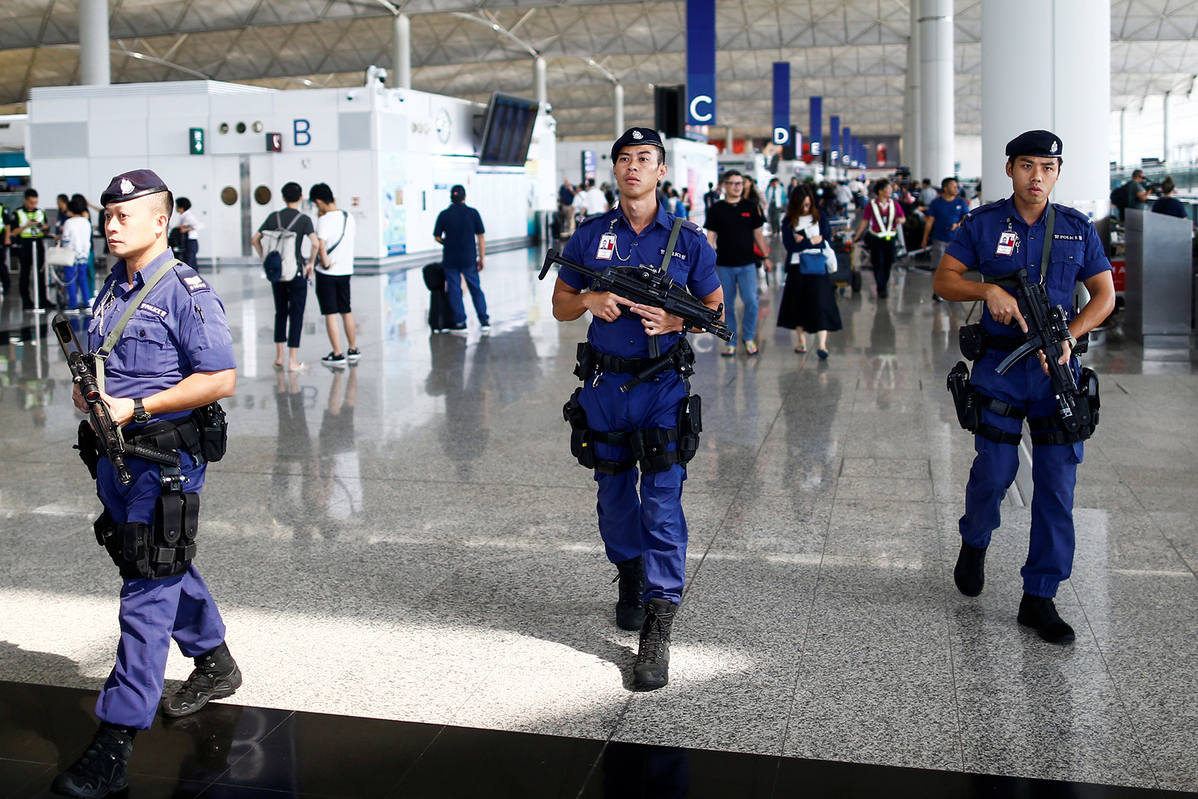 On August 13, 2019, as the protest movement paralyzed the Hong Kong airport, an outrage occurred which horrified decent people everywhere. A mainland journalist, Fu Guohuo, who was arriving from Shenzhen, was grabbed by protesters and restrained on a baggage cart with plastic zip ties, for about 50 minutes. Once he was helpless, the protesters punched and kicked him, and hit him with hard objects. When medics sought to reach Fu, they tried to block them, and the rest of the world was finally able to see them in their true colors.
Although some of the protest movement's criminals have escaped justice, finding safe haven in foreign countries, those responsible for torturing Fu have not been as lucky. On January 8, after a diligent police investigation, three of the protesters were convicted of a variety of offenses, including riot, assault occasioning actual bodily harm, false imprisonment and possession of offensive weapons. After the District Judge, Clement Lee Hing-nin, condemned the defendants for "crazy, extremely aggressive and insulting" behavior which had "brought disgrace to Hong Kong", he imposed the toughest sentences so far to be imposed on those responsible for protest-related violence, which was no less than they deserved (DCCC 812/2019).
Whereas Hok Ka-lok, 30, was sentenced to 5 years 6 months imprisonment, and Lai Yun-long, 20, to 5 years 3 months imprisonment, Amy Pat Wai-fun, 25, received 4 years 3 months imprisonment. The judge, very properly, emphasized that "deterrent sentences" were necessary for "uncivilized" conduct that affronted the city's values. By trying "to stimulate and provoke feelings of hatred", the defendants had attempted to "destroy the peace of society", and could not be tolerated. Everybody must be grateful to Lee for realizing that cases like this must attract condign punishment, particularly after the problems caused recently by unrealistic sentencing in some of the magistrates courts.
If, therefore, the Judicial Institute, which was established in 2013, and provides continuing legal education to judicial officers, can arrange an intensive course on sentencing, this should help to prevent judges from embarrassing themselves, and reduce the possibility of sentencing errors arising in future
However, before the judge imposed the sentences, things took a strange turn. While a defense lawyer was mitigating, Lee raised the issue of the unduly lenient sentences which had been imposed by some magistrates, and which, following reviews of sentence brought by the Secretary for Justice, were increased by the Court of Appeal, after hearing the prosecutors' submissions. He commented that, where lenient sentences are imposed, they trigger calls from politicians for "judicial reform", with "grassroots" judges, who were "always to blame", facing a "difficult" situation.
At this point, the judge turned to the Senior Public Prosecutor, Ng Wing-kit, saying "you're not actually assisting the court". He queried why prosecutors refrained from assisting trial courts with representations on the appropriate terms of imprisonment to impose, and on the quantum of any sentencing discounts, given that they were, as he sarcastically put it, "so eager to offer suggestions to the appeal courts". He then compounded things by observing that "I don't understand why justice can only be served on appeal, but not during trial", adding that if Ng made representations the court could "calibrate a more appropriate sentence and avoid being subject to organized incitement of hatred".
Quite clearly, these startling observations placed Ng on the spot, not least because they evinced a surprising unawareness of the parameters within which a public prosecutor is allowed to operate. It has, for many years, been fundamental to prosecutorial ethics, both here and elsewhere, that a prosecutor acts as a "minister of justice" at every stage, including sentencing, where his or her role has always been "hands-off", leaving the judge to exercise his discretion as he thinks fit. In England and Wales, for example, the Bar Association's Code of Conduct has called it a "fundamental principle" that the prosecutor "should not attempt by advocacy to influence the court in regard to sentence". Although a prosecutor can provide basic assistance, by, for example, supplying the court with relevant judgments or statistics as to the prevalence of a crime, there has always been an absolute prohibition on prosecutorial advocacy, in pursuit of a higher sentence.
What prosecutors can and cannot do is helpfully summarized in the Department of Justice's "Prosecution Code" (2013), and prosecutors are duty-bound to uphold its values in the discharge of their duties. When, therefore, the judge asked Ng about prosecutors making representations on sentence, he replied they were "bound by the Prosecution Code". This, however, prompted the judge to query "who should be the one to undergo reform?" According to one report, Lee later explained that he made the comments he did as he wanted to better grasp sentencing in changing times, and this case was the first he had handled arising out of the social disorder.
Although Ng was right to mention the "Prosecution Code" to the judge, what Lee needs to appreciate is that the prosecutorial advocacy he was proposing was specifically prohibited by the Court of Appeal in a landmark judgment in 1989 (Attorney General v Jim Chong-shing, CAAR 2/1988), which binds all prosecutors. In delivering judgment, the Court's Vice President, Justice Kutlu Fuad, said that prosecutors could properly draw a trial judge's attention to appeal judgments they considered would "help the court to arrive at a just and proper sentence". However, he also emphasized that they had to be "careful not to suggest any particular sentence or type of sentence, or to say anything that could be taken as advocating severity". Until such time, therefore, as the Court of Appeal reverses its stance, and allows prosecutors to call for particular sentences, of which there is no likelihood, their duty is clear.
As Lee, who served as the Chief Magistrate from 2014 to 2018, was unaware of this important aspect of sentencing, it is entirely possible that he is not alone. There may, moreover, be a wider ignorance of the principles and practices involved in sentencing offenders, as developed by the higher courts over many years. If, therefore, the Judicial Institute, which was established in 2013, and provides continuing legal education to judicial officers, can arrange an intensive course on sentencing, this should help to prevent judges from embarrassing themselves, and reduce the possibility of sentencing errors arising in future.
The author is a senior counsel, law professor and criminal justice analyst, and was previously the director of Public Prosecutions of the Hong Kong SAR.
The views do not necessarily reflect those of China Daily.