Gold medalist is not sitting on her laurels but helping others
Xinhua | Updated: 2021-01-13 10:02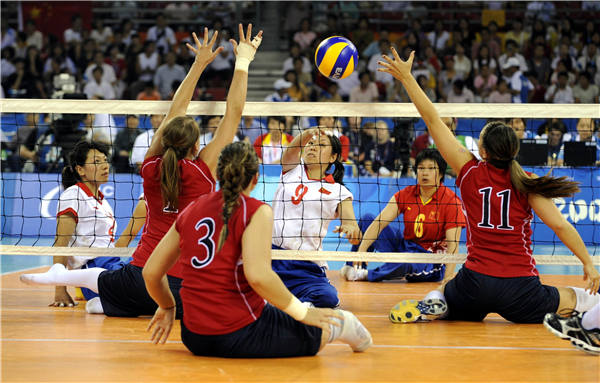 After retiring from China's national women's sitting volleyball team, Yang Yanling relaunched her career in the welfare services for people with disabilities.
The 40-year-old, three-time Paralympic gold medal winner (2004,2008 and 2012), chose to leave the Olympic court after the London Paralympics and returned to her hometown in Jiayuguan city, Northwest China's Gansu province.
Born with congenital hip dislocation, Yang was a sensitive and introverted child.
"I was aware of my own 'difference' since I was young, as I could not walk or run like others. It was hard for me to face my physical defect. I was so anxious in every PE class and avoided communicating with classmates," recalls Yang.
Later, by chance, in Gansu in 2001, she was introduced to the provincial women's sitting volleyball team, composed of athletes with amputations, cerebral palsy, spinal cord injuries and other physical disabilities.
At first, Yang was confused. For a long time, she thought that there were no sports events suitable for the disabled. "How could I play volleyball if I could not walk or run?"
On the first day she stepped into the volleyball stadium, she saw 12 girls sitting on the floor and tossing a ball toward each other within a smaller space and a lower net than in ordinary volleyball games.
Their passionate cheers echoed around the entire stadium, and Yang quivered slightly with excitement. "They made me feel alive," she says.
Yang decided to stay and quickly demonstrated a talent for the sport.
"The beginning was hard. According to the rules, players must keep a sitting position during the game. So we had to complete all the movements on the floor only using the strength of our arms and waist. Some of the girls had completely worn through their new trousers after only a few days' training," she recalls.
In 2002, she was promoted to the national team and represented China for the first time at the world championships in Slovenia.
When the women's sitting volleyball made its Paralympic debut in Athens, Yang and her teammates won the gold medal, the first team title at the competition for Chinese people.
After completing a hat-trick at the Paralympic Games by adding a gold in 2008 and another in 2012, Yang chose to retire.
She is currently employed by the Jiayuguan Disabled Persons' Federation in her hometown and helps other physically and mentally challenged people.
"Sport made me a more confident person. Now it is time for me to help others," says Yang.
In recent years, Yang and her colleagues have organized events like art performances and sports competitions to encourage more disabled people to participate. They also promoted the construction of accessible facilities in their city to create a better environment for the disabled.
"I am happy to see that disabled people are able to leave their houses, and that children with various physical and mental challenges are not afraid of going to school or talking to people," she says.
Sometimes, she goes back to the volleyball court, and those glorious days flash back into her mind. "That 19-year athletic career has had a lifelong benefit, and I am so grateful for all the help."
With more than 200 days to go before the Tokyo Paralympic Games, Yang sends her best wishes to her former teammates. "I hope that they enjoy the competition and their stay in Tokyo."