California funeral facilities strained by relentless virus
By LIU YINMENG in Los Angeles | China Daily Global | Updated: 2021-01-18 11:17
Rob Karlin has been working seven days a week. Whenever he can catch some rest, he does, but the job of handling the delicate details at the end of another person's life has taken a toll on him, both physically and emotionally.
The rising death toll from the coronavirus pandemic in Los Angeles County, the hardest hit region in the US, is overwhelming mortuaries and funeral homes.
In Los Angeles County, the country's most populous county, the number of novel coronavirus cases passed 1 million on Saturday. On Sunday, that number stood at 1,004,322. Someone dies every eight minutes now in LA County from COVID-19, new estimates show.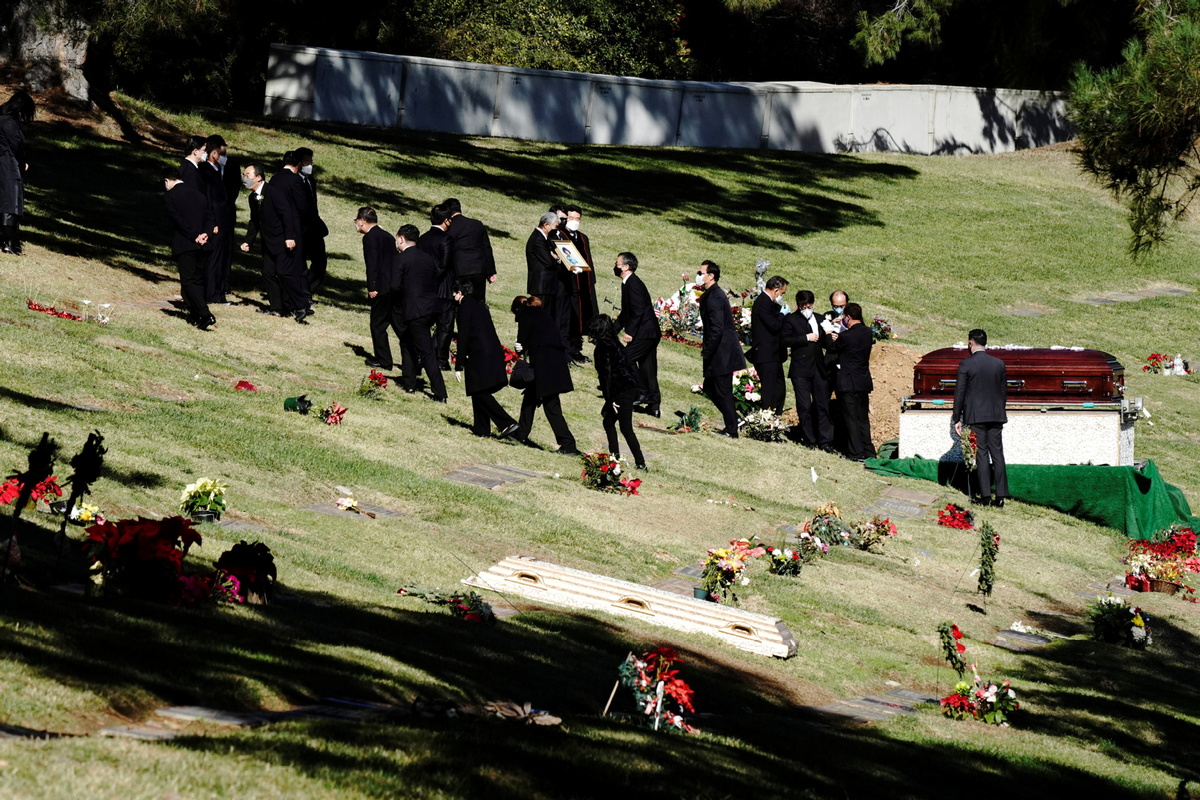 Karlin, the 74-year-old owner of the Los Angeles Funeral Service, said COVID-19 has increased the volume at his business by 100 percent. The surge of deaths is causing backlogs in different areas, particularly in refrigeration capacity.
"For instance, the facility we use has 85 spaces to refrigerate bodies, and they are totally full. So, we can't bring a body in until we take a body out," he said.
The hardest part for Karlin, who has been a licensed funeral director in California since 2001, is to turn away families who have just lost a loved one.
"Unfortunately, in the last hour, I had to tell two people that I couldn't help them, because I have no capacity. It's a very difficult thing to tell people, 'I can't help,' it's difficult on them; it's difficult on me, and they have to keep calling places until they could find somebody," Karlin said.
The area's funeral homes are so inundated with bodies that families often have to wait two to three days before a facility has any space, he said, adding that "the families are calling 20 funerals homes and getting the same answer. There's no capacity."
The pace of fatalities continues to rise in California, the nation's epicenter of the pandemic. The state had more than 2.96 million cases and over 33,000 deaths as of Sunday.
The US now has more than 23.8 million cases and over 396,000 confirmed COVID-19 deaths.
The global death toll from the pandemic topped 2 million Friday, according to data compiled by the John Hopkins Coronavirus Resource Center. That number had increased to 2,027,419 by Sunday.
Sarah Ardalani, public information officer for the Los Angeles County Medical Examiner-Coroner, told China Daily that the department is currently holding around 750 bodies from its own investigations, and about 150 from COVID-19 hospital storage.
To help relieve pressure on local mortuaries, the Los Angeles County coroner installed additional refrigerated storage in April. During normal operations, its facility could store up to 500 bodies.
With the additional space, it can hold 1,500 more bodies. The department also is working to add additional refrigerated trailers, Ardalani said.
Help can't come soon enough.
Hospital morgues are running out of room. If a person passes away in a convalescent home or private residence, which have no refrigeration capacity, then the families have to keep their loved ones' bodies refrigerated before a mortuary can pick them up.
"I am telling families they need to keep the body cool, as cool as they can, which in normal times would mean putting dry ice on the body, or even regular ice, certainly turning the air conditioning on, the body will stay OK for a few days if it's kept cool," he said.
Karlin said the funeral industry is experiencing a major backup on all fronts. Cemeteries, for example, won't allow mourners to go in without making appointments.
"People are making appointments and telling me they can't get appointments for two or three weeks just to go into the cemetery to arrange when the burial will be, which may be three or four weeks later," and he said that is a problem because, "I can't bring another body in until that body gets buried."
Bob Achermann, executive director of the California Funeral Directors Association, said that because funeral homes are so busy, more families have chosen cremation instead of burial, and they too are busier than ever.
Funeral directors also are trying to protect their staffs and keep them from being exposed to the virus.
"They want to get their staff vaccinated too, because they are going into hospitals, nursing homes and people's homes to pick up the deceased, and that has its risks. They take precautions, but it's just another level of exposure that occurs, but not from the remains per se, but from the environment," Achermann added.