Fishery thrives in landlocked Xinjiang
By AYBEK ASKHAR | CHINA DAILY | Updated: 2021-01-19 09:06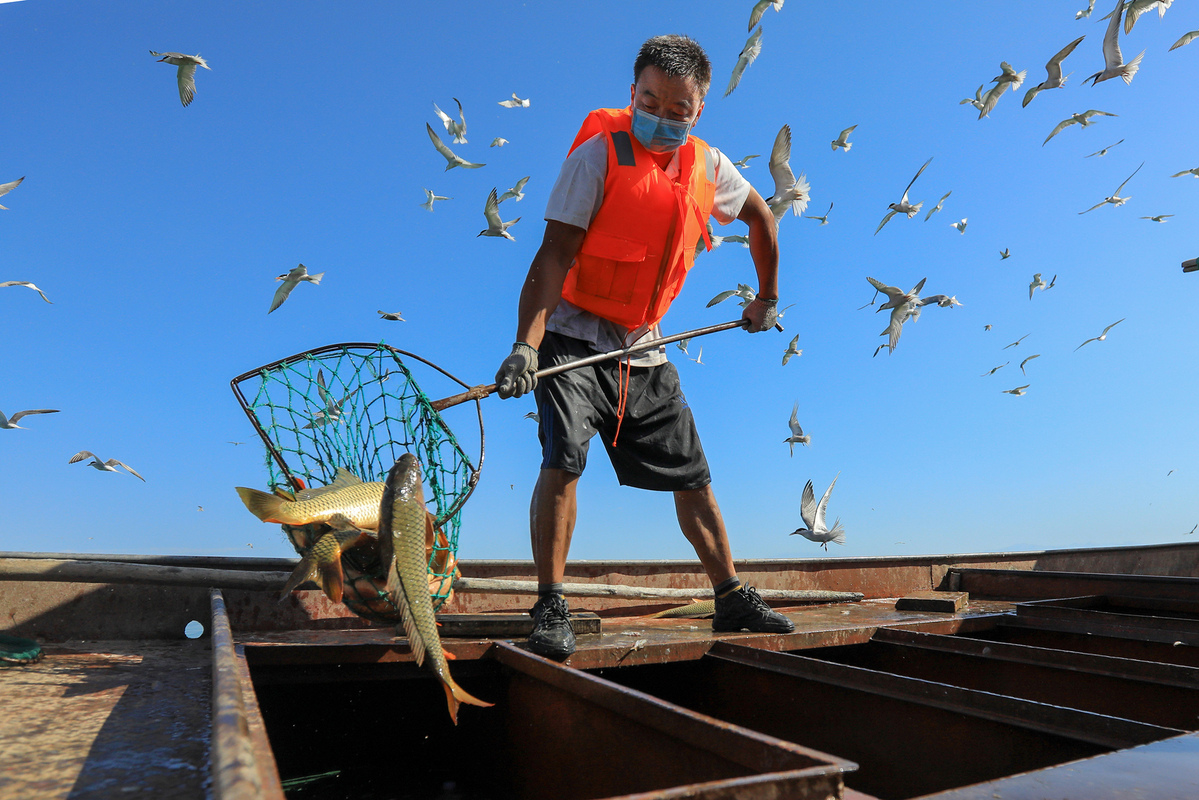 According to Guinness World Records, Urumqi, capital of the Xinjiang Uygur autonomous region, is further from the sea than any other city in the world.
But that hasn't stopped China's westernmost region from shattering its cliched dry, barren and deserted image by developing a successful fishery in its Bortala Mongolian autonomous prefecture.
Liang Jing, an official from Wenquan county in Bortala, said the reason lies in its Sayram Lake, a place where the locals believe warm and humid ocean air ends up.
"Sayram Lake is the highest altitude and the largest alpine lake in Xinjiang," Liang said. "Its water quality is remarkable, and with a low but stable underwater temperature, researchers found the 453-square-kilometer lake is quite suitable for certain fish farming."
The lake held no fish until a local aquaculture body decided to introduce the northern whitefish (Coregonus peled), a well-adapted cold-water fish, from Russia in 1998. After a successful breeding experiment two years later, Sayram started a new chapter in fishery development.
In late November each year, Ma Zhuang, a senior manager at the Saihu fishery company, organizes his breeding team to start the artificial insemination and hatching process. Their goal is to make sure more healthy fingerlings survive until the next June, when they can be put into the lake.
"When the fish were first introduced, the survival rate during hatching was around 3 percent and the size of our business was entirely dependent on how many fish eggs foreign companies could provide," Ma said.
In 2000, the local fishery authorities invested 3.4 million yuan ($520,000) on a fish-breeding base.
Government investment in breeding infrastructure and technology boosted the fishery's development, and the company has hired more professionals to conduct research.
"I still remember we often stared at the microscope for five or six hours in order to make a little breakthrough on artificial breeding back then," said Hou Yujun, a biotechnology engineer at the company.
The artificial breeding technology gradually matured in the next decade as the company researched and optimized new hatching techniques, and the survival rate increased to 36 percent.
"We were able to buy a few million eggs before, but now we can hatch hundreds of millions of eggs a year," Hou said. "Now the sole purpose of importing eggs from abroad is to improve the breed."