A noble quest
By Wang Qian | China Daily | Updated: 2021-01-22 11:02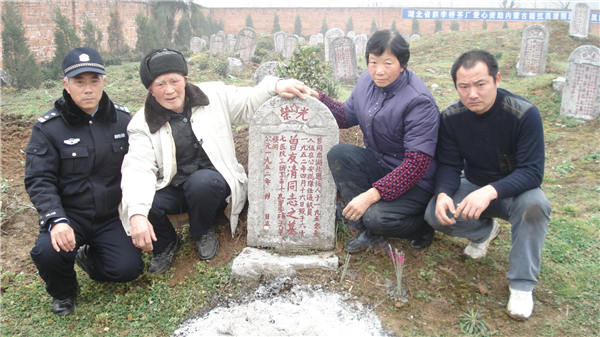 One man stumbles across an abandoned graveyard for soldiers of the Chinese People's Volunteer Army and dedicates his life to finding their families, Wang Qian reports.
History sometimes has a way of changing the course of someone's life. Something can emerge from the past and crash into the present.
So it was for Yu Fahai, a 70-year-old retired police officer. A discovery on a desolate hillside changed his life. For the past 15 years, he has been dealing with the consequences of finding 142 graves of heroes.
Located on mountainside in Chibi, a city in Central China's Hubei province, the graves are the resting place of 142 soldiers who fought in the War to Resist US Aggression and Aid Korea (1950-53). They had almost been forgotten until Yu located and identified them in 2005.
He himself was not in prime physical health. Having had a kidney transplant only two years earlier, he was then a 54-year-old police officer at the local public security department.
Good at writing, Yu was asked to help local authorities collect and investigate the revolutionary history of the nation's heroes in Chibi.
His task was to locate and identify these graves.
"It was a wild and bleak hillside with no road or village nearby. The broken gravestones emerged from the bending grass when the wind blew. It reminded me of soldiers in an ambush," Yu says, recalling the first time he visited the site after several failed attempts to locate it.
Removing the moss, Yu read the blurred inscriptions on the headstones: name, regiment, hometown, age and death date. It took him several days to write down all the information of the deceased, who came from 24 provinces, and were aged 18 to 52.
To reveal the stories behind the fallen, Yu researched and checked various sources.
He found that a temporary field hospital was recorded in Yangloudong, an ancient town in Hubei, to treat the wounded in the War to Resist US Aggression and Aid Korea.
The hospital saved more than 2,800 soldiers of the 3,100 admitted, according to local chronicles. Before the hospital finished its mission in 1956, 142 soldiers who died there, were honored as martyrs.
Buried in the mountain, their graves had lain forgotten and their stories had been overlooked for decades. In a cruel and unjustified twist of fate, some locals even questioned whether they were martyrs or deserters.
"Although they cannot speak for themselves, I shall find out their stories and let their families know where they are buried and that they are martyrs, not deserters," Yu says.