Tying a tighter knot
By Ma Zhenhuan | China Daily Global | Updated: 2021-01-26 08:00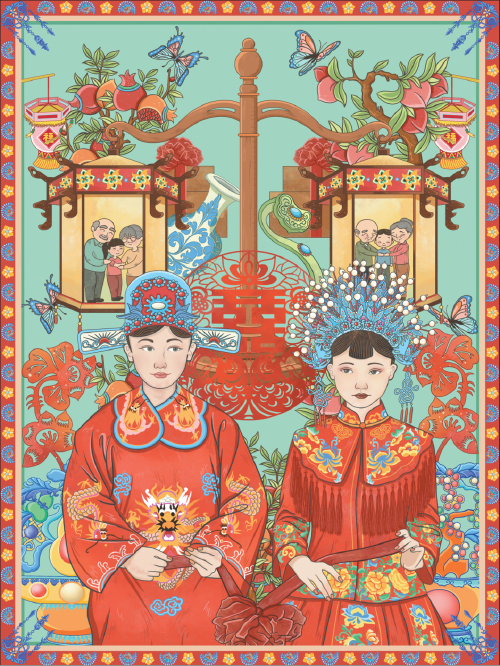 Zhang Xiaoli is an alias. And the life of the 34-year-old housewife who lives in Minfeng village in Yuhang district in western Hangzhou, Zhejiang province, is also different. She is, of course, happily married, with a red marriage certificate to prove her status. When she was a 5-year-old girl, she enjoyed "playing families" where she would pretend to be married. Now she is married, she still plays a game in a way.
"I and my husband were both from the same village, and my parents-in-law's home was only a stone's throw from mine when we got married in 2010," says Zhang, a mother of two.
"My 10-year-old elder daughter shares my family name, which is Zhang, and my little daughter shares my husband's family name. That's what we agreed upon prior to our marriage," she adds.
"Each year, we, together with our kid, will live with our parents-in-law at their homes for a period of time, and I haven't changed my domicile registration to the address of my current home, which I purchased together with my husband."
Such a type of marriage is increasingly becoming a popular trend in the outskirts and rural areas in East China's Zhejiang and Jiangsu provinces, especially after the national two-child policy was adopted in 2015.
Such a marriage allows the couple to look after their parents. The marriage is to a partner but their family will be looked after.
Sociologists and experts say it might be a solution to the growing aging population in China, which will witness its aging population increasing at a faster rate over the next three decades, especially after 2030, when the number of senior citizens is expected to increase by 11 million annually.
Also, the old-age dependency ratio will be higher than children's dependency ratio by around 2030.This means elderly care will become the primary burden of working-aged people. And with nuclear families replacing extended families, the "empty nest" phenomenon will become even more prominent and the number of senior citizens living alone will increase to more than 50 million by 2050 from about 18 million in 2010.
In such cases, the newlyweds or the young couples are still kind of "glued" with each other's original families after tying the knot.
"Such form of marriage can be found in Zhejiang's Hangzhou-Jiaxing-Huzhou area, the rural-urban fringe areas near big metropolises," Du Peng, a lawyer at Zhejiang Shunbo Law Firm, says.
Take Minfeng village as an example. Of all the married population born after 1980 in this 2,500-plus-people village, nearly 70 percent chose to live in this type of marriage, according to a survey done by Zhao Chunlan, a lecturer with Zhejiang International Studies University.
"Such bilinear marital status can be regarded as a way to resolve the dilemma of procreating, supporting the couples' parents and wealth inheritance of the single-child families," she says.
Yang Huili, deputy director of the marriage and family subcommittee of the Zhejiang Lawyers' Association, says such phenomena can also be attributed to the fast living and working pace in urban areas in East China, which give the young couples little time to spare in looking after their own kids, thus having to turn to their parents for help.
"If the social services sectors in China, such as babysitting and infant training, can be developed in a more standardized and regulated manner, such phenomena may diminish in the long run, as eventually, young couples should be encouraged to live independently from their original families," Yang says.
Such a trend has recently spread into the inland and coastal areas of China, breaking the traditional male-dominant prototype of marriage morphology that has been passed on for thousands of years.
Zhang Xin, who got married in Xi'an, western China's Shaanxi province, told Guangzhou-based Nanfang People Weekly magazine that she made a similar arrangement with her husband, from Jiangxi province in Central China, when the two got married in 2017,breaking the long-standing traditions of the two families.
"My parents-in-law convened a whole-day family meeting and finally agreed on this, while my father hailed it as a breakthrough and positive signal in acknowledging females' contribution and value in households," she says.
According to a survey made by Liu Yanwu, an associate professor from the Department of Sociology from Wuhan University in Central China's Hubei province, such forms of marriage formality has gradually become popular in more inland provinces such as Sichuan and Hunan, aside from eastern China, quietly changing the "social relationships in marriage that has been inherited in China for thousands of years".
Contact the writer at mazhenhuan@chinadaily.com.cn