Backing words with actions
By DIMITRI DE BOER | China Daily Global | Updated: 2021-01-28 08:05
China is actively following up on its carbon neutrality announcement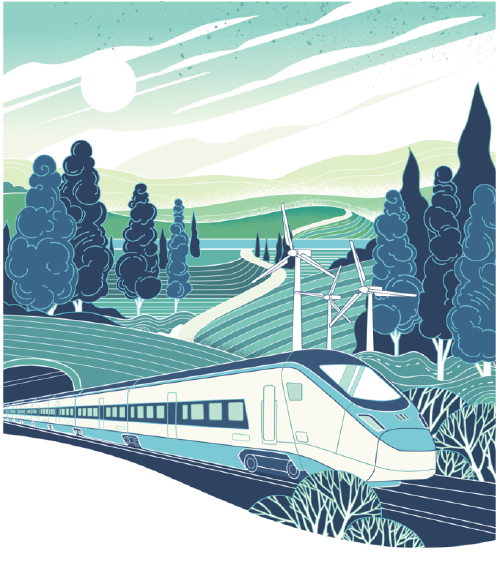 Since President Xi Jinping's pledge last September that China will achieve carbon neutrality before 2060, the Chinese government has followed up with a whirlwind of policies and announcements. These include regulations for a national carbon market, a policy on coordinating climate and environmental work and a policy on making financial flows climate-friendly. And much more is expected. China's Ministry of Ecology and Environment has announced that it will push for a climate law and a national emissions cap, peaking targets for provinces and large companies, the inclusion of carbon emissions in the environmental disciplinary inspections, and stronger environmental and climate standards for overseas investments.
China's climate transition is ambitious, and it will not be easy to achieve. It implies major changes in virtually all sectors, and requires action by all actors in society. And the transition must start immediately.
Replacing the current targets for carbon intensity, which measure carbon emissions per unit of GDP, with absolute emissions capping targets in the period until 2030 will be very helpful and easier to break down by provinces and regions. Also, it will be welcomed by the international community, easier to understand and better aligned with the approaches other countries have taken.
But those emissions targets will have to be actively enforced. In the short term, this could be done by including them in the system of environmental disciplinary inspections. Provincial leaders play a key role in regional planning and the approval of new developments. By adding carbon emission limits to the hard targets on their score card, they will be certain to prioritize the climate transition.
Incorporating climate change into law will also be a critical move. The Ministry of Ecology and Environment has called for a dedicated Climate Change Law, in addition to integrating climate considerations into other key laws. This is needed to better clarify the roles of various government actors and provide a legal framework for key instruments such as carbon pricing and trading. It would also set the stage for modernizing climate governance, by strengthening climate-related information disclosure and public participation in planning and projects, while also providing a stronger legal basis for enforcement.
At the start of this year, the final regulations for China's national carbon market were issued. Carbon trading involves setting a cap on emissions from certain industries, with companies able to trade emission allowances at a market-determined price. Even though it will initially only include the power sector, it will eclipse the EU Emissions Trading System to become the largest carbon market in the world.
In the coming years, China's carbon market will become increasingly robust, as carbon intensive sectors such as cement, steel, chemicals, aluminum and non-ferrous, petrochemicals and aviation are included. Although the opening prices are expected to be relatively low, the prices should rise quickly when the overall cap is further restricted. Clever companies will already start to apply an internal "shadow price", which takes account of expected higher carbon pricing in the future. This highlights a key point-high emissions investments are not just bad for the climate, they are also financially risky, as they could become stranded assets.
An immediate effect of the carbon market regulations will be through the enhanced monitoring and disclosure of carbon emissions, which will help everyone understand actual emissions much better. In fact, the biggest change from the draft to the final carbon market regulations was the newly added provision that company-level emissions data must disclosed to the public-this will certainly aid compliance.
A week after the carbon market regulations were issued, another policy document emerged on coordinating work related to climate change and ecological protection. The document draws a clear link between climate change and nature, and points to China's new system of ecological conservation redlines, which are expected to protect over one-quarter of China's territory. It makes China one of the few countries in the world with an explicit policy of "promoting synergies in response to climate change, environmental governance, and ecological protection and restoration". This is highly relevant in the context of the Conference of Parties of United Nations Framework Convention on Climate Change (COP 26) to be held in Glasgow, Scotland, in November and the Conference of the Parties to the Convention on Biological Diversity (COP 15) which will be held in Kunming of China's Yunnan province.
China's carbon neutrality pledge preceded, and probably contributed to a flurry of positive momentum on climate action. Among other major developments, President Joe Biden has just ordered the United States to rejoin the Paris Agreement (the US was the only country in the world which was not a party), Japan and the Republic of Korea have announced that they will no longer invest in coal power overseas, and Pakistan announced that it will no longer approve new coal-fired power plants.
This brings us to the greening of China's overseas investments. In October 2020, China issued a policy on promoting climate mitigation finance. Following previous commitments by President Xi to green the Belt and Road Initiative, this was the first official document spelling out the need for financial institutions to mitigate climate risk in overseas investments. Soon after, the Ministry of Ecology and Environment established a dedicated center for greening the Belt and Road Initiative, and released a joint international study recommending environmental and climate standards for Chinese financial institutions. It would be a very powerful step indeed, if investments in coal-fired power plants were placed on an exclusion list.
China's active follow-up since its carbon neutrality announcement sets the stage for 2021 very well. In the run-up to the two COPs to be held in Kunming and Glasgow later this year, the world can anticipate more good news to come from China on climate and the environment.
The author is chief representative in China of Client Earth, a European environmental law charity. He works with China's Ministry of Ecology and Environment, the Supreme People's Court and the Supreme People's Procuratorate on environmental governance and law. The author contributed this article to China Watch, a think tank powered by China Daily.
The views do not necessarily reflect those of China Daily.