Spring Festival takeout trade poised to take off
By LI YINGXUE | CHINA DAILY | Updated: 2021-01-29 07:52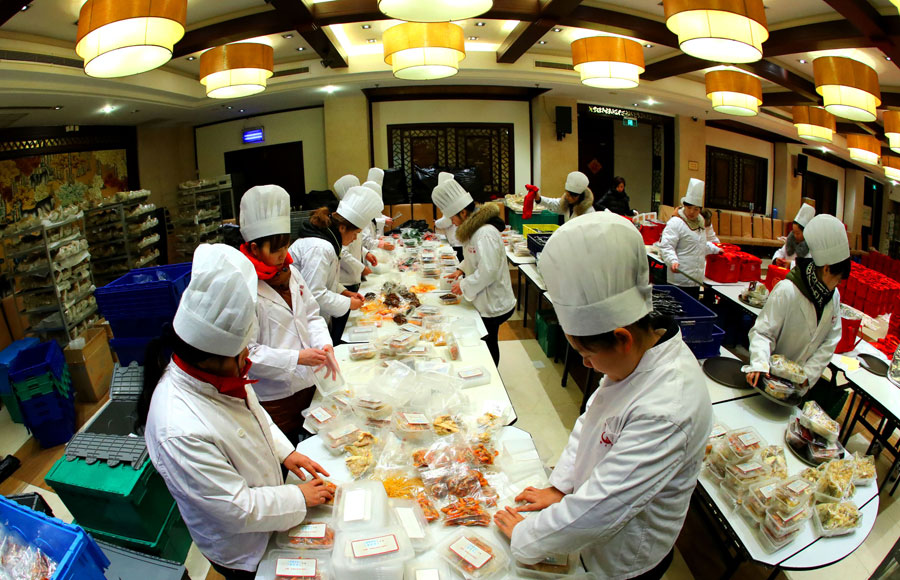 Pandemic expected to spark rush of online orders
On Jan 13, the first day of the 12th lunar month, the number of searches for "Lunar New Year's Eve dinner" on the online food ordering platform Eleme quadrupled compared with the same day last year.
Fang Jie, who is responsible for the platform's Lunar New Year's Eve dinner project, said the number of searches usually rises only after the Laba Festival, also known as the Rice Porridge Festival, which falls on the eighth day of the 12th lunar month.
However, with new cases of COVID-19 reported in several places in China, people are being encouraged to remain in cities where they work to celebrate the Spring Festival holiday, which this year runs from Feb 11 to Feb 17.
Many people have started to make early preparations for their Lunar New Year's Eve dinner, Fang said.
"Last year, due to the pandemic, online business in the catering industry grew significantly. We expect that for Lunar New Year's Eve dinner this year, takeout choices will rise further ... from the number of restaurants to the variety of dishes offered," she said.
Countless people working away from their hometowns will miss their parents' signature dishes at family reunion dinners on the eve of Spring Festival this year.
These meals are traditionally home-cooked, but takeout dinners are set to become a popular choice for Lunar New Year's Eve next month. Restaurants and online food ordering platforms are ready for their busiest night of the year.
Some restaurants are offering set takeout meals for two to four people, but are also catering to single diners.
Fang said Eleme is collaborating with restaurants to launch set meals for one to four diners, especially in first-tier cities such as Beijing, Shanghai and Guangzhou and Shenzhen, Guangdong province.
"It's going to be different this year, with many couples and single people having to celebrate Spring Festival on their own," she said. "Many of them do not know how to cook the main course for a Spring Festival dinner, so we hope the restaurants can help them with this.
"It takes some time for people to learn how to cook these complicated dishes, so it's better that they order takeout or semi-finished meat dishes and cook the vegetables themselves."
Fang said strong demand is expected during the holiday for milk tea and desserts, and Eleme has contacted merchants to prepare for a rising number of orders.
She said the platform has distributed many thousand pairs of gloves and kneecaps to its delivery riders, who are being given a special payment to work during the holiday. It is also preparing an online gala and special dinner on Lunar New Year's Eve for deliverymen not returning to their hometowns.
In 200 cities nationwide, Eleme has collaborated with more than 30,000 restaurants and stores to set up courier stations for deliverymen to take a break. The stations also offer a free charging service for the riders' scooters and motorcycles, along with hot drinks and food.
Fang said set meals offered by the platform in collaboration with restaurants will be launched online from Monday.
Customers can also collect meals themselves."They don't have to wait for a deliveryman if the restaurant is close to their homes," she said.