E-commerce plan lifts Anhui village out of poverty
By CHENG SI | CHINA DAILY | Updated: 2021-02-01 09:00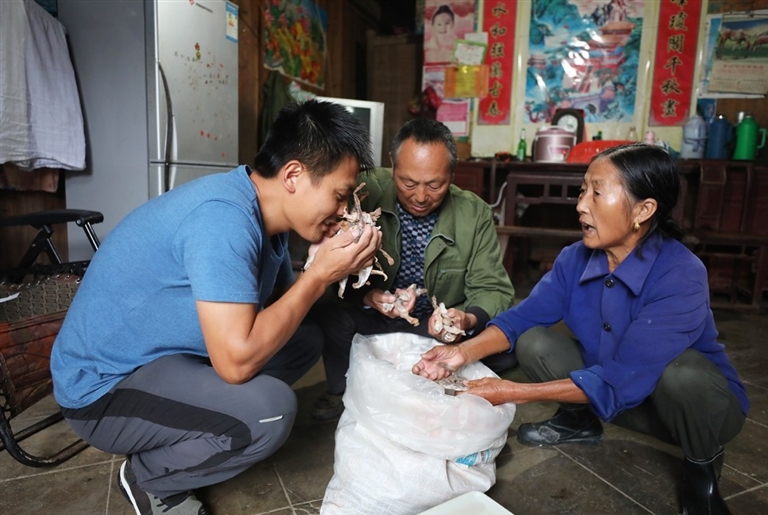 Once a backwater village in Anhui province, Kengshang has embraced the e-commerce boom thanks to government support and the hard work of villagers.
Despite being blessed with a beautiful environment and clean air, the village in Huangshan's Huizhou district was trapped in poverty for years, the village's Party chief said.
"Back in 2014, there were 210 people from around 100 households out of the village's 640 families who were listed as poverty-stricken," said Liu Wei, Kengshang's Party chief. "The poverty rate was relatively high at the time."
A shortage of farmland and inadequate transport connections were two of the main factors that kept the village poor.
"Villagers made their living mainly from growing tea, while the working population was reduced as people found jobs out of town," he said. "Transportation was another problem. The village was about 11 kilometers from downtown Huizhou, connected only by a narrow road."
Liu said the government and a poverty-alleviation work team he led racked their brains to find ways to lift villagers out of poverty.
"I remember it was in 2015 that the district's commerce bureau came up with the idea of selling the villagers' products online when e-commerce was becoming popular," he said. "The products, such as tea, vegetables and dried bamboo shoots, were very good, but sales were poor because villagers weren't aware of new retail channels like online shops."
A workshop was set up with government support to train the villagers on different aspects of e-commerce.
"We renovated a disused school building to base the workshop in. The total investment was around 200,000 yuan ($31,000)," Liu said.
The villagers were taught how to pack dried bamboo shoots, a specialty of the village, into small decorative bags that could fetch a higher price.
The poverty-alleviation work team then sold the packages online and passed on the profits to the villagers.
"We also hired seniors or those in extreme poverty to work for the online shop," he said. "Packing parcels and sending parcels to a delivery station can earn them 10 yuan per hour."
Kengshang shook off its poverty label in 2016. A year later, all the villagers were deemed to be out of poverty.
"In 2014, poor families earned no more than 3,000 yuan, but that amount has risen to 13,000 yuan now," Liu said.
The village's development has lured more young entrepreneurs to start businesses in Kengshang.
Fang Jiewei, 33, is one of them. He left Kengshang in 2011 to look for work in Shenzhen after graduating from university and returned home in 2014.
"The longer I worked outside of my hometown, the more I missed this beautiful place," Fang said. "I heard the government was offering support to develop the village's e-commerce, which I thought had great potential, so I came back."
His parents didn't support the move, but Fang went ahead with it anyway. At first, he volunteered at the e-commerce workshop with the poverty-alleviation work team to help villagers sell their products.
"We did face problems as villagers didn't believe us or understand the online sales channels," he said. "But as more online orders were received and products sold online, they began to trust us."
When the online workshop was established in 2016, annual revenue was about 150,000 yuan, he said. Last year, its reached 800,000 yuan.
"Though we still face problems in the quantity of the products, things are getting better," Fang said.