With travel discouraged, dining at home gives fresh impetus to e-commerce
By FAN FEIFEI | China Daily | Updated: 2021-02-02 09:33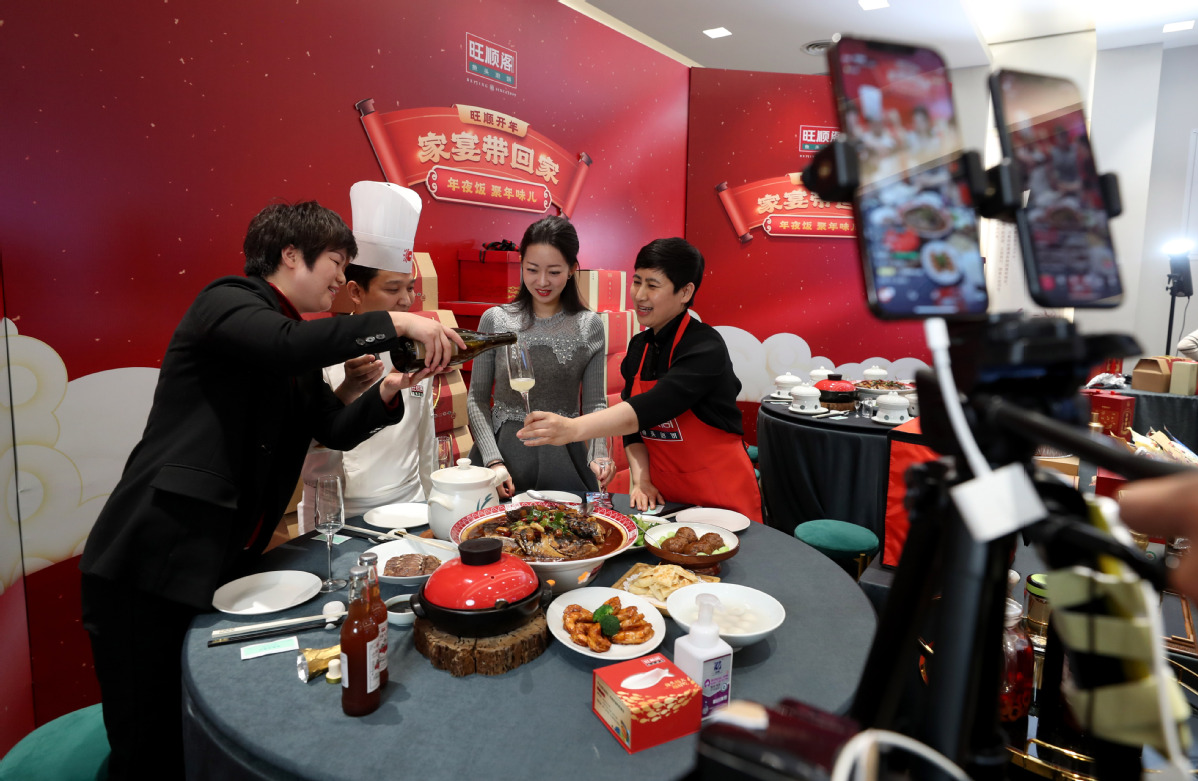 Ready-to-cook dinners and set meals for one to two are likely to become a big hit during the upcoming Spring Festival holiday, as some provinces and municipalities have called on residents to stay where they work during the period in a bid to reduce the chances of the novel coronavirus contagion.
Searches for "New Year's Eve dinner" on food delivery platform Ele.me since the beginning of the 12th month of the Chinese lunar calendar, known as layue in Chinese, were four times higher than during the same period last year.
Ele.me said ready-to-cook dinners and set menus suitable for one or two will better meet consumption demand from younger diners in first and second-tier cities who can't return to their hometowns during the Spring Festival holiday. In addition, some merchants are planning to launch deluxe New Year's Eve dinner packages for singles.
Furthermore, Ele.me will team up with some well-known restaurants including Jingweizhai, Meizhou Dongpo and Zhiweiguan to launch tailor-made festive takeout meals, with prices ranging from around 100 yuan ($15.4) to about 1,000 yuan. Consumers will be able to book the meals via the platform in advance from early February.
E-commerce giant JD's fresh food supermarket 7Fresh has also launched customized Lunar New Year's Eve dinner packages for two to 10 people, covering seafood dishes such as lobsters, steamed sea bass and some local specialties. Customers can either take the food to go or have it delivered to their homes through the 7Fresh app.
More and more catering enterprises have switched to online channels as many restaurants have been affected by the contagion. According to a report from market consultancy iiMedia Research, about 95 percent of caterers surveyed showed a significant decline in revenue during the pandemic. More than 90 percent of caterers showed a willingness to cooperate with the third-party food delivery platforms.
According to the Shanghai Municipal Commission of Commerce, catering enterprises rolling out ready-to-cook dishes for the upcoming long holiday have increased significantly.
The number of restaurants and stores offering festive takeout dinners surged by about 30 percent this year compared with same period last year, with sales of semi-cooked dishes expected to rise 20 percent on a yearly basis.
Chen Liteng, an analyst at the Internet Economy Institute, said with the rapid development of the mobile internet, services offered by online grocery stores and on-demand delivery platforms have been gradually improved. "Meanwhile, our living habits have also changed, as ordering festive takeout dinners is a new way to celebrate the upcoming Lunar New Year.
"Having dinners at restaurants or placing an order on food delivery platforms on Lunar New Year's Eve can save a lot of time and energy, and such dishes are more diversified and they have gained the attention of young consumers in recent years."
Chen added that online orders have seen robust growth, as people have been encouraged to stay near their workplaces during this year's festival to prevent further spread of COVID-19.
Hema Fresh, a fresh food chain backed by e-commerce giant Alibaba, has provided pre-order services for Lunar New Year's Eve dinners in Beijing, Shanghai and Hangzhou since early January.
The company will join hands with Jubaoyuan, a famous traditional Peking hot pot restaurant, to launch meal packages, which include hand-cut beef, mutton and sesame pancakes.
Chen Meijun, head of catering in Hema's Beijing area, said it is the first year for Hema to launch festive meal kits for small families and they hope to provide people stuck near their workplaces with as enjoyable a holiday as possible.
The Ministry of Commerce is holding an online 30-day Lunar New Year's Shopping Festival, which began on Jan 20. Consumers can buy various semi-cooked dishes, such as sweet and sour fish, steamed glutinous rice and egg dumplings, via online grocery apps such as Hema, and e-commerce platforms Taobao and JD.
Thanks to the rapid development of the digital economy, people can order takeouts and purchase daily necessities from online shopping platforms while remaining at home, said Yang Xu, an analyst at consultancy Analysys, adding that the emergence of noncontact delivery has also efficiently addressed concerns about human-to-human contact amid the pandemic.