Ending the reign of flooding
By Fang Aiqing | CHINA DAILY | Updated: 2021-02-03 07:47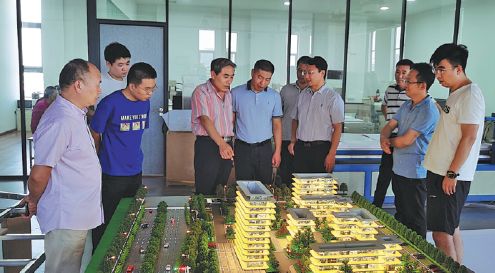 Water-modeling professor Hou Jingming (fourth from right) from Xi'an University of Technology on a research trip to Qingyang, Gansu province. CHINA DAILY
Cities like Beijing, Shanghai, Hangzhou and Wuhan understand only too well the devastation that follows a violent rainstorm. Roads and pathways are inundated, buildings damaged and tragically, lives are lost.
One of the heaviest rainstorms in more than 60 years hit Beijing and its surrounding areas on July 21,2012. Ding Zhijian, 34, became trapped in his vehicle, when rising water levels caused a 4-meter-deep surge under Guangqumen flyover on the East Second Ring Road. Such was the pressure and intensity of the water that Ding was unable to smash the vehicle's windows or open a door. He drowned before rescuers could reach him.
That storm accounted for 79 lives and destroyed more than 10,000 residences, officials said in August that year.
Last summer, continuous rainfall hit eastern and southern China. Some places in Chongqing municipality, Anhui, Jiangxi, Hubei, Guangdong provinces and Guangxi Zhuang autonomous region experienced their worst floods in decades.
A particularly violent storm on May 22 caused 443 incidences of flooding in Guangzhou, the provincial capital of Guangdong, and four people lost their lives. Several metro stations were flooded and services had to be suspended.
The scourge of flooding, and the suffering it causes, has spurred Hou Jingming's determination to make cities safer. The Xi'an-based scholar, 39, and his team of more than 30 members, are working to enhance city drainage systems and flood defenses.
He and his team want to create a "Sponge City" that can flexibly adjust to environmental changes.
The water-modeling professor from Xi'an University of Technology, Northwest China's Shaanxi province, mainly deals with a numerical model that involves hydrological and hydrodynamic processes like precipitation, infiltration, evaporation, surface runoff and flood of the area.
The model is able to deduce the predicable effectiveness of different measures to improve a city's capability to deal with potential flooding and suggest the best measures to combat it.
Coastal cities situated near flood plains mean that they are potential victims of flooding.
While climate change has brought more extreme weather, intensified construction of roads and buildings and population growth in cities has resulted in the widespread loss of natural surfaces that allow rainwater to seep into earth or flow into rivers, lakes and reservoirs. With the natural water flow disrupted, flooding occurs.
"A decrease in urban green space makes it difficult for water to seep down, and the paved surfaces accelerate the water flow," Hou says.
The trouble is that construction methods have outpaced advances in drainage systems. There is increased construction, bigger buildings, more residents, but the same antiquated drainage system. The result? More flooding. With nowhere for excess water to go, river levels rise, flooding surrounding areas and rainwater leaves roads and streets inundated.
It partly explains why northwestern cities like Guyuan, located in the Ningxia Hui autonomous region's southern mountainous "Xihaigu area", one of the most water-scarce regions in China, could experience such a problem.
According to Hou, who hosts one of his research programs in Guyuan, there's an annual precipitation of less than 500 millimeters. This falls, he says, mainly through July to September. It also varies drastically from year to year.
Therefore, apart from drainage problems, it's also urgent for the city to raise the utilization rate of rainwater, based on rain-sewage diversion-the separation of rainwater and foul water from household drainage systems-to help alleviate the local water shortage.
Specifically, Hou's numerical model takes landform, rainfall intensity and the infiltration rate of the underlying surface into account and simulates urban flood situations during storms.