Sanctions should not determine Ukraine's overall China policy
By Zhao Huirong | China Daily | Updated: 2021-02-04 07:45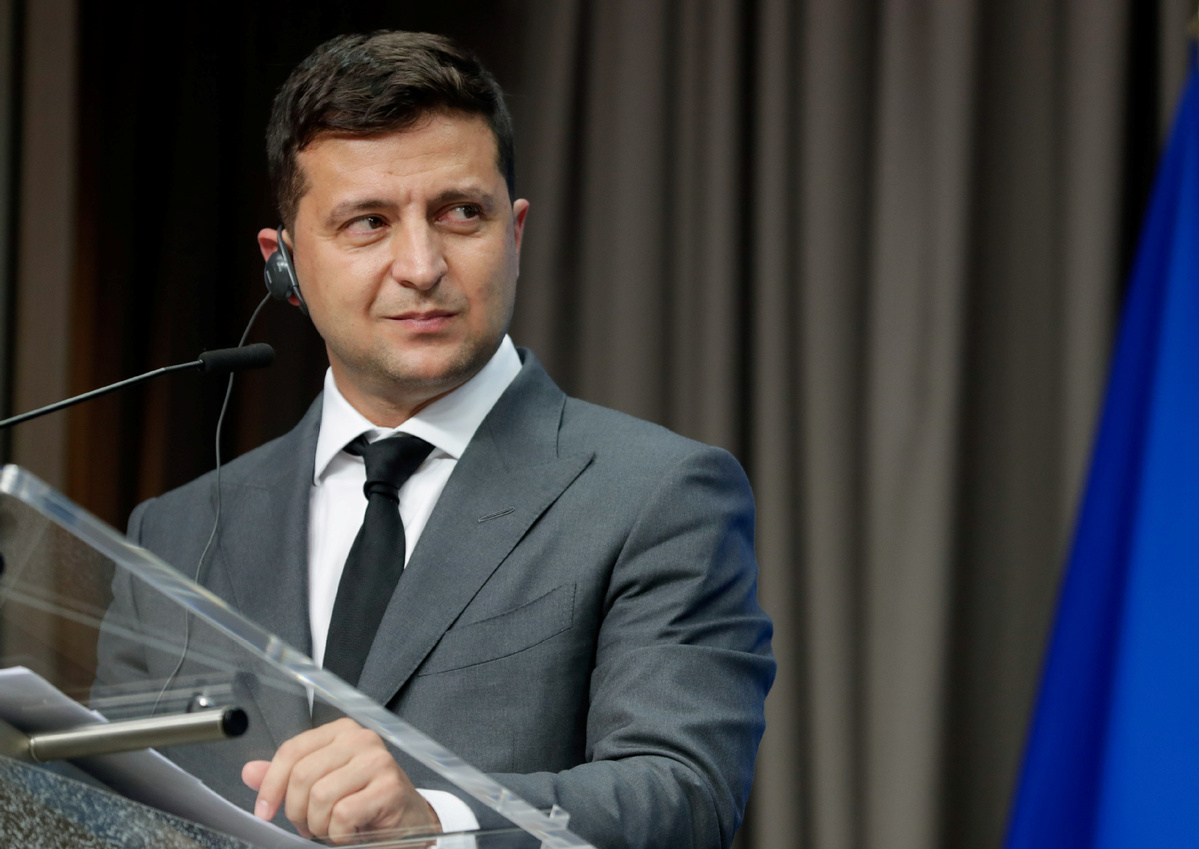 Ukrainian President Volodymyr Zelensky signed a decree on Jan 29 imposing sanctions on four Chinese companies including Skyrizon Aviation, which had sought to buy a stake in Ukrainian aerospace company Motor Sich. As the sanctions were imposed after the United States restricted Skyrizon's access to US exports, some claim Ukraine is blocking the deal to please Washington, which influences Ukraine's security policy.
The sanctions restrict Skyrizon's trading operations and prevent it from moving capital out of Ukraine for three years. The Chinese company bought a majority stake in Motor Sich in 2017, and was expected to ease the difficulties of the aeroengine manufacturer due to the Ukraine-Russia tensions in 2014, but its shares were frozen pending investigation by Ukraine's security agency. The Chinese company had to file an arbitration case to try and recover its loss.
The former US administration added Skyrizon to a "Military End User List" in January, days before Joe Biden was sworn in as president to restrict its access to US exports, citing the Chinese company's ability to develop military equipment including aircraft engines.
True, the US has influence over Ukraine, but the Ukrainian sanctions do not mean Zelensky will blindly follow the US' lead.
In fact, the sanctions are targeted only at the companies involved in the deal, not at those engaged in joint Sino-Ukrainian projects. Zelensky doesn't want to harm Sino-Ukrainian relations and instead seeks to forge deeper commercial ties with China because, as he said during an interview with US media on Feb 1, it does not see China as a major geopolitical threat.
According to the Ukrainian president, Chinese businesses are treated the same as US businesses in Ukraine. Although he reiterated that he would not allow any country to buy a controlling stake in Motor Sich as long as he is in office, he said he believes economic cooperation with China will help boost the Ukrainian economy.
In 2019, in his meeting with Du Wei, then Chinese ambassador to Ukraine, Zelensky said he attaches special importance to Ukraine's relations with China and called on Chinese business leaders to increase investments in Ukraine's infrastructure and strengthen cooperation in such areas as processing of agricultural products, information technology, green energy and digital economy.
In his interview with China's Xinhua News Agency in October, Zelensky emphasized that China has always been and remains one of Ukraine's foreign policy priorities, saying China and Ukraine must work together to develop a new strategy, a new vision and new growth points.
Ukraine officials have also openly supported the China-proposed Belt and Road Initiative, as Ukraine has the economic and industrial potential to participate effectively in this ambitious project.
And in December, at the fourth meeting of the China-Ukraine Inter-government Cooperation Committee, the two sides reached an agreement on economy and trade, agriculture, education, culture, health, and space, science and technology.
As for bilateral trade, it has grown over the years to reach $13 billion in 2019, and while bilateral trade increased 20 percent year-on-year in the first half of 2020, Ukraine's exports to China jumped 70 percent, making China one of Ukraine's largest trade partners.
Yet Chinese direct investment in Ukraine, concentrated in fields such as agriculture, communications, energy, infrastructure construction, manufacturing and logistics lags far behind the growth rate of trade, despite Chinese enterprises' eagerness to increase investments in Ukraine.
The sanctions on Skyrizon, however, have reduced the chances of a substantial increase in Chinese investment in Ukraine and prompted potential investors to consider the political risks in the country before investing.
In its nearly three decades of independence, Ukraine has sought to forge its own path as a sovereign state while looking to align closely with the European Union and the US. By contrast, Ukraine lacks a clear policy toward China, which has affected Sino-Ukrainian cooperation projects. Now, Ukraine should make it clear that the targeted sanctions will not affect overall Sino-Ukrainian economic cooperation.
On the other hand, Chinese enterprises in Ukraine should not only run their businesses according to law but also strengthen cooperation with local governments, media and think tanks to better understand the changing business environment and minimize the risks.
The author is a research fellow at the Institute of Russian, Eastern European and Central Asian Studies, Chinese Academy of Social Sciences.
The views don't necessarily represent those of China Daily.