Vision shows village way out of poverty
By Li Yingxue and Feng Zhiwei | China Daily | Updated: 2021-02-04 08:16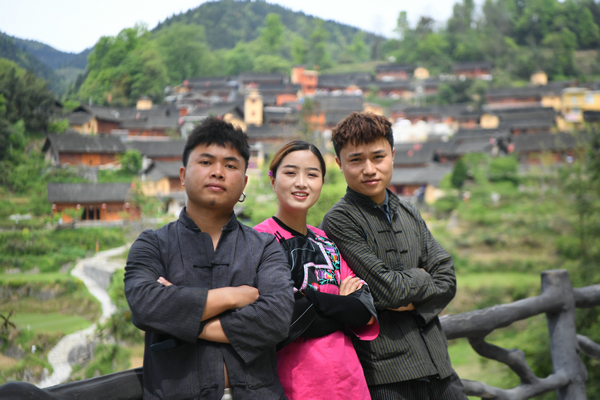 Since April 2020, Shi Zhichun has helped Shibadong, a village of the Miao ethnic group in the Xiangxi Tujia and Miao autonomous prefecture in the west of Hunan province, to sell over 2,000 kilograms of preserved pork. This has resulted in an income for the villagers of at least 200,000 yuan ($30,960).
What's more, in January, the village's preserved meat factory went into production.
"When our high-quality preserved meat is put on the market, I'm planning on breaking the traditional sales pattern and do livestream broadcasting to sell our product. I also plan on establishing a media company that will focus on promoting our village," Shi says.
Named after the village's 18 natural caves, Shibadong has witnessed major changes through a series of industry-driven poverty alleviation efforts over the past eight years.
In 2013, the idea of targeted poverty alleviation was first introduced at the then poverty-stricken village while three years later, it was lifted out of poverty. It's also an epitome of Hunan province's efforts on targeted poverty alleviation.
According to Long Jilong, deputy director of the village, before the implementation of targeted poverty alleviation, nobody knew about their village which had an undeveloped infrastructure.
"There was no highway then and we had to wear rubber shoes when it rained. However, we now have the six-meter-wide gravel road," Long says.
Long says that in the past, most villagers only planted crops such as corn and rice, and five to six hundred villagers went to cities to work, leaving behind only the old and children in the village. "The per capita income of Shibadong villagers was only 5,000 to 6,000 yuan then," he recalls.
"We used to cut trees to sell as firewood. There were even times when there were not enough trees left for building a house," he says.
The village developed several pillar industries based on local conditions including the traditional craftwork of the Miao ethnic group and production of mountain spring water. The red tourism and livestream shows are also the modern solution for the village's targeted poverty alleviation.
In 2017, Shi went back to Shibadong to teach English after he graduated from the law school at Jishou University in Jishou city in Hunan, becoming the first villager who returned to work with a master's degree.
Shi knows deeply that even though the village was lifted out of poverty in 2016, the villagers' life is still some distance from the "good life".
"Even though the village is developing, and conditions are much better than before, it still cannot satisfy the labor force's needs," Shi says.