Shoppers ride superfast e-commerce
By HE WEI in Shanghai | CHINA DAILY | Updated: 2021-02-09 07:28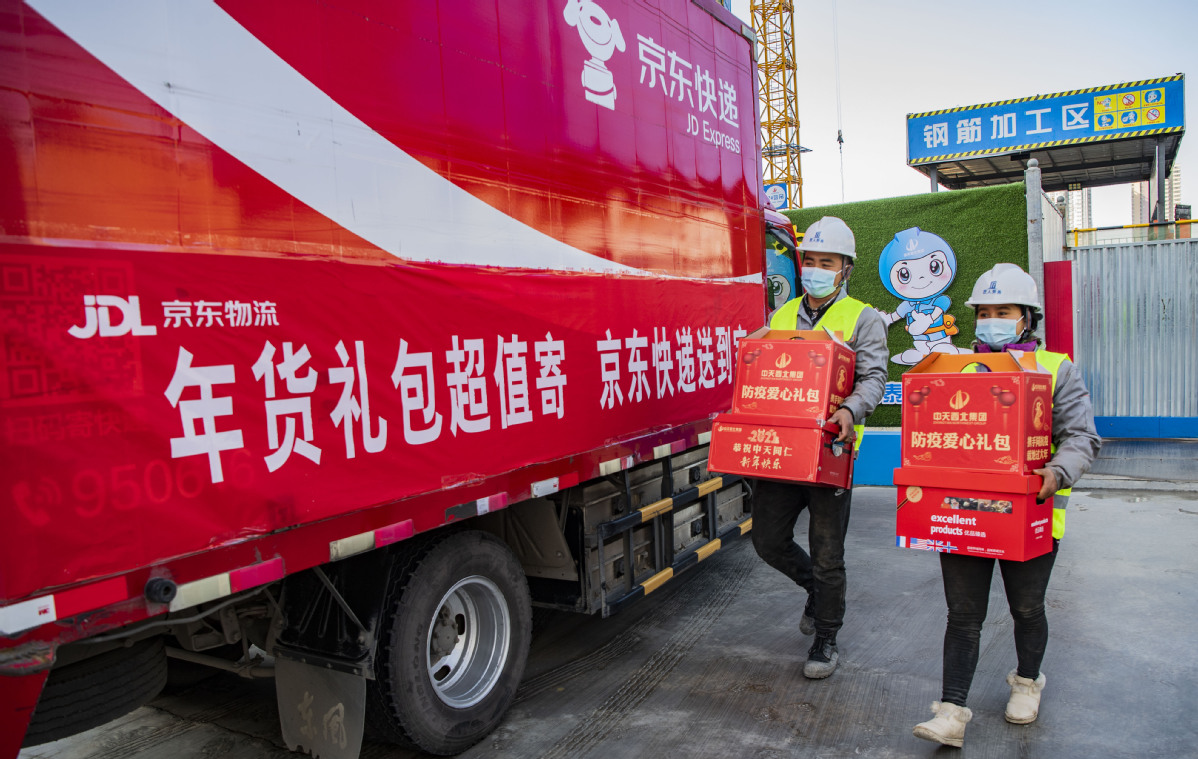 Superfast e-commerce, which promises product delivery within hours of purchase, is set to be the new normal during this year's Spring Festival holiday shopping, industry insiders said.
They attributed the trend to city-based Chinese consumers being advised by the authorities to stay put and not travel home for traditional Spring Festival family reunions, in order to preempt further spread of the COVID-19 pandemic.
Therefore, consumers in urban areas are placing orders online using the one-hour delivery feature, so that logistics firms can deliver products or services to family members back home sooner than later, according to a survey by JJDJ, a prominent local on-demand delivery and retail platform.
This phenomenon is also noticeable among rural consumers who prefer the Lunar New Year gifts they bought online for their working or university-going children in cities to be delivered in quick time.
For this Spring Festival shopping season, the number of orders for delivery at places other than the point of sale doubled from last year's level, the study published on Friday said.
The trend was most pronounced in first-tier cities like Beijing, Shenzhen and Guangzhou, where more people stayed put instead of going back to their hometowns.
Between Jan 16 and Thursday, sales of festival gift boxes on the platform tripled year-on-year, with butter cookies and coffee combo packs leading the wave.
Western-style cuisine gained particular traction, with sales of salads skyrocketing 40 times compared with last year. Brandy and pasta saw sales jump 11 times and four times, respectively.
In a survey conducted last month, consultancy Kantar found that 42 percent of its 1,000 respondents will be working away from their hometowns during the festival holiday period.
Among them, over one-third have decided to cancel their trips back home.
Brands have been quick to ride the boom in superfast and super-efficient home delivery services. For instance, Italian confectionery giant Ferrero has allocated a bigger budget for marketing on platforms such as JDDJ, which reported exponential growth in sales since the peak period of the pandemic last year.
On top of traditional e-commerce platforms, "you need to have a totally different way of presenting the products and a complete new way to engage with customers", said Mauro De Felip, general manager of Ferrero China, in a recent interview.
For instance, some 25,000 limited-edition gift combo-packs featuring the iconic Ferrero Rocher chocolates were snapped up within two days since advance sales began on Jan 20.
E-commerce has indeed overtaken physical stores in festival shopping. The survey found people preferred to buy online from websites/apps such as Taobao, JD, Tmall and Pinduoduo.
In contrast, roughly one-fifth of the respondents surveyed by Kantar said they would skip offline shopping centers or department stores.
The most sought-after categories include nuts, snacks, apparel, wines, alcoholic beverages, shoes and bags, the study said.
But consumers are also training their sights on items related to entertainment and games.
JJDJ reported sales of poker and mahjong doubled, and that of mobile phones on the platform jumped 20 times year-on-year.
The average daily sales of such machines rose by over 130 percent on a yearly basis during the holiday shopping season (Jan 20-30), said a recent report from Taobao, an online marketplace owned by the Alibaba Group.
Most of the purchases were made in Chongqing, Sichuan and Zhejiang provinces, the report said.
Mahjong machines are also gaining in popularity in several overseas markets. Sales have doubled on Taobao in key markets like Singapore, Australia, the United States and Canada.
According Tmall and Taobao data, nearly 40,000 automatic mahjong machines were sold in overseas markets during the last two months.