Cultural journeys through heritage
By Yang Feiyue | China Daily | Updated: 2021-02-09 08:20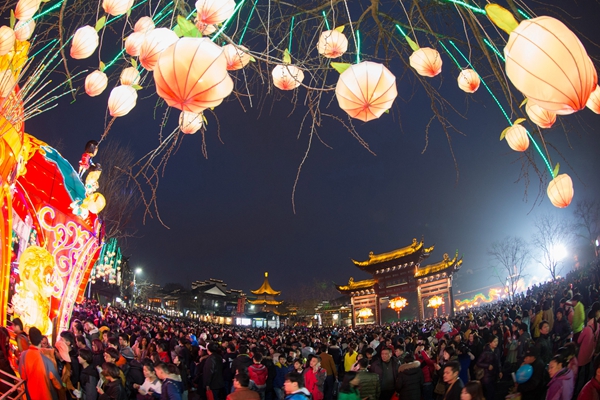 A growing number of travelers are seeking experiences related to customs, traditions and folk arts, Yang Feiyue reports.
Culture and tourism integration doesn't just enhance travelers' experiences but also gives a new lease on life to intangible cultural heritage. Recently, artists were busy making lanterns in various shapes and sizes at Nanjing's Bailuzhou Park in the city's Qinhuai district in mid-January.
Some were shaped like fish, some like lotuses. All were for the Qinhuai Lantern Festival that began on Thursday.
The annual event in Jiangsu's provincial capital, also known as the Jinling Lantern Festival, was named as a form of national-level intangible cultural heritage in 2006.
It takes place during the Spring Festival holidays and usually lasts for about 50 days. The hosts claim it's the longest and largest of its kind in the country.
"It's one of the events I've gone to a lot over the years," Nanjing resident Wang Qianlin says.
"It's delightful to see so many shops and facilities of various kinds hanging up lanterns. I like how they put birdlike lanterns in the trees."
The event combines a lantern exhibition and a fair. Visitors can appreciate delicate lantern craftsmanship while shopping, sampling local delicacies and watching such folk performances as acrobatics shows.