BRI: A review of global progress in 2020
The Belt and Road Initiative Center | Updated: 2021-02-09 16:58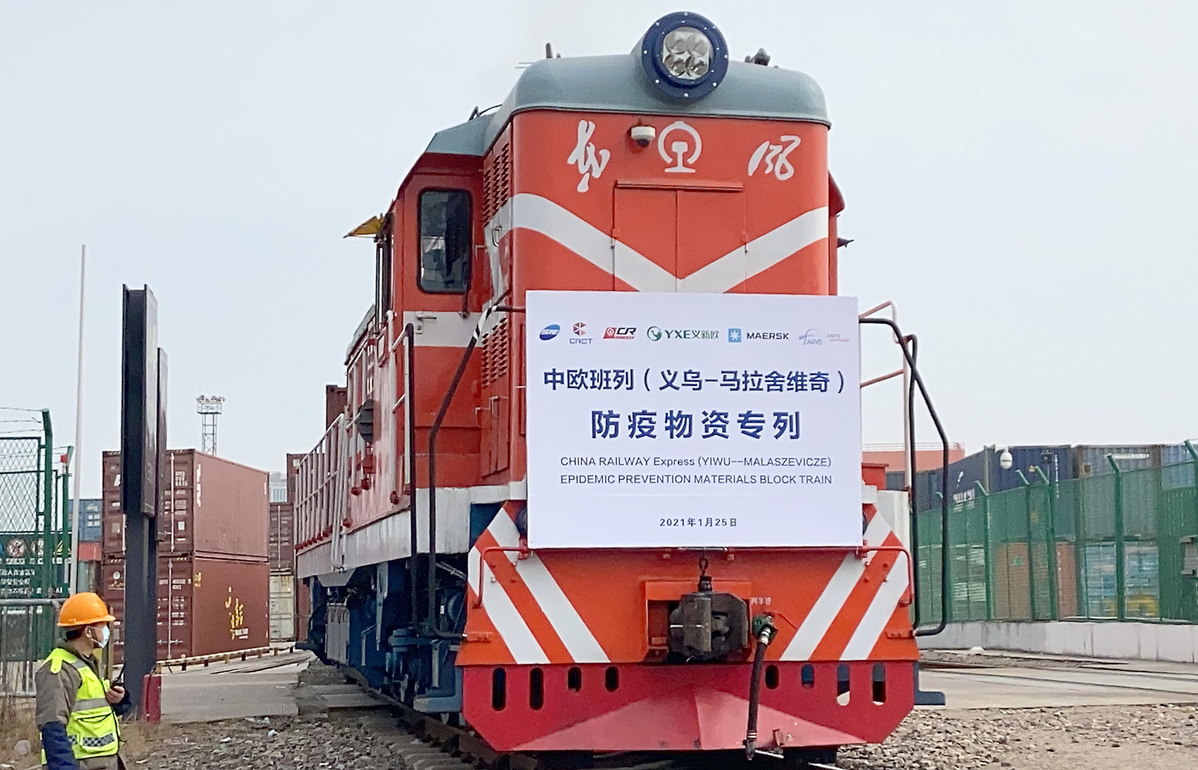 In 2020, COVID-19 swept the world, dragging the global economy into a deep recession. China and the countries participating in the Belt and Road Initiative have been striving to move forward with perseverance, and the Belt and Road cooperation has shown great resilience, vigorous vitality and strong appeal to cushion the impact, achieving considerable results during the past year.
Mutual assistance in the fight against the epidemic practices the concept of the community with shared future for mankind
In 2020, when China was at its most difficult time in fighting the epidemic, countries involved in the Belt and Road gave their support, with 79 countries and 10 international organizations providing material assistance to fight the epidemic. The doctors and nurses on the front line of China's epidemic fight put on masks collected from Pakistan's national inventory; Russia sent 23 tons of medical supplies and 30,000 Mongolian sheep crossed the border between China and Mongolia to offer a delicious lamb feast to the Chinese people. There was also rice from Myanmar, black tea from Sri Lanka, canned tuna from the Maldives and fruit from Chile.
During the epidemic prevention and control period, China and Argentina opened the first direct flight route to transport supplies, flying more than 50 hours and 38,000 kilometers one way, spanning half the world, and transporting a total of more than 700 tons of supplies. China National Pharmaceutical Group's new coronavirus vaccine has been approved for registration and listing in the United Arab Emirates and Bahrain and approved for use in Egypt.
In the face of enormous pressure on epidemic prevention and control, China has so far provided anti-epidemic assistance to more than 150 countries and 10 international organizations and has sent 36 teams of medical experts to 34 countries in need. As the largest producer of medical supplies, China has sent more than 220 billion masks, 2.25 billion pieces of protective clothing and 1.02 billion test kits.
Chinese and Western medicines are used in combination for treatment. The participation of traditional Chinese medicine in the treatment of confirmed cases reached 92 percent, and the utilization rate and total efficiency of TCM in confirmed cases in Central China's Hubei province exceeded 90 percent.
As of July 2020, TCM has spread to 183 countries and regions around the world, and China has signed TCM cooperation agreements with more than 40 foreign governments, regional authorities and international organizations, supporting the construction of 30 high-quality TCM overseas centers in countries and regions involved in the Belt and Road.
China's digital technology is supporting global cooperation against epidemics, providing strong support for the "stay at home economy" and "work from home" of people around the world.
Huawei Cloud has launched several digital medical devices, and Tencent has provided digital communication tools for the United Nations and other international organizations. Chinese educational software, such as DingTalk and Feishu, were selected as UNESCO's global distance learning solutions, becoming the first choice for remote classes for 421 million students in 39 countries and regions.
Against the headwind, the rich outcomes show firm determination and great efforts
Despite situation changes, China's determination to promote Belt and Road international cooperation remains unchanged. While preventing and controlling the epidemic, China has been in close consultation with the African Union, the International Seabed Authority, Ukraine, Kiribati and others, and has signed cooperation documents for the joint development of Belt and Road Cooperation.
By the end of 2020, China had signed 203 cooperation documents with 138 countries and 31 international organizations to jointly promote the Belt and Road Cooperation.
With integrated epidemic prevention and control, and project construction, infrastructure connectivity is forging ahead. Seventy projects of the China-Pakistan Economic Corridor are progressing in an orderly manner under the premise of ensuring "zero infection" among employees, and the entire second phase of the Karakorum Highway and the "Sumu section" of the Peshawar-Karachi Expressway in Pakistan has been successfully opened to traffic.
Tunnel No 1 of the Yawan High Speed Railway and the entire tunnel of the China-Laos Railway were successfully completed, and the left line of the Be-Ze section and the left line of the Ze-Ba section of the Hungarian-Serbian Railway in Serbia were opened to traffic, one after another. And the steel beam of the main bridge of the Padma Bridge in Bangladesh was successfully closed.
Chinese builders have pushed some infrastructure projects ahead of schedule. The Vientiane-Vangvieng section of the China-Laos expressway was opened 13 months ahead of schedule, the Pochitelli Tunnel of the Pan-European 5C Corridor Expressway in Bosnia and Herzegovina was opened nearly four months ahead of schedule and the extension of the Southern Expressway in Sri Lanka was opened more than two months ahead of schedule.
China maintains regular passenger and cargo flights with relevant countries and regions along the Belt and Road, and opened new air routes with Pakistan and Belgium to build a safe, fast and efficient air bridge.
China's Beidou system has completed its global network, making an important contribution to the development of the world's satellite navigation industry and providing more options for people around the world to share better space-time precision services.
Countries in urgent need of epidemic prevention masks, gloves and medical gauze, essential auto parts, electronic products and communications fiber for resumption of work and production have taken the China-European liner to ensure a continuous production chain and continuous life supply. A total of 12,400 China-Europe freight train trips were made in 2020, with 50 percent year-on-year growth. With a 98.4 percent comprehensive heavy container rate, the trains reached 21 countries and 97 cities in Europe.
Openness and cooperation to bring a light of recovery to the global economy in severe recession under the epidemic
China took the lead in resuming work and production, and the foreign trade industrial and supply chains are gradually running smoothly, becoming a stable anchor of global industrial and supply chains.
In 2020, China steadily promoted economic and trade investment cooperation with countries along the Belt and Road. China's imports and exports to countries along the route totaled 9.37 trillion yuan ($1.45 trillion), up 1 percent year-on-year. From January to November, China's non-financial direct investment in countries along the route reached $15.96 billion, up 24.9 percent year-on-year, China is actively building a high-standard free trade network and acting as a defender of the multilateral trading system. In 2020, China co-signed the Regional Comprehensive Economic Partnership with 14 countries, signed a free trade agreement with Cambodia, formalized FTA upgrade documents with ASEAN, Singapore and Chile, completed investment agreement negotiations with the EU, and actively considered joining the Comprehensive and Progressive Trans-Pacific Partnership. So far it has signed 19 FTAs with 26 countries and regions.
China continues to build an open cooperation platform and share China's market opportunities with the world. The 127th China Import and Export Fair, the 2020 China International Fair for Trade in Services and the third China International Import Expo were successfully held.
Among them, the third China International Import Expo has attracted participation from more than 3,800 enterprises from more than 180 countries, regions and international organizations to participate, with a cumulative intended turnover of $72.62 billion, an increase of 2.1 percent over the previous session.
Innovative development to give new impetus to the world economic recovery
Digital industrialization and digitization of industry have transformed production and life, and building a digital Silk Road together has become a new engine for economic recovery.
The World Trade Organization predicts digital technologies will boost global trade volumes by 1.8 percent to 2 percent per year by 2030. China and countries along the Belt and Road have deepened cooperation in big data, internet, artificial intelligence, cloud computing and cross-border e-commerce, accelerating digital, networked and smart manufacturing, agriculture and services.
Major global economies have put forward green recovery plans and initiatives, and building the green Silk Road has become a new driving force for economic recovery.
China and countries participating in the Belt and Road are actively carrying out cooperation and promoting the implementation of a number of green, low-carbon and sustainable clean energy projects. The photovoltaic power plant project in Ethiopia's Somali region was officially completed and electrified, with a designed annual power generation capacity of 1.42 million kilowatt hours, allowing more than 2,000 households and nearly 6,000 people to have access to clean electricity. The Zanatas wind power project in Kazakhstan, which has the largest installed capacity in Central Asia, has achieved the first batch of wind turbines connected to the grid and generated electricity, which is expected to generate 350 million kWh of electricity annually, saving 109,500 tons of standard coal.
Looking ahead, the foundation of international cooperation in the Belt and Road will be stronger, the momentum will be more abundant and the prospects will be broader.
The year 2021 is the 100th anniversary of the founding of the Communist Party of China and the opening year of the 14th Five-Year Plan. China will continue to promote the high-quality development of Belt and Road Cooperation and contribute Chinese wisdom, Chinese solutions and Chinese power, joining hands with people participating in the Belt and Road to build a community with a shared future for mankind.