Vacation mode
By Yang Feiyue | China Daily | Updated: 2021-02-13 11:51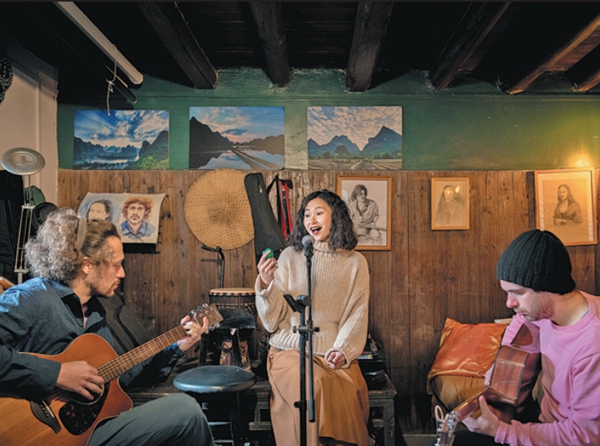 Homestay hosts in China are trying to get on the right side of customers by adding value to services, Yang Feiyue reports.
Guo Qi put his design skills to good use when he decided to start a homestay business in 2018. The 34-year-old from Chengdu, Sichuan province, has been running an interior design company since 2016.
"My first homestay was my own apartment," Guo says.
He bought it as an investment but the rental was below his expectation. Now, he runs some 30 homestays in the city.
"I had stayed in Airbnb homestays when I traveled earlier, so I thought why not give it a shot with my own place."
According to Guo, the difference between a homestay and a garden-variety apartment lies in balancing practicality with romance.
"I had thought of putting in a porch swing in my living room but gave up the idea because it would have come in the way of raising my child," Guo says. "But the idea would work for a homestay."
Guo installed porch swings at three of his homestay locations, where guests can take in a broad view of the city's landscape through large floor-to-ceiling windows while relaxing. Guest inquiries flowed in soon after Guo and past customers posted photos of the rooms to social media.
Guo quickly cottoned on to the recipe for success, redesigning his homestays from time to time.
"It's all about highlights in a room that should stimulate the guest's desire to photograph it and share the experience with others," Guo says.
He turned TV cabinets into fireplaces and added projectors in some homestays. "If you turn a house upside down, everything that falls can be redone or replaced."
Guo says the idea is to satisfy the changing and diverse requirements of guests.
The rooms he rents for his homestay business are either completely empty or come with obsolete and uncomfortable furniture, he says. It takes him up to 45 days to finish decorating a room to his taste, at an average spending of 70,000 yuan ($10,822). Practical use, comfort and design are usually the main features he focuses on while decorating a homestay. "It just has to be different from a hotel."
He says his approach to homestay designs is popular with young guests, especially newlyweds and young parents who travel with children.
"Most are under 35 and like homestay vacations," Guo says. "They are well-educated and easy to communicate with, and pay special attention to comforts in an accommodation, as well as how different it is."