Climate key to US-China cooperation
By LIU YINMENG in Los Angeles | CHINA DAILY | Updated: 2021-02-19 07:43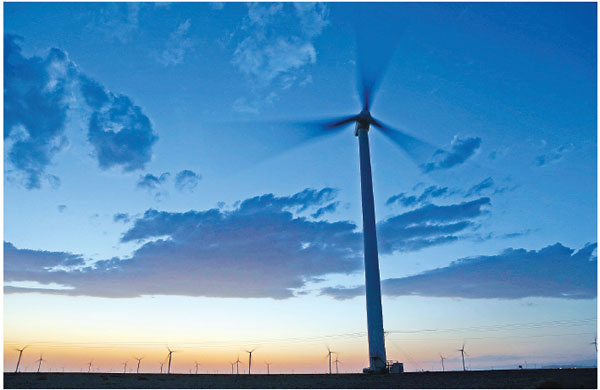 Potential for nations to work together can take in other issues, experts say
Environmental experts and policymakers said that climate change remains a "constructive part" of the US-China relationship, despite tensions in other sectors, and the world's two largest emitters of greenhouse gases should seize the opportunity to cooperate.
By doing so, the two countries can also discover ways to manage their competition in this area, they said.
"It's in the US' interest to work with China on a range of global issues, and I think that's not obvious to many people, and that ranges from global health to nuclear security, and I think no issue is more important than climate change," said Joanna Lewis, director of Georgetown University's science, technology and international affairs program.
Lewis told an audience at a Feb 10 webinar hosted by the California-China Climate Institute, or CCCI, that the appointments by the administration of US President Joe Biden of top climate officials with experience working with China are "extremely important signals". She noted that these officials had forged relationships with their Chinese counterparts.
In a similar vein, China's reappointment of Xie Zhenhua, a key contributor to US-China climate talks, as the country's special envoy on climate change is a move that demonstrates China's readiness to open a channel of communication with the US on this issue, Lewis said.
Xie and John Kerry, former secretary of state and now Biden's special envoy on climate, had both worked on the 2014 US-China climate change deal that helped broker the 2015 Paris Agreement.
Climate could be a "constructive part" of the US-China relationship, even when other aspects of the relationships are strained, Lewis said.
At a news conference on Jan 27, Kerry said the US would work with China on climate change as a "critical stand-alone issue", but the US will never trade other concerns for climate cooperation.
In response, China's Foreign Ministry spokesperson Zhao Lijian warned that climate change cooperation with the US can't be separated from the broader bilateral relationship.
Lewis acknowledged there are concerns in Washington that the US would "give in to China" on some issues in order to gain a win on the climate.
"I think the idea that you cannot work on one issue without compromising on others is a false premise, and one that I don't even believe that China would fully agree with. I think that Xie's appointment is a clear signal of China's readiness to engage," she added.
Zou Ji, CEO and president of Energy Foundation China, said the US-China climate cooperation could restore the world's trust in multilateralism, especially given the Trump administration's withdrawal from the Paris accord and the rise of populism.
"We should tell the whole world now the US is coming back," Zou said. "In China, we also see the momentum after President Xi Jinping announced the carbon neutrality target. And then as the two largest countries, we can show the world by our efforts the necessary political track is still there for working together of the whole world."
Carbon neutrality
David Sandalow, an inaugural fellow at Columbia University's Center on Global Energy Policy, said the pledge from Xi that China will achieve carbon neutrality by 2060 is significant in part because "it gives the climate change and clean energy issue a seat at the table in all Chinese decision-making".
"Going forward, whenever a policy is decided, whenever a permitting decision is made, whenever funding decisions are made, it will be possible within the system to say, to ask the question, does this advance Xi's carbon neutrality goal?" Sandalow said.
Former California governor Jerry Brown delivered the opening remarks during the discussion titled "Climate Competition &Cooperation with China under a Biden-Harris administration".
"We are looking at competition and cooperation between the US and China, given the new administration of Joe Biden. This is a very opportune moment in the history of bilateral relations, and it's a very opportune moment in the history of humankind," he said.
Brown, who is also the chair of the CCCI, compared climate change with the challenge posed by COVID-19, both of which required international collaboration to tackle.
"Even the program here has listed competition and cooperation. Well, if we could compete to provide better vaccines, great; if we can compete to provide better electric batteries, and better renewable energy resources, and better manufacturing and materials productions, so we get to zero emissions just as quickly as we can, that would be great," he said.