Texas senator's trip to Mexico draws fire
CHINA DAILY | Updated: 2021-02-20 07:36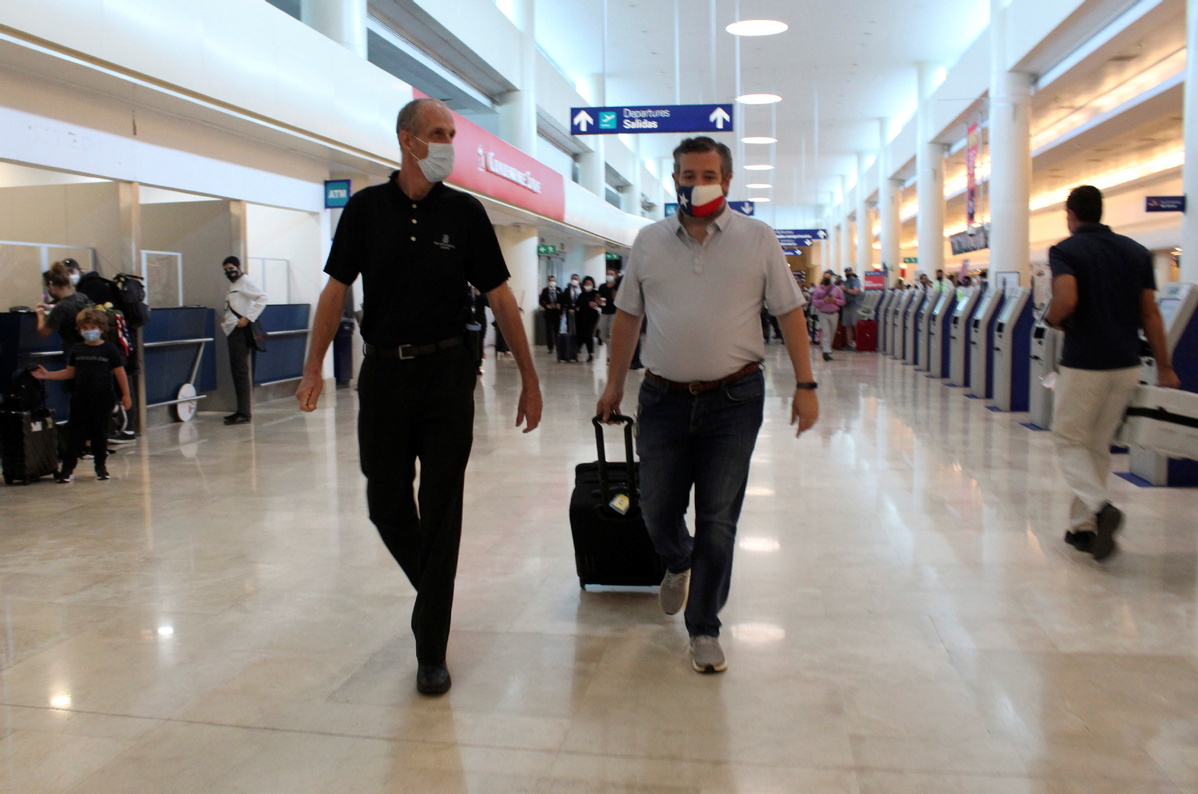 Texas Senator Ted Cruz faced fierce criticism on Thursday after he flew to a Mexican holiday resort while millions of people in his home state struggled without power or water due to a winter storm.
As the trip drew ferocious criticism from leaders in both parties and was seen as potentially damaging to his future political ambitions, Cruz justified the flight by saying that his one-night stay in Cancun was to drop his children off before he flew home.
Social media photographs showed Cruz taking the flight on Wednesday as the southern United States, which rarely sees severe winter conditions, was hit with extreme cold temperatures.
Hundreds of thousands of Texans were grappling with the fallout of a winter storm that crippled the state's power grid.
"With schools canceled for the week, our girls asked to take a trip with friends. Wanting to be a good dad, I flew down with them last night and am flying back this afternoon," Cruz said in a statement.
In televised comments to reporters, he added: "It was obviously a mistake. In hindsight, I wouldn't have done it."
Cruz was filmed at Cancun airport on Thursday afternoon before his return flight. He checked in for his return flight and walked briskly through the terminal pulling a roller bag to security. He wore a golf shirt, jeans and a face mask in the style of the Texas state flag.
Luxurious hotel
The senator was accompanied by a Spanish-speaking man wearing a black polo shirt with the name and logo of a luxurious hotel chain.
In a radio interview earlier this week, Cruz urged people to "just stay home" as the winter weather hit.
White House Press Secretary Jen Psaki offered a dry assessment of the incident when questioned by journalists.
"I don't have any update on the exact location of Ted Cruz," she said. "Our focus is on working ... on addressing the winter storm and the crisis at hand."
The Texas Democratic Party called for Cruz's resignation over his trip.
Cruz, a close ally of former president Donald Trump, is considered a likely 2024 Republican presidential candidate.
More recently, he emerged as a leader in Trump's push to overturn the results of the November election. Billboards calling for his resignation stood along Texas highways earlier in the month.
Even the state Republican Party chair declined to come to Cruz's defense on Thursday.
"That's something that he has to answer to his constituents about," Texas GOP Chair Allen West said when asked whether Cruz's travel was appropriate while Texans are without power and water.
News of Cruz's absence quickly rippled across the state.
Livia Trevino, a 24-year-old whose Austin home was still without water on Thursday, said she felt abandoned by government leaders.
"They are taking vacations and leaving the country, so they don't have to deal with this, and we are freezing to death. We don't have water and we don't have food," she said.
Agencies and Ai Heping in New York contributed to this story.