Johnson sets out lockdown exit road map
By JULIAN SHEA in London | China Daily Global | Updated: 2021-02-23 09:44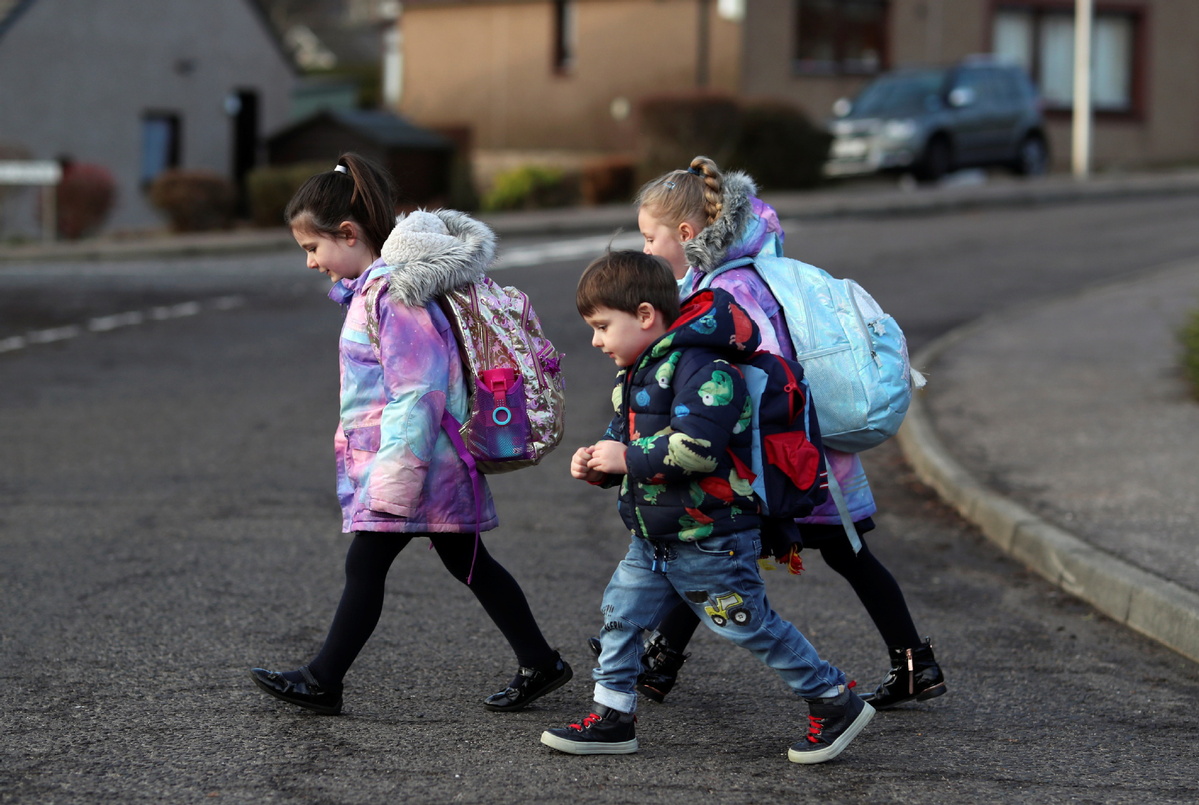 Schools to reopen on March 8 in first part of four steps to summer freedom
Schools across England will reopen on March 8 as part of the government's so-called road map out of lockdown, which aims to have something like normal life back again for the whole of the United Kingdom by early summer.
Speaking in the House of Commons on Monday, Prime Minister Boris Johnson called the measures "a one-way road to freedom."
Scientific evidence, he said, "shows we cannot escape the fact that lifting lockdown will result in more cases, more hospitalizations and sadly, more deaths and this would happen whenever a lockdown is lifted.
"Whether now or in six or nine months, because there will always be some vulnerable people who are not protected by the vaccines."
However, he said, the "resolve of the British public and the extraordinary success of our (National Health Service)" meant gradual changes could be made.
At the same time as schools reopen, outdoor recreation will also be allowed again, and at the end of March, when the school Easter holidays begin, outdoor sporting facilities will be reopened, and groups of up to six people, or two households, will be allowed to mix outside.
If that works, the second phase of reopening would be on April 12, including non-essential retail, and places such as hairdressers, libraries, zoos and indoor leisure facilities, including swimming pools and gyms, and self-contained holiday facilities.
There will be five-week gaps between the easing stages, allowing four weeks to examine the latest data, and an additional week of notice for businesses that will be permitted to reopen.
The newly-announced measures are only applicable to England. The devolved authorities in Wales, Scotland and Northern Ireland will oversee their own reopening.
The BBC reported that Scotland's first minister, Nicola Sturgeon, will announce her plan on Tuesday, but it would not include hard and fast dates, and there may be localized restrictions.
Mark Drakeford, first minister of Wales, tweeted "here in Wales, we announced last week that we're using the next 3 weeks to get more students back to school/college, and looking at options for re-opening shops and hairdressers."
If things go according to plan, it is hoped that the road map might be completed by late June, and by the end of July, every adult in the UK should have been offered a COVID-19 vaccine.
Speaking on Sky News before Johnson's announcement, vaccines minister Nadhim Zahawi said the decisions were being taken with a degree of cautious optimism.
"Suffice to say, the evidence looks good," he said. "We wouldn't be in this place this morning to be able to say that we're going to reopen schools… if we're not confident that actually the vaccine program is beginning to really bear fruit."
Data published by Public Health Scotland reveals that the vaccine program has had a major impact on the number of hospital admissions with cases of COVID-19.
The Guardian newspaper quoted a government source as saying that, at this stage of reopening, the importance of social contact had been placed ahead of the reopening of the economy.
"People have not seen their family and friends for months; this is about recognizing that," the source said. "By March 29 it will be the school holidays, so things will switch from kids mixing at schools to them being in their households so that households can start meeting up.
"You would not be able to add any new sectors at that point. At the moment the emphasis is firmly on schools and social contact."
It is thought that the way reopening is being approached makes it more likely that Chancellor of the Exchequer Rishi Sunak will further extend the furlough program in his Budget, to be announced early next month.
Meanwhile, there are fears that coming out of lockdown could see an increase in violent crime, as the closure of schools and youth facilities for so long have put many vulnerable youngsters at greater risk of being drawn into a life of crime.
Recently published figures reveal that last year, threats to kill involving a knife rose 20 percent, and violence increased significantly when restrictions were eased last summer.
"We may still be at war with COVID-19 but we are now facing a new epidemic in our war against knife crime, which is only set to get worse as the country unlocks," said Patrick Green of anti-knife charity the Ben Kinsella Trust, adding that "every village, town and city in the UK needs to be aware of the scale of this crisis".