Sharing economy a rising star despite COVID woes
By ZHENG YIRAN | China Daily | Updated: 2021-02-25 10:21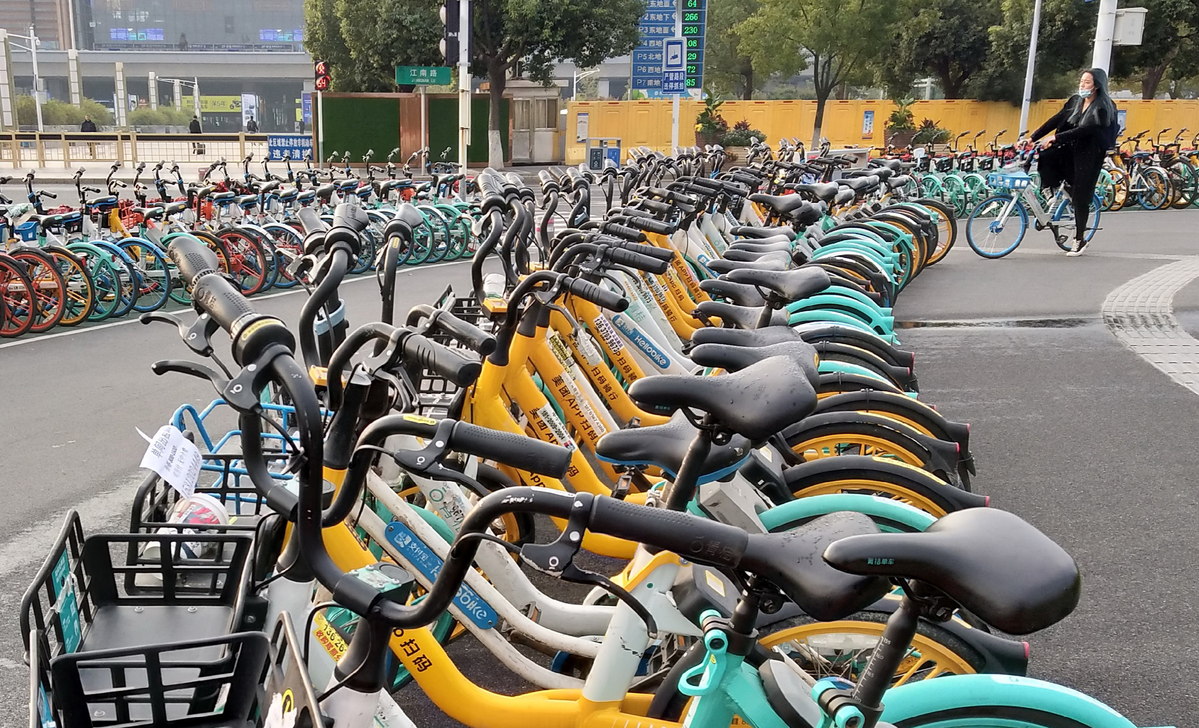 The growth rate of China's sharing economy sector is expected to be between 10 and 15 percent this year, and maintain an average annual growth rate of over 10 percent in the coming five years, thanks to an expected strong recovery in the macroeconomy, a recent report said.
The State Information Center said that in 2020, amid challenges brought by COVID-19, new business modes featuring the sharing economy demonstrated tremendous resilience and development potential. The trade volume of the sharing economy for the year surged 2.9 percent year-on-year to 3.38 trillion yuan ($523.6 billion).
The pandemic's influence on different areas of the sharing economy varied. The market volume of the sharing healthcare sector grew rapidly, with year-on-year growth of 27.8 percent. In contrast, the market volume of sharing accommodation, office-space and transportation dropped by 29.8 percent, 26 percent and 15.7 percent, respectively, because the areas required offline activities to complete a closed transaction loop.
"Sharing services and new consumption modes had been playing a critical role in boosting national economic resilience and vitality. Meanwhile, sharing economy platforms were constantly innovating business strategies and marketing modes, thus demonstrating various advantages," said the report.
It said that in 2020, one major change for the country's sharing economy sector was that more and more enterprises, which mainly served the consumer-end, expanded their businesses to the business-end.
Xiaozhu, a Beijing-based sharing accommodation website/app, signed a strategic partnership with Bytedance's enterprise service platform Feishu last year, offering accommodation solutions, such as accommodation for business trips, corporate teambuilding exercises and training conferences for registered enterprises on Feishu.
Ziyouxin, a flexible employment platform under Tencent's finance and taxation technology arm GoldenTec, actively responded to surging hiring requirements of enterprises during the pandemic period. In February of last year, it launched an emergency recruitment service called "shared employees", offering more than 10,000 workers to enterprises, including Guangzhou Wondfo Biotech Co Ltd, Bluemoon, Wumart Group, iShansong and Yaofangwang.
Another new feature highlighted in the report was that the sharing economy was further integrated with internet-based marketing approaches, creating more platform-user interaction and user stickiness.
For example, in July, Xiaozhu teamed up with Xiaohongshu (Little Red Book), an Instagram-like Chinese fashion and lifestyle sharing platform, inviting key opinion leaders and key opinion consumers on the platform to share their accommodation experiences.
Huang Wei, an official from Xiaozhu's public affairs department, said: "KOLs and KOCs share their living experiences on Xiaohongshu, and interact with users on the online community, encouraging them to pay a visit to the recommended accommodations. In this way, a circulation running from online to offline is formed."
Data from Xiaozhu showed that between July and November, transaction volume brought by Xiaohongshu's channels surpassed 10 million yuan, and the monthly growth rate of gross merchandise volume stood at 350 percent. By Nov 25, 1,610 sharing accommodation brands were registered on Xiaohongshu, and the charge-off rate of presale accommodations reached 60 percent.
"Online marketing communities such as Xiaohongshu conform to the rules of contemporary consumption communication. Through image and video-sharing, more potential users can be reached, creating more travel and accommodation demand. Meanwhile, content platforms are further integrating with the tourism industry, bringing new traffic and growth opportunities," Huang said.
As pointed out in the SIC report, looking ahead, as sharing economy platforms increase their resource inputs and expand business, industry competition will intensify.
"When the pandemic is over, the focus of enterprise competition lies in how they realize user retention and profit mode innovation. Efforts are needed in product innovation and service quality enhancement," said the report.
Fan Jiping, head of WeDoctor Digital Medical Consortium, said that in the post-pandemic era, there will be increasing market demand for high-quality services integrating online and offline modes of business.
"For WeDoctor, digitalization and 'intelligentization' will be the focus of the whole healthcare industry in the near future. How to take advantage of digital technologies to build a service system that satisfies healthcare needs of various patient groups and raises the efficiency and level of the industry-that remains a key issue for us," Fan said.