Drones key soldiers in Zambia's fight against armyworm
By Otiato Opali in Nairobi, Kenya | chinadaily.com.cn | Updated: 2021-02-25 20:26
In the 2016-2017 growing season in Zambia, the country's crop was affected by an unprecedented invasion of the fall armyworm, a pest native to Central and South America. The pest was reported in all 10 provinces of the country, affecting over 270,000 farmers and damaging a total of 222,586 hectares with an infestation rate of 90 percent, according to the Food and Agriculture Organization of the United Nations.
According to a report released by the Zambia Agricultural Research Institute, the government of Zambia spent over $3 million on pesticides, personal protective equipment and seed for replanting, but all efforts made to control the pest using synthetic insecticides were unsatisfactory.
As this unfolded, Sunagri Investment Zambia Limited, an agricultural technology company incorporated in Zambia in 2017, had already noted challenges in fighting the fall armyworm and was already testing its technology that would revolutionize the fight against the devastating pest.
Sunagri deals in the application of drones in farmland with services that include precise spraying operation of various crops, high efficiency and multi-spectral scanning of crops and unmanned aerial vehicle operations.
According to Zhang Xu, managing director and founder of Sunagri, traditional methods of fighting the fall armyworm had proven expensive and often ineffective, and they saw a gap they could fill through technology to help farmers protect their yields.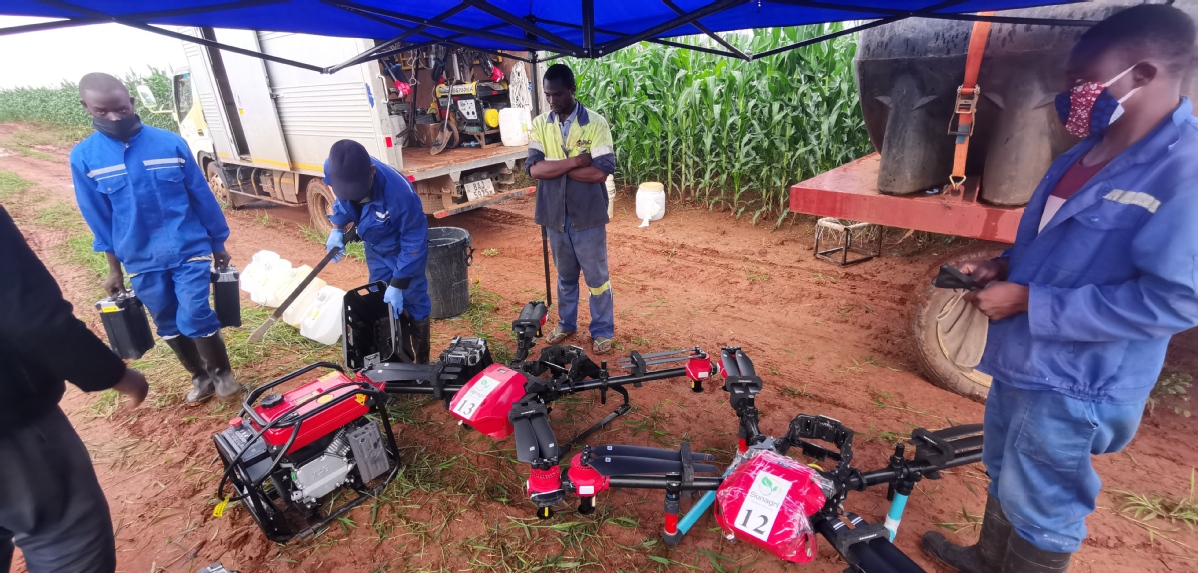 "Before we started using drones, there was no way for people to fight the fall armyworm effectively. We spent a year testing the effects of drones on the pests. We noted this technology can help the farmer save 30 percent in chemicals and 90 percent in water when applying pesticides," Zhang said.
"The use of this technology also resulted in a rise of wheat yield by about 6 to 9 percent, soybean yield by about 15 percent and sugarcane yield by about 13 percent."
Other than offering solutions that will help turn around agriculture in Zambia, Sunagri is also committed to impacting local lives through employment, training and community engagement.
"80 percent of our employees are local, and we want to offer more job opportunities as we expand. We want to train more local young people and bring young people back to agriculture. We try to train new local staff to operate the system, so the new agricultural technology can be understood and trusted by more people," Zhang said.
Zhang said Sunagri currently has a branch office with an operating team in Uganda, and plans are underway to open branches in Kenya, Egypt and Ethiopia. Cote d'Ivoire and Nigeria are also targeted in their long-term plans.
Like many businesses in Africa and across the globe, Sunagri was not spared the effects of the COVID-19 pandemic. Zhang said his main concern during the pandemic was to protect both his customers and employees as well as himself from the disease. However, through provision of masks, sanitization and disinfection, they have been able to carry on with operations.
Sunagri's entry into the Zambian market could not be timelier since agriculture, which was under threat from the fall armyworm, is the main source of income and employment for over 60 percent of the population.
According to a report by FAO titled "Management of the Fall Armyworm" published in January 2020, the agriculture sector in Zambia contributed between 8 to 10 percent of the country's gross domestic product. Maize, the crop most affected by the fall armyworm, was grown by 2.7 million farming households and accounted for 56 percent of the total area of annual food crops.