US store workers forced to wait for vaccination
By BELINDA ROBINSON in New York | China Daily | Updated: 2021-03-02 09:31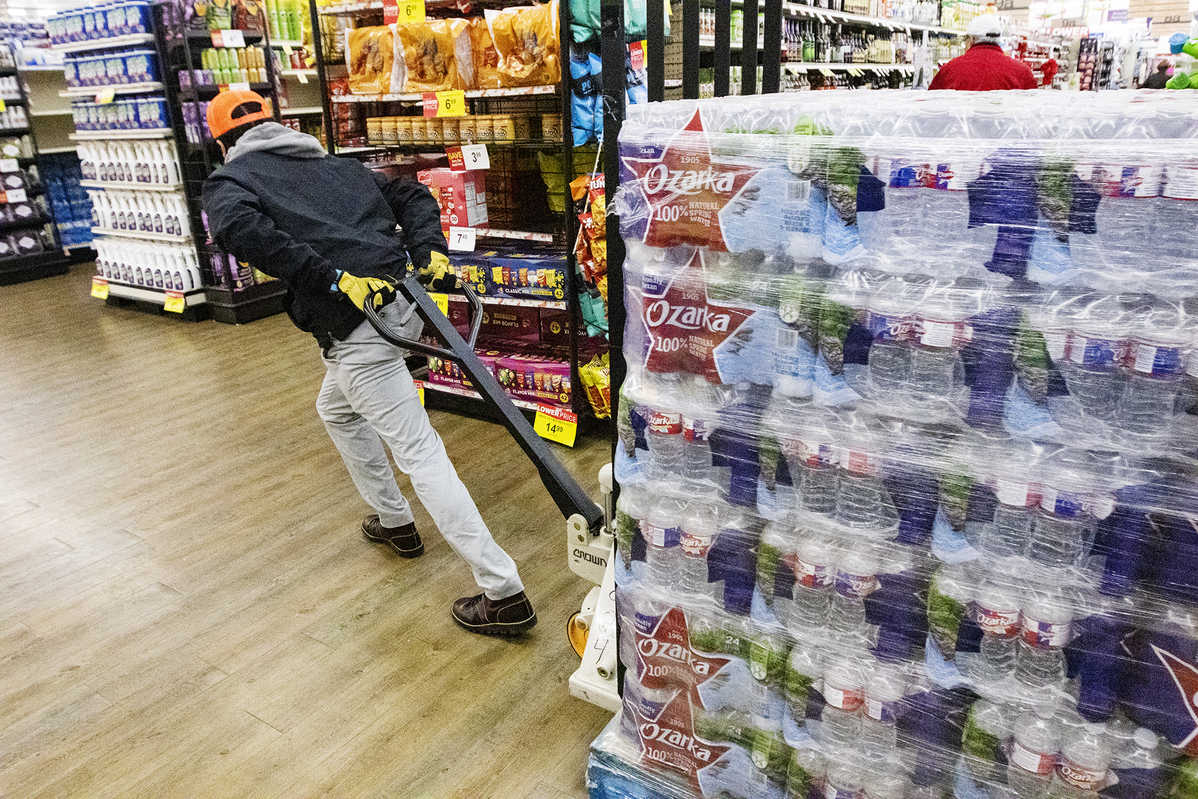 Grocery store workers in the United States have been on the frontlines supplying people with food and other supplies in the pandemic, but more than 2.4 million of them are not yet eligible for a COVID-19 vaccine. Many more don't know when they will get vaccinated in their states.
Grocery workers are in "high-exposure, high-contact jobs and if they're infected, they may become super spreaders", Justin Yang, assistant professor of medicine at Boston University's School of Medicine, told CNN.
Despite the risks, only 13 states allow grocery and meatpacking workers to sign up for vaccines, according to the United Food and Commercial Workers International Union, or UFCW, which represents 1.3 million grocery, meatpacking and other frontline workers.
The union said at least 137 grocery store workers have died of COVID-19, and 30,100 workers have been infected or exposed to the coronavirus.
"As the danger from COVID continues, grocery workers are among the most at risk to daily exposure to the virus, yet most companies refuse to reinstate hazard pay," UFCW International President Marc Perrone said in a statement.
In December, The Centers for Disease Control and Prevention (CDC) said that healthcare workers and those in long-term care facilities should be prioritized for the vaccine. Then, the next groups to be vaccinated would include people aged 75 years and older, along with frontline essential workers, such as food and agricultural workers.
Leslie G. Sarasin, president and CEO of FMI, the Food Marketing Institute, an organization that works for an efficient consumer food supply chain, told China Daily: "Because of the essential services our associates are providing to citizens all over the country, their health and safety is always our top priority. They should be prioritized for the COVID vaccine just as the CDC and the Advisory Committee on Immunization (ACIP) have already recommended."
FMI said it strongly supported the recommendation put forward by the CDC to prioritize health care personnel, including supermarket pharmacists in the first phase of the COVID-19 vaccine allocation.
But it adds that there have been "challenges at the state level as a result of the uneven experience across state lines, with many states reworking their vaccine prioritization frameworks despite federal guidance, food industry essential employees are struggling to access vaccinations."
Each state is responsible for setting its own vaccine-distribution plans. The 13 states that have vaccine access for grocery workers, according to the UFCW, are Alabama, Arizona, California, Delaware, Hawaii, Illinois, Kansas, Kentucky, Maryland, Nebraska, New York, Virginia and Wyoming.
A further 12 states have vaccine access for workers in meat packing: Alabama, Arizona, California, Delaware, Hawaii, Illinois, Kansas, Kentucky, Maryland, Nebraska, Virginia and Wyoming.
50m milestone hailed
US President Joe Biden has accelerated the rollout of vaccines and, in a speech at the White House on Thursday, hailed the milestone of 50 million shots being given during the first 37 days of his presidency.
The vaccines have been sent to local pharmacies and grocery stores and mobile sites. However, staff at Walmart and Kroger stores could be working in stores administering the vaccines but be ineligible to receive them despite being at risk daily from the virus.
The pandemic has been a boon for grocery stores. Kroger, the nation's largest grocery chain, reported a profit of $3 billion for the year to Oct 31, an 88 percent increase from 2019.
A Kroger spokesperson said the company has invested more than $1.5 billion in safety measures in stores and additional pay for workers during the pandemic.
"Kroger continues to advocate to federal, state and elected officials to prioritize frontline grocery workers to receive the vaccine," the spokesperson added.
Some grocery store chains, such as Trader Joe's and Kroger, plan to give workers paid time off to get vaccinated. They also are offering incentives. Trader Joe's and Aldi will offer extra pay to workers who get vaccinated.