HS2 rail project manager recognized for crucial role
By WANG MINGJIE in London | China Daily Global | Updated: 2021-03-03 09:17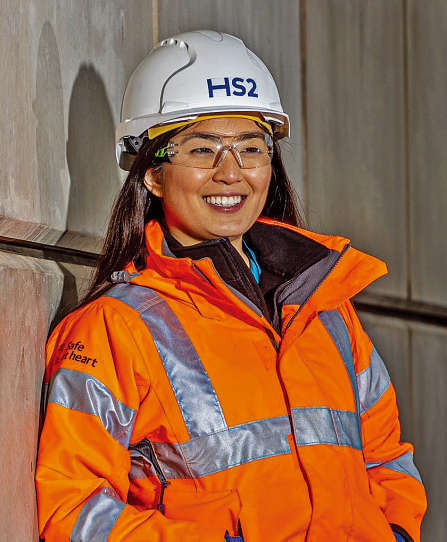 A British-Chinese construction worker has been featured in a national museum exhibition to celebrate the vital role played by Britain's railway workforce during the COVID-19 pandemic.
Lin Qi, a 26-year-old assistant project manager, is one of 16 Railway Heroes selected to star in a brand-new exhibition at the National Railway Museum in York, in the north of England, charting the crucial role that she is playing in the delivery of High-Speed 2, known as HS2, the United Kingdom's new low-carbon, high-speed railway.
Born in Zhuzhou, Hunan province in China, Lin moved to the UK when she was three years old. She studied architecture at the University of Bath before joining engineering company Laing O'Rourke's graduate program as a planner in 2017.
While working for the Laing O'Rourke and J. Murphy joint venture, in part responsible for delivering infrastructure packages for HS2, Lin was chosen to be part of the team that hosted Prime Minister Boris Johnson when he visited the interchange construction site near Solihull in the West Midlands in September 2020.
It was during the visit that Johnson announced the formal start of main construction on HS2, highlighting the 22,000 roles that would be required in the coming years to build phase one of Britain's new high-speed railway between London and the West Midlands.
While the COVID-19 pandemic has caused great disruption worldwide, the work to deliver Europe's biggest engineering project has continued at pace. Lin's role in managing the program of construction has been no exception.
She was involved in the team that delivered the very first permanent infrastructure components for the project, which saw the installation of two giant modular bridges spanning the M42 motorway and A446 road near Solihull.
Her job within the engineering project is complex, but she likens it to constructing a bicycle. "The best way to describe the role of a planner is to think of how a bicycle is made-from the design, to sourcing the materials, agreeing a cost, making the components and then putting it together. My role ties all those parts together to deliver the 'bicycle' on time," she said.
Railway Heroes launched online this month due to the national lockdown. A physical exhibition featuring all 16 people will open simultaneously to the public at the National Railway Museum in York and Locomotion at Shildon in County Durham once the restrictions are lifted.
On being selected to take part in the exhibition, Lin said: "It was an honor to be asked to take part … and I hope to inspire more young people, particularly women, to consider a career in the construction and engineering industry".
She added: "Five years ago, I wouldn't have imagined I'd be working in this sector, and on a project the sheer scale of HS2, but I love being part of a big team and helping to deliver this unprecedented UK railway."
Lin is passionate about the development of future talent and ensuring that young professionals choose to stay in the West Midlands to realize their career ambitions. Outside of work she is heavily involved in Birmingham's Professional Services construction industry committee, which is designed to nurture and retain local talent.
Judith McNicol, director of the National Railway Museum, said: "This exhibition is an opportunity to say 'thank you' to the thousands of railway key workers who have kept the country going over the last year. The stories featured in the exhibition are an inspiration and fully deserving of wider recognition."
Simon Russell, project director for the Laing O'Rourke and J. Murphy joint venture, said: "Lin is part of a generation of bright and confident young people that are building their careers on this exciting project. She's an excellent role model and we're hugely proud of her achievements to date, and that she's been chosen to be part of this exhibition, to demonstrate how we're preparing the route for Britain's new high-speed railway."