A philosophical approach to family
By Li Yingxue | China Daily | Updated: 2021-03-10 07:53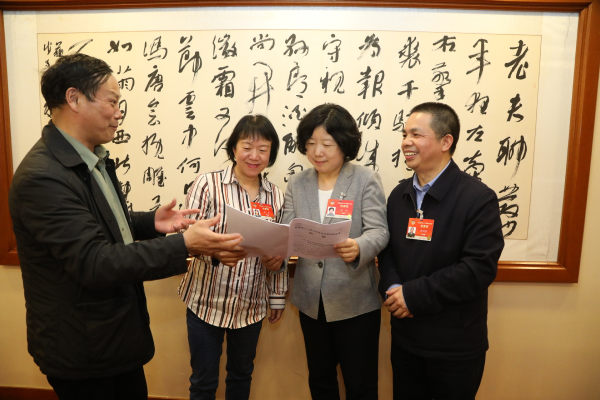 The government should extend parental leave and share the cost with companies or employers to help stimulate improvement in the country's birthrate through greater support, a policy adviser says.
Chen Xia, a member of the 13th National Committee of the Chinese People's Political Consultative Conference, spoke about the birthrate and other issues she expects to be discussed at the two sessions, the annual meetings of China's top legislature and political advisory body.
"A generation or a nation, if it wants to have a proper replacement of its members, the total fertility rate should be 2.1, but we are less than that," she says, adding that she is concerned with the low birthrate that will lead to an aging population.
In her proposal at the two sessions, Chen writes: "First, let's extend the leave when a couple has a baby. Mainly, we only ask for the mother to get maternity leave, but I also suggest that we have a law which allows the father to take paternity leave."
Chen says for a child to grow with a healthy personality, both parents should have enough time with the baby, so the parental leave is needed. Currently, maternity leave can be taken for at least 98 days.
However, this method will increase cost for companies or employers, so Chen suggests cost-sharing between the government and such parties.
"It's not only a matter for the family, it's also an issue for the whole of society. A couple raises a child who will eventually contribute to society, therefore each of us should contribute to childbearing," she adds.
Chen suggests spending some national revenue to cover the cost of better medical care for children, or extend compulsory education from nine years to 12 years.
According to Chen, to prepare her proposal for the two sessions, she first listened to the voices in her field-from colleagues, friends, students and many others-to learn about their concerns and wishes.
Then she did research, including reading published books and papers, and talked to experts before writing the proposal to explain why the issue is important and offering her suggestions.
"We are like a channel to communicate as the voice in our field. That voice will be heard during the two sessions, and society and the government will pay attention to the issues we highlight in our proposals," she says.
In previous years, Chen proposed to enhance critical thinking in the education system and also gave suggestions on how to deal with China's aging society.
In 2019, as a researcher at the Institute of Philosophy of the Chinese Academy of Social Sciences, Chen suggested national prizes for scholars in the humanities and social sciences, so that top specialists in the fields are recognized and more youngsters are inspired to pursue such studies.
Promoting philosophy and the social sciences is included in the country's 14th Five-Year Plan (2021-25) that is expected to be ratified during this year's two sessions.
The development of social sciences plays a significant role in the country's progress, Chen says.
"The development of technology and natural sciences can nourish our body, but we also need something to nourish our mind and spirituality," she says, adding that philosophy also trains people to think rationally.
She says society needs the work of philosophers and social scientists, which also covers literature, history and arts.
"They provide inspiration and resources for us to reflect on our lives-to reflect on the way we have come and the way that will lead into the future. That's extremely important."
Chen says to promote social sciences and philosophy, the education system should be improved.
"We give the kids this kind of education, so we can spend more time on philosophy, logic, literature, history and the arts," she says.
Specializing in traditional Chinese philosophy, Chen says it's important to inherit the wisdom of our ancestors.
"We should find a way to illustrate it, make it understandable, interesting and important for us today," she says.
Chen says tradition is not something for the museum and, at the same time, people should have critical thinking about which parts of tradition should be brought into the modern world.
"Tradition is always changing, and tradition has a vitality to respond to what we are facing today," Chen says.
Chen says traditional philosophical thinking can contribute to modern society in ways beyond the relationship between humans.
Chen's study focuses on Taoism, and she says Taoism emphasizes the harmonious relationship between people and the environment.
"Urbanization, industrialization, commercialization-they all push us to consume too much. Taoism tells us to live a simple life," she says.