13.6 million disputes mediated online
By AYBEK ASKHAR | China Daily | Updated: 2021-03-10 08:46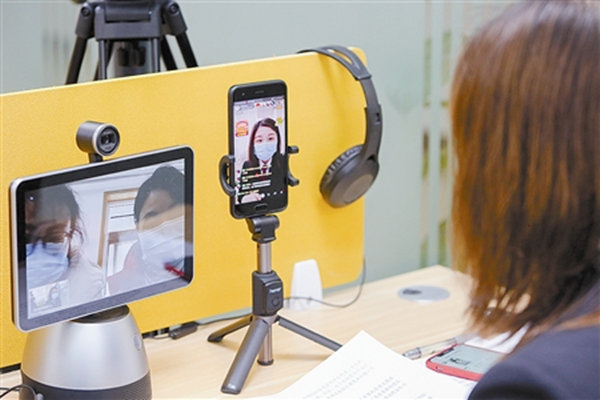 A total of 13.6 million disputes have been handled on China's online mediation platform since it was established in February 2018, with a resolution rate of 65 percent, the Supreme People's Court said.
To save people the trouble of going to court for dispute mediation, the top court expanded the online mediation platform on its website last year, connecting it to all courts across China. Since then, 32,900 mediation organizations and 165,000 mediators have participated in proceedings on the platform.
"Now, an average of 66 disputes are mediated on the platform every minute on weekdays, which means every two seconds on average, a case is successfully mediated," Qian Xiaochen, head of the top court's case-filing division, said at a news conference on Thursday.
According to the top court's annual work report, delivered on Monday at the fourth session of the 13th National People's Congress, pretrial mediation successfully resolved 4.24 million civil and commercial disputes through the platform last year, nearly three times as many as in 2019.
The online platform is an important part of a one-stop dispute settlement and litigation service system which, according to the top court, has been basically established after two years of effort.
"In addition to settling online disputes, courts around the country have also integrated their dispute resolution functions at the grassroots level via local mediation centers, which settled a large number of disputes," Qian said.
Statistics from the annual report showed the number of cases heard by courts nationwide, which exceeded 20 million in 2016 and 30 million in 2019, declined last year for the first time since 2004. The change was particularly evident in the number of civil litigation cases, which fell after 15 years of continuous growth at an average annual rate of 10 percent.
Meanwhile, 3,501 courts in China have linked up with a mobile litigation services program called Mobile Micro Court, which can provide multiple legal services including evidence filing, mediation, litigation and document delivery.
A mini program in WeChat, the most popular social media platform in China, its home page has functional modules offering the legal services. One of its services, online trial help, allows plaintiffs and defendants to participate in trials remotely through the program's video conference function.
"Last year, courts across the country received 10.8 million cases online, which accounted for 54 percent of cases heard for the first time by courts nationwide," Qian said.
The top court said the program provides round-the-clock legal services, with about 10 percent of cases received during nonworking hours last year.
Meanwhile, more than 50,000 lawyers have registered on a website connected to the one-stop dispute system, giving them access to litigation-related services. The website was jointly established by the top court and the Ministry of Justice on Jan 14 to help reduce case-handling costs and improve judicial efficiency.
Lawyers can register on the website using their identity numbers or mobile phone numbers. Those who are successfully authorized by the ministry can take advantage of 35 services including case-filing, mediation, materials reading, trial participation, evidence uploads and litigation fee payments on the platform.
"It is good news for lawyers who are handling a number of cases at the same time. It not only reduces our time costs but also makes our work more efficient, so I think more lawyers will register on the website and enjoy the services," said Gou Minglai, a lawyer from Chengdu, capital of Sichuan province.
Registered lawyers have handled 323,000 cases through the website so far, Qian said.
For elderly people who are not familiar with the internet, the top court provides a hotline-12368-they can use to access traditional legal services.
Qian said the hotline, which is also part of the one-stop dispute system, received 2.31 million calls last year.