Supervision proposed to prevent overworking of employees
By CHENG SI | CHINA DAILY | Updated: 2021-03-11 09:39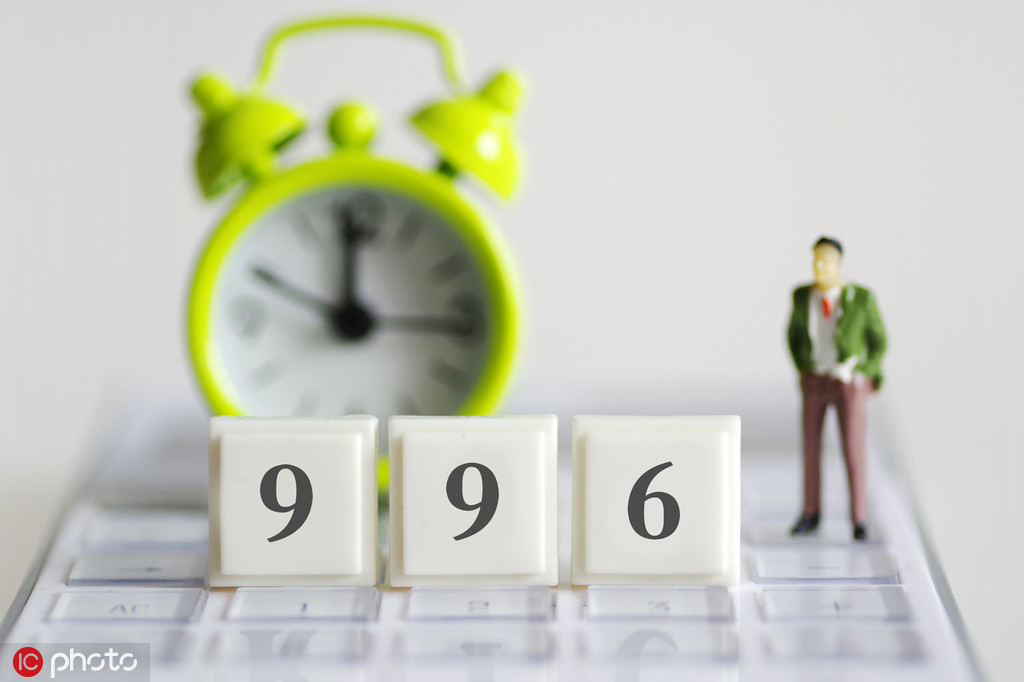 Members of China's top political advisory body have proposed reinforced and effective supervision to stop companies overworking their employees.
Since 2019, the 996 work culture-which means working from 9 am to 9 pm six days a week, a schedule widely used at tech companies-has sparked public debate, with some industry insiders calling it a "blessing".
The issue of overworking employees is getting worse, said Li Guohua, a member of the 13th National Committee of the Chinese People's Political Consultative Conference, pointing out that the absence of official supervision and protection by labor unions has led to the current situation.
"Some companies require employees to work more than 380 hours a month-even more than 996, under which 300 working hours a month are required," he said. "More hectic working schedules are prevailing in areas including short-video sharing, online education, ride-hailing and e-commerce."
Wang Meihua, also a CPPCC National Committee member and deputy chief engineer at Shanghai Construction Group, said that official work hours have also been blurred at companies that rely on calls or instant messaging services for their business. For such enterprises, some employees are required to remain on standby 24 hours a day.
"Missing any calls or not replying to instant messages immediately will be regarded as a breach of duty "that has led some to lose their jobs, Wang said.
Li urged authorities to pay more attention to the problem while enhancing regulations to protect workers' well-being.
The problem is complex.
On the one hand, authorities have made some headway. In November 2019, the Ministry of Human Resources and Social Security released a labor contract guideline stating that work time is not allowed to exceed eight hours a day or 40 hours a week.
Work time can be stretched after negotiations, but overtime should not exceed one hour a day in general or three hours a day in special circumstances. Further, no more than 36 working hours can be added over a one-month period, according to the guideline.
This is on top of the nation's Labor Law, which states that people should work no more than eight hours a day or 44 hours on average every week.
"The nation's high-quality development is an endurance race, driven by the labor force's physical and psychological health," said Lyu Guoquan, also a member of the CPPCC National Committee.
"Valuing people and protecting their health is the right way to generate fortunes."
On the other hand, workers in many sectors in China, the second-largest economy and biggest developing nation in the world, are encouraged to work hard to accelerate the country's development, not only to surpass their domestic peers but also their international counterparts.
"The economy has slowed as the novel coronavirus epidemic has caused the unemployment rate to increase," Zhang Lin, an associate professor at the University of New Hampshire in the United States, told media outlet LatePost last month. "Also, the glut of talent has put more pressure on people looking for work. It is no wonder workers are complaining. Whenever you quit your job, there is someone to replace you."
Zhong Ruiqing, an associate professor at Zhejiang University, said that it's also difficult to enforce labor laws that target 996 work schedules.
"Employees usually work overtime 'voluntarily' because they dare not leave the office when the boss is still on duty," Zhong told LatePost. "Another problem is the inability to enforce rules. Can labor authorities require companies to release their employees at quitting time? Or can they turn off the company's lights at 5 pm?"
In addition, Zhong said that tightening supervision over companies relying on the 996 work schedule may reduce the nation's competitiveness.
"For example, if Shanghai regulates such a schedule, companies may move to another city, causing Shanghai to lose its economic advantage," he said. "And if a nationwide supervisory system is carried out, the nation may see a decrease in its economic competitiveness. So policymakers should weigh the pros and cons."
Gao Qi, a 28-year-old employee at a tech company in Beijing, said that he has been feeling listless after working 996 over the past two years.
"My work time is much more than 12 hours a day under my company's 996 working schedule, if you factor in my commuting time-about two to three hours per round-trip," he said. "I am busy 15 hours a day, six days a week, leaving me only 78 hours a week free of work."
Gao said whether there's an effort to abolish 996 or to give subsidies to overworked employees, "it's time to do something."