A crucial helping hand for persons with special needs
By Zhou Wenting in Shanghai | China Daily | Updated: 2021-03-12 07:53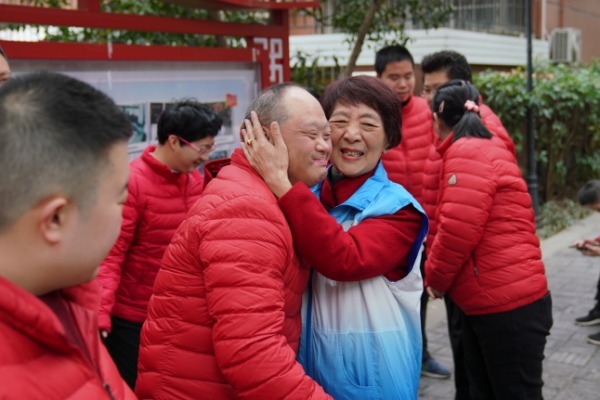 For most of her life, Xu Haofang's concept of the world was limited to the confines of her apartment. Apart from her parents, interacting with others often proved to be a harrowing experience for the woman who has severe mental challenges and amblyopia, a sight disorder.
But seven years ago, Xu's reality was changed for the better when she started receiving help from the Zhang Xinya Rehabilitation Center in the Quyang subdistrict of Hongkou district in Shanghai.
Here, the 33-year-old has learned that other humans are not to be feared. In fact, she now looks forward to the warm hugs she receives from the staff of the center. She has also learned how to write in Chinese.
Xu's mother Yan Ping says her daughter's disposition has changed dramatically since she started participating in the activities held by the center that helps people with physical or mental challenges.
"She used to be totally dependent on us and she barely spoke. Now, she would tell us to send her to the center every day. After returning home, she sits at the desk to practice writing. She also learned how to wash the dishes and do the laundry herself," says Yan.
"It is obvious that she has become happier over these past few years. We really hope that she can master more basic skills and build closer connections with society."
Founded in 2012 by Zhang Xinya, who herself is a mother to a girl with mental challenges, the center has since its establishment helped dozens of individuals like Xu, with 21 of them eventually securing a job.
"We can unearth their potential and impart to them the ability to take care of themselves," says the 73-year-old.
"By doing this, I also hope that their parents can be hopeful of their children's futures."
Zhang's daughter was diagnosed as having mental illness when she was a few months old. To help her daughter build meaningful connections with society, Zhang took her to a government-funded center where children suffering from similar conditions learned physical exercises that would improve their motor skills. Zhang later decided to volunteer at the center, and this experience eventually inspired her to open her own rehabilitation facility.
"To teach these individuals how to draw, you'll need to hold their hands and repeat the movements thousands of times before they can remember the process. It requires lots of love, patience and persistence," Zhang says.
Amateur dancers are often invited to give lessons to the students at Zhang's center. According to Zhang, the dance moves are customized according to their learning abilities.
Besides those having challenges, Zhang's center also provides assistance to those who are visually or hearing impaired.
Classes for singing, dancing, poetry reading, physical exercise and everyday skills are included in the syllabus. Each class is conducted by professional teachers and psychological counselors.
Yu Guoxiong, who has a physical disability, is just one of the many beneficiaries of Zhang's center. Yu says more than 400 lawyers, public health professionals and doctors have been invited to the station to give lectures.
"I have learned a lot from these lectures. Medical workers have shared health tips related to the COVID-19 pandemic and taught us how to maintain a healthy mental state," says Yu.
Lectures by lawyers on civil law also helped participants to learn about the latest legal provisions pertaining to marital and family affairs, rights and interests of people with disabilities, and voluntary work, he says.
These individuals with special needs also receive health checks at Zhang's center. For example, medical personnel regularly carry out eye examinations and measure blood pressure and glucose levels.
"Many of the individuals could not take care of themselves when they first came, but now they can hold chopsticks or spoons and eat by themselves. Some used to remain silent all the time but they can now sing and dance," says Zhang.
"Seeing them make progress is what makes this all worthwhile. This is what drives me to keep going."
The Shanghai Disabled Persons' Federation announced in January that there were 252 centers such as Zhang's that are dedicated to helping disabled individuals registered in Shanghai last year.
The federation also announced that 225 city-level programs to help such individuals live healthily, increase their self-confidence and enjoy more diverse experiences in the society will be held this year.