The man who filled in the missing gap
By Zhao Xu in New York | China Daily | Updated: 2021-03-13 09:28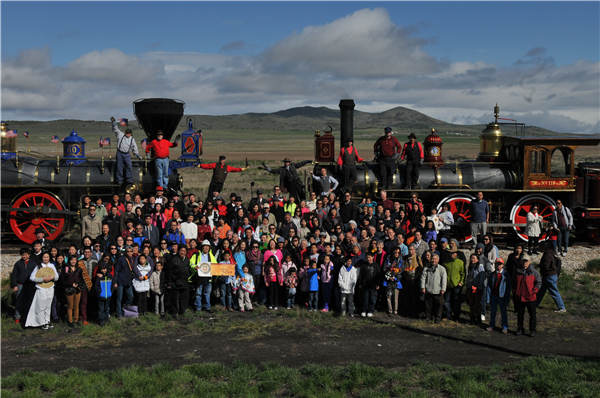 As a youth Corky Lee saw a picture that not only violated history but, by omission, graphically conveyed the idea of ethnic outcasts. He would spend his life campaigning for racial inclusion and equality.
For Margaret Yee, May 10,2014 was a day much like all the May 10s of the previous decades and yet quite unlike any of them.
Again she was at Promontory Summit in Utah, where on May 10,1869, after seven years of construction, the eastward-extending railroad track built by the Central Pacific Company from Sacramento, California, met with the westward-extending one built by the Union Pacific from Omaha, Nebraska.
Standing on the elevated land and inhaling its cool, crisp air, Yee allowed her thoughts to run free and her spirit to reconnect with that of her ancestors. Two of her great grandfathers once toiled on the western section of the railroad.
"I was there every year, almost alone (as a Chinese American), until 2014," said the 72-year-old, who was joined that year by nearly 300 others-as well as a couple of dozen who had flown over from the southern coast of China, home to most Chinese immigrants to the US throughout the 19th century. All were there to lay claim to the glory to which their ancestors had undoubtedly been entitled but for 145 years had been denied them. There they stood-men and women, children and adults-under a cloudless sky and in front of two locomotives driven together for the occasion, looking more like antiques.
Facing them atop a red step ladder was a man in cap and jeans, right hand holding a camera, left hand slightly cupped beside his mouth as he called out to the crowd, with a bag slung across the front. The image was captured by a fellow photographer barely a minute before the man, known to his friends as Corky, pressed his index finger to complete what he called "an act of photographic justice".
For those in the know, that justice was missing on May 10, 1869, when what Yee calls the "champion picture" was taken of a big crowd in front of two locomotives at the summit to mark the completion of the railroad, the engineering feat hailed for "linking America from coast to coast".