Creating a pattern for growth
By Wang Ru/Yang Jun | China Daily | Updated: 2021-03-15 08:05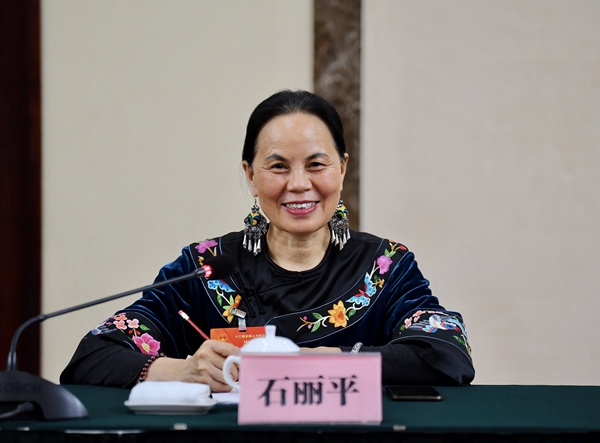 NPC deputy Shi Liping has spent the last two decades promoting her Miao ethnic community's traditional embroidery, Wang Ru and Yang Jun report.
"With traditional craft, I will make my own contribution to rural revitalization," Shi Liping, wearing the customary clothes of the Miao ethnic group, declared at this year's CCTV Spring Festival Gala on Feb 11, which attracted many people's attention.
The 55-year-old provincial-level inheritor of China's intangible cultural heritage of Miao embroidery, who was awarded a prize for poverty alleviation by the State Council Leading Group Office of Poverty Alleviation and Development last year, says she feels "lucky" to have stood on the stage, showing her clothes as an example of the traditional craft.
Over the years, Shi has continued to develop the craft, and in turn it has helped her and the people in Songtao Miao autonomous county, Guizhou province, to stitch together a better life. She was also selected to be a deputy at the fourth session of the 13th National People's Congress.
Born in Songtao, like Miao girls, Shi learned the embroidery skills as a child, being taught by her mother and grandmother. She finds the traditional craft rather appealing since "it reflects the wisdom of Miao women", she says.
Without a written language, Miao women record things in their embroidery. "Embroidery has profound cultural connotations. It records the change of our ethnic group, and reflects our respect for the nature and our ancestors," says Shi.
But when she grew up, she found that, as many young people migrated to work in cities, only leaving the old and young in her hometown, there seemed to be fewer people inheriting and developing the craft. She was worried that one day it might be lost.
To ensure that did not happen, starting in 2000, she spent eight years visiting numerous Miao villages honing her embroidery skills. In 2008, she founded Fanjingshan Miao Culture Tourism Product Development, a company selling Miao embroidery products, such as bags, clothes and decorations, trying to preserve the craft through commercial means.
"I believe business can help the inheritance of intangible cultural heritage. We have progressed so fast, so I want to slow down and comb through the craft to see what we can add to it or let go of," says Shi.